DONUT 1: The Big Lead
The Pacers a year ago? Gifted. Deep. Threatening.
The Pacers that roll into the AAC tonight to meet the Mavs in a 7:30 tip (on FOX Sports Southwest)? Stripped down. Wobbly. 5-8.
Where once Roy Hibbert was a very good supplementary piece on the Pacers, the Paul George injury and the Lance Stephenson departure (and before that, the chemistry-shattering trade that sent away spiritual leader Danny Granger) have resulted in the 7-0 center serving as Indy's best player. He leads them in scoring at 13.1 per (tied with a person named Chris Copeland) and he help fuels the Pacers' only statistical success as they are second in the NBA in rebounds with 46.7 per game.
But they don't score (Indiana is 28th in the league in scoring at 90.9 per) and the reason they only give up 94 per is largely due to their plodding style. Oh, and it is just now announced: Hibbert has an ankle problem. Scratch him for tonight.
The Pacers don't usually beat Dallas; they are 26-39 all-time against the Mavs. And they rarely win in Big D, with a record of 10-23 here. There are no guarantees here for 10-4 Dallas, of course, but this is exactly the sort of opponent this year's Mavs are engineered to punish, with ball movement and shot-making that should cause the Pacers' heads to spin faster than their feet can move.
DONUT 2: Felton readies
Raymond Felton is eligible to make his Dallas debut tonight, assuming the ankle is healthy enough to do so.
We have reason to be more excited about this than we were when Felton was acquired as a throw-in in the Calderon-for-Tyson trade with New York. ... as our Jonny Auping explains:
Since late June, Felton has been tagged as the black eye of the Mavericks' offseason. When Dallas traded for him, fans looked at him as the
price you pay for getting Tyson Chandler back.
As weeks went on the thought process was, "Are the Mavericks really going to start Raymond Felton at point guard?" As more time passed and they re-signed Devin Harris and landed Jameer Nelson that attitude shifted to "Thank God the Mavericks aren't going to have to rely on Raymond Felton!"
Felton himself is ... aware.
"When you come off a season like I had last year, there's always a point where you've got to prove yourself coming back the next season," he said.
At the risk of being contrarian, I feel some optimism to having Felton on the
Dallas Mavericks
roster. Starting here: we often tend to make the mistake of thinking that a player can stick around for a decade in the NBA by accident.
The criticism of Felton in recent years is certainly valid, however. The hard truth is that he was probably the worst starting point guard in the NBA last season. He had his worst scoring season of his career at 9.7 points per game and was just shy of his worst season in both assists and field-goal percentage. His past three seasons he has been inconsistent in terms of being a reliable playmaking and his defense has been just as shaky.
The best excuse we could afford Felton is that he played for the disastrous New York Knicks. Defense was nearly non-existent on that team. There have been issues of ownership and coaching and the game plan seemed to be something along the lines of "let's see how many points Carmelo Anthony can score."
Now, that may sound like a flimsy excuse for a player's consistently subpar performances, but Mavs fans much more easily sprinkle up their language with the same justification for Chandler. The New York situation was nearly as draining on Chandler and he did not play the past two seasons at the level that Mavs fans expect from him going forward. Both players struggled and missed time from minor and nagging injuries, but there is a general belief that Chandler is the one who will bounce back, partly because he helped bring the Mavericks a championship in 2011.
In that same season, Felton was having quite the year himself. Before Felton played alongside Anthony, he was traded for him. He was part of the package that New York sent to Denver in exchange for Anthony during the 2010-2011 season. At the time, many questioned whether the Knicks gave up too much to get Anthony and part of that thinking was because of the great season that Felton was having prior to being traded.
Felton played 54 games with New York that season on a Knicks team whose primary offense featured a pick-and-roll between he and Amare Stoudemire. In exactly 2/3 of an NBA season Felton's averages before being traded were as follows:
17.1 points per game
9 assists per game
1.8 steals per game
3.6 rebounds per game
42% field goals
As a point of comparison, here are Tony Parker's averages for the totality of that same 2010-2011 season:
17.5 points per game
6.6 assists per game
1.2 steals per game
3.1 rebounds per game
52% field goals
Felton was traded to a Denver team loaded with guards, which affected his minutes and thus his averages for that season. No one is arguing that Felton is anywhere near the level of Parker or was even as impactful as him that season, but there was a time in the recent past when Felton was a valuable point guard able to thrive in just about all assets of the game. In fact, those numbers are not far from the averages that Monta Ellis achieved with Dallas last season.
Felton has never been thought of as a great set-up point guard, but this is actually an underrated part of his game. For the majority of his career he has been a better distributor than Jameer Nelson. Felton does lack a consistent three-point shot. Having Jose Calderon on the team last season allowed Ellis to take over playmaking responsibilities while Calderon could spot up behind the arc. Felton is capable of knocking down three-pointers, but is nowhere near the shooter that Calderon is.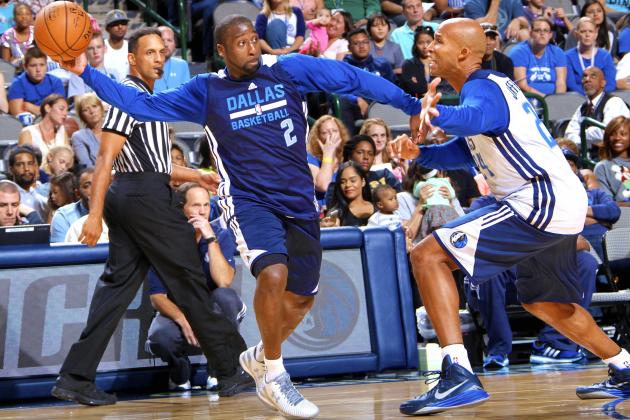 However, Felton is quite adept at running the pick-and-roll. At times when Carmelo was out of the game, last year's Knicks often relied on a Chandler/Felton pick and roll as one of the rare semi-reliable offensive go-to plays. Even during the disastrous 2013-14 Knicks season this was run with relative success. It is something that the Mavericks will be able to rely on as well. It will be determined whether he can implement similar success running pick-and-pop plays with
Dirk Nowitzki
... but we're now on the verge of getting to see that just as some of feel we've seen more than enough of Jameer's struggles.
Felton may not have the defensive quickness that he once had, but he is quite strong for his size (much like Nelson) and if he commits to that end of the floor he shouldn't be much of a liability—though guard penetration will likely be an issue for the Mavericks' defense all season.
The view that
Felton is nothing but trade bait (a view addressed here by Mark Cuban in this exclusive DB.com visit)
is fading, if only because of Jameer's struggles. We're looking forward to seeing of Felton can do something on the floor to fix his rep.
DONUT 3: Overcoming Houston
Our
All-Access Donuts take us to Houston,
where we're looking forward to these two teams in a Western Conference Playoffs matchup. Our Mike Marshall says, "A 3/6 or a 4/5 with the Rockets and I'd love it so I could see Harden and his BS dismantled by a Dallas team I think is better on every level. And I'm not just saying that because I hate what Houston did to the Mavs on Saturday.''
Check out All-Access Donuts for more of The Machine.
DONUT 4: A vastly different outcome
And then there was 24 hours before, a glorious dismantling of Kobe and the Lakers, a game in which The Black Mamba embarrassed himself in every possible way as Dallas' offense filled up the scoresheet and threatened the record books.
Our
night at the AAC with the Mavs and the Lakers is chronicled here.
DONUT 5: Dwain and Kobe
"It's the popular thing to do -- the player takes less, blah, blah, blah, blah. I think it's a big coo for the owners." - A paragraph uttered by Kobe Bryant and transcribed by Dwain Price and all sorts of hilariously wrong.
DONUT 6: Stat O' The Day
My man Coop notes that in Dallas' 10 wins, the Mavs average 116.4 points on 51.8-percent shooting with 39.8-percent on threes. ... while in the four losses, Dallas is at 93.8 points, 41.6-percent shooting and 25.9-percent from the arc.
So clearly, tonight ... Dallas needs to score the 116!
DONUT 7: Hook up with DB.com!
Keep it here on DB.com as we will keep you posted in a variety of ways from inside your team ... Here on the HOME page,
and here on DB.com Boards
... Thanks for joining us as we launch our 15 season inside the Mavs!
Oh, and if you want to be
a Mavs Insider with Premium coverage? Click here
to take our free 7-day trial and then for 10 cents a day, you are among the most informed Mavs followers on the planet! Go Mavs and Go Premium!
Also, hook up on Twitter with
Fish
,
Mike Marshall
,
Michael Dugat
,
Jonny Auping
and
David Lord
.
DONUT 8: CP's aspirin
Chandler Parsons was just 3-of-9 from the field for only eight points in the loss at his own Houston stomping grounds, said the boos he received from Rockets fans who once adored him didn't impact his game.
"After the first couple of minutes you kind of block it out,'' said Parsons, adding that it "was nice of (the Rockets organization) to play that (tribute) video. That was real classy.''
Did CP block it out? Maybe ... Though after saying he'd blocked it out, he offered the Houston fans -- to whom he now owes nothing -- an attempt at explaining restricted free agency and the salary cap and lotsa stuff lotsa angry people don't care about.
"The fans that booed, I think sometimes they forget I was a restricted free agent and the organization could have matched my contract,'' Parsons said. "But I understand that, and they're passionate and they're going to support their team and I'm going to support myself.''
Good. Chandler, "support yourself'' by rubbing an aspirin on this headache, by wrapping some duct tape around your psyche, by taking and making big shots and by attacking the rim and attacking the opponent. Ultimately, young man, you WANT opposing fans to boo you ... because it means you MATTER as a threat to their team's success.
Unfortunately, that's not why Houston fans booed Chandler Parsons.
DONUT 9: The Gambler
Officially, the NBA doesn't want gamblers to profit off its games.
Unofficially, you know that policy is flexible if it means the NBA can actually profit from gambling, too.
Kudos to Mark Cuban for joining commissioner Adam Silver in conceding this.
New Jersey is trying to legalize sports betting. Meanwhile, Silver published a New York Times op-ed calling for the national legalization and regulation of it.
Cuban thinks it's just a matter of time for sports to at least acknowledge the existence of gambling.
"I agree 100 percent (with Silver)," Cuban said. "I think we're the world's biggest hypocrites when we say, 'Oh, we don't want you betting on our games' and then we get all excited about the sports betting line and people go to Vegas on trips won through the NBA or the NFL. It's hugely hypocritical.''
DONUT 10: Thanks to our pals and sponsors!
Here's
McKinneyDentist.com
... with us since 1995! Give "the finest dentists in the land'' a click and a call!
Thanks to
Red Rock Bar & Grill,
our north Dallas hangout for live music and sports!
Meet
LS Wealth Strategies,
with Woody and Bill helping to guide my family and available to do the same for you!
And
Dee Lincoln's,
the famous DFW restauranteur now with a new location near Park and Preston!
DONUT 11: Mavs own LeBron's psyche
It's satisfying to know the Mavs are still, and maybe forever, in LeBron's head.
The Cavaliers enter the week with a crummy 5-7 record and, according to leader LeBron, an even crummier psyche.
"We're a very fragile team right now," James said. "Well, we were a fragile team from the beginning. Any little adversity hits us, we just shell up. ...
And then James, searching for an example of true adversity and fragility, recalled how the 2011 campaign ended for Miami -- with a 4-2 loss in the NBA Finals to the Dallas Mavericks.
"This is not even the lowest it's going to get for us," James said. "You guys know, the lowest it can get is up 17 in the fourth quarter of Game 2 of the Finals and losing. It can get that low. Or being up 2-1 and going to Game 4 and lose three straight in the Finals. That's very low.''
The world might remember LeBron's time in Miami as legendary. But Mavs fans should know that LeBron remembers a central part of his time in Miami ...
as the Mavs' time in Miami.
DONUT 12: The Final Word
"Run DMC'' -- Dirk, Monta and Chandler Parsons -- shot 14-of-48 from the field and 1-of-19 from the arc in a three-point loss on the road on the second night of a back-to-back at Houston in a game in which James Harden manufactured mystery calls at the end.
Look at it that way, and it's a disappointing loss that required a confluence of bad events that need not happen again too many times all season.
"Still should have won the game,'' said Dirk, with not only the right attitude but also the right analysis.