DONUT 1: Tyson and the Knicks
All the
Dallas Mavericks
know about Tyson Chandler is that he has achieved "basketball warrior'' status here. His conduct, in two stints, has been impeccable in every way. His performance, his voice, his sheer presence ... beyond reproach and almost beyond compare.
"In the locker room he's always the first guy to speak up if he sees something he doesn't like, especially on the defensive end,'' Dirk Nowitzki says. "His communication is next to no other than I've ever seen in my 17 years. ... He's been amazing.''
Which is why Phil Jackson's remarks about TY leaving the Knicks ring so offensively hollow.
It's Knicks at Mavs tonight in a Thanksgiving Eve matchup (7:30 tip at the AAC) and Chandler is the obvious centerpiece.
"I don't know why they did that," Chandler said of the Jackson-led Knicks suggestions that the New York chemistry problem was a Tyson problem. "Only they can answer that question. I've since then moved on and don't pay it any much attention, to be honest."
TY insists that he's put it "behind'' him and that he's "swept it under the rug.'' But I'm willing to bet that's not entirely true. I'm willing to bet that a Mavs team that's been a bit uninspired recently (see below) will find inspiration tonight ... both because they'll be supported by TY but also because they'll want to support TY.
DONUT 2: Now, nobody's perfect
Having said all that: If TY and his Mavs were absolutely without flaw, they would've have found a way to lose a second straight game, this one in truly embarrassing fashion to a shell-of-a-team Pacers.
Our Mike Marshall has
the review of that "sinkhole of a loss'' here,
starting with the note that the starting lineup that the Indiana Pacers rolled out Monday (Sloan, Stuckey, Hill, Scola, Mahinmi) have a combined 1,924 minutes of playoff experience.
Dirk Nowitzki
has 5,544.
And ending with an equally important take:
"It's another reminder,'' Dirk said of his 10-5 Mavs, "that we're not good enough to coast against anybody."
Sure, sure. But why does anybody need ANOTHER reminder?
DONUT 3: Felton's time yet?
After recovering from a leg injury and having served a four-game suspension dating back from last season, Raymond Felton is almost ready to make his debut with the Mavericks.
Almost.
Felton remained inactive for Monday's game against the Pacers, but is eligible to return for this game against the Knicks. How Rick Carlisle chooses to utilize him in the rotation is another issue altogether. Devin Harris' role as the first guard off the bench is one that is likely to continue all season. Jameer Nelson has struggled at times, including Monday night, but it's hard to imagine Felton taking his starting job. The Mavericks also reacquired J.J. Barea and he has been very successful in his role off the bench.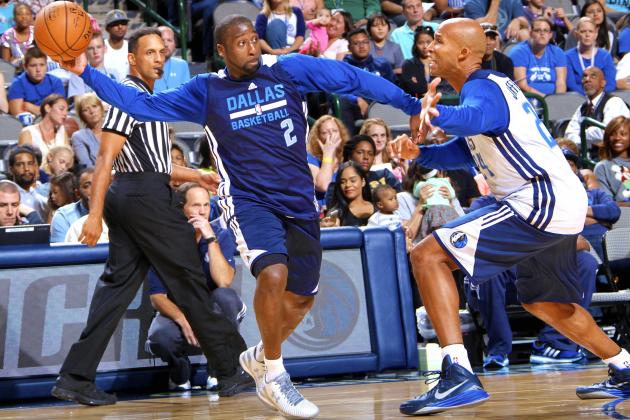 Mark Cuban mentioned before Monday's game that he thought competition at the point guard position is always a good thing, but at least for the moment, it's hard to say whether Felton will pose much competition to any of rotational point guards and may not see much playing time unless Dallas is in a position to play a very small lineup.
Carlisle said on Monday that "the players will determine the minutes." Maybe tonight Felton gets a chance to contribute to the "determination.'' ... though he tweaked an ankle on Tuesday and that might register as another temporary setback.
Our thoughts on what Felton might bring here -- eventually -- are here.
DONUT 4: Trending, Part I
It may sound like a broken record at this point, but among the biggest problems Monday was that Dallas left players wide-open who are primarily in the NBA because of their ability to hit three-point shots. The Pacers aren't ever going to set the net on fire with their offense, but the Mavericks did their part to help them get in rhythm.
Indiana shot 13-of-26 from the behind the arc as a team and the combination of Rodney Stuckey, Damjan Rudez, Chris Copeland, and Donald Sloan went 10-of-15 from long distance.
These are good shooters hitting relatively open shots. It's a trend that has always existed in the NBA and always will. You can't let shooters get away from you because when they catch the ball they will do what they've done successfully thousands of times in their life. Nearly everyone was a culprit, from Nowitzki and B-Wright to pretty much every guard. They all let shooters gain separation.
Why this matters tonight: New York is middle-of-the-pack when it comes to 3's attempted and made. But in terms of shooting percentage? The Knicks are at 39.5 percent ... tops in the NBA.
DONUT 5: A Growing Trend, Part II
Indiana is 5-1 in games in which they are leading at the end of the third quarter. The Mavericks are 1-5 in games in which they are trailing at the end of the third. And there, dwar friends, is something to watch tonight against the Knicks.
In the case of the Pacers, maybe they are a good-enough defensive team like Indiana to protect leads. But for certain, Dallas has experienced ups and downs when it comes to hitting some sort of "on-switch" this season when things aren't going well.
Overcoming fourth-quarter trends are difficult and ideally the Mavericks will be able to build on strong performances through the first three quarters, but eventually they will have to learn to overcome a fourth-quarter deficit. It's necessary in a crowded division and where every win matters and it becomes all the more important in the playoffs.
The Mavericks cannot concede to the fact that they are having off-nights even if such off-nights are bound to happen every so often. A seven-point deficit to a depleted Pacers team is an example of a manageable, if still difficult, situation to comeback from. More difficult situations will present themselves and the Mavericks need to show the fight necessary to confront them.
Maybe one of those situations looms tonight. The Knicks are just 4-11. So they are Pacers-bad. They are also possibly Pacers-hurt as star forward Carmelo Anthony was unable to play in the second half of Monday's game at Houston due to back spasms.
But if the Knicks are healthy, they have an offensive weapon who can keep them in games. And the final score of 91-86 indicates they have some Pacers-like grind-it-out tendencies.
One of the issues tonight isn't whether the Knicks (with old pal Jose Calderon at the point and less-friendly Derek Fisher coaching) are good; it's whether they are good enough to keep it close late ... thereby exposing Dallas to this down-trend.
DONUT 6: Don't give your opponent confidence
The Mavericks have in this early season had the luxury of playing a few truly bad teams that were somewhere between "tanking'' or "too young to put up a fight.'' Dallas took advantage of that weakness by stepping on their throats from the opening tip and never letting up.
The Pacers came to the American Airlines Center far from being a contender. They were unable to suit up a single starter from their Eastern Conference Finals team last season. Injuries to Paul George, George Hill, Roy Hibbert and David West made this quite the mismatch on paper.
But the Pacers are a very well-coached team and Frank Vogel demands defense and effort from every player he puts on the floor. That defense made it tough for the Mavericks to get easy looks at the basket. That was all but expected. However, a half-hearted defensive effort by Dallas gave the Pacers all the confidence they needed to compete and put the Mavericks on upset alert.
The Mavericks have a lot of talent on their roster, but when they let teams get into rhythm, they are exposing their own defensive weaknesses. After playing a few teams that lacked a certain amount of pride or high level competition, they seemed to forget that such inadequacy isn't the norm in the NBA.
Donald Sloan was first in line to prove to the Mavericks he demanded their respect. Sloan scored 29 points to go along with five assists.
We want to make this clear: Monday's 111-100 lost to Indiana wasn't a "schedule'' loss or an "emotional'' loss. It was a bad loss, born of arrogance. Plain and simple. ... committed against a team that has previous to Monday reached 100 points just once this season.
Said Carlisle: "When you get outscored nearly every single quarter, that's a demolition. It was a physical demolition."
DONUT 7: Hook up with DB.com!
Keep it here on DB.com as we will keep you posted in a variety of ways from inside your team ... Here on the HOME page,
and here on DB.com Boards
... Thanks for joining us as we launch our 15 season inside the Mavs!
Oh, and if you want to be
a Mavs Insider with Premium coverage? Click here
to take our free 7-day trial and then for 10 cents a day, you are among the most informed Mavs followers on the planet! Go Mavs and Go Premium!
Also, hook up on Twitter with
Fish
,
Mike Marshall
,
Michael Dugat
,
Jonny Auping
and
David Lord
.
DONUT 8: Ledo Shuffle
Ricky Ledo was back with the Mavericks Monday night as his back-and-forth journey between the Mavericks and their D-League affiliate the Texas Legends continues.
Carlisle confirms what DB.com reported a few weeks ago, that Ledo will spend plenty of time with both organizations as the season goes on. But it's more precise than that.
Ledo will play as many home games as possible with the Legends and typically rejoin the Mavericks when the Legends are on the road. Carlisle claims that this is a "reward" to Ledo for his hard work, improvement and compliance with a hectic situation. Carlisle claims that Ledo is "always improving" and the Mavericks are pleased with his progress.
The plan is also likely a way of preventing Ledo from hitting a wall from a travel schedule that would be straining. The Legends travel to a few more remote locations and asking Ledo to hop back and forth while traveling by both bus and plane could exhaust him in a way that hinders his progress.
Furthermore: When the Legends are without Ledo, Mike James, 39, will be the starting point guard alongside combo guard Doron Lamb. When Ricky is in Frisco, he'll start on the wing with James shifting to the bench and Lamb moving to the point. That way Lamb also benefits from D-League development, even though, of course, the central purpose of the project is to give Ledo a chance to grow from a high-school player to a pro.
DONUT 9: 11.28
Speaking of the Texas Legends: They've got games in Frisco this weekend, Friday at Saturday. If you can't make it out, you can catch R.J. Choppy and yours truly on Ch47 television ... but we'd also love to have you join us in person ... And we can get you "Black Friday'' tickets to commemorate the date for just "$11.28 at
the Texas Legends website.
DONUT 10: Thanks to our pals and sponsors!
Here's
McKinneyDentist.com
... with us since 1995! Give "the finest dentists in the land'' a click and a call!
Thanks to
Red Rock Bar & Grill,
our north Dallas hangout for live music and sports!
Meet
LS Wealth Strategies,
with Woody and Bill helping to guide my family and available to do the same for you!
And
Dee Lincoln's,
the famous DFW restauranteur now with a new location near Park and Preston!
DONUT 11: Quoteboard
"I had great relationships with all my teammates (in New York). Never had any problems. It wasn't that. We just were losing." -- Tyson Chandler.
DONUT 12: The Final Word
My DB.com spies tell me the Knicks filled their spare time on Tuesday by taking a field trip to
Up In Smoke in Uptown.
Some fine cigars for the fellas ... hopefully not victory cigars.