There is the dream, of course. Dirk and TY and Parsons upfront, Monta in the backcourt needing just someone of his high quality at the point to give the
Dallas Mavericks
a most elite starting five.
That was the stuff
dreams were made of on June 28, 2013
, way before the Mavs actually employed any of those guys except for
Dirk Nowitzki
. But Mavs GM Donnie Nelson made the call anyway, to Boston Celtics boss Danny Ainge, an old pal. They kicked around Dallas pursuing Rondo before tabling talking because, well, Dallas' cupboard at that time was bare.
It is still?
On
Dec. 9, DB.com wrote about an eventual pursuit of Rondo as a free agent
, concluding that it would be financially challenging next summer because it would mean he could only make $12 to $13 million a year -- and Dallas could only create that sort of cap room by letting valued backup center Brandan Wright walk.
So ... if getting Rondo in July meant losing Wright ... why not lose Wright now to get Rondo?
That's why Wright's name is in these conversations, as Boston needs to salvage something from the Rondo Era as it tries to build forward. Surely Boston would want much more than this (first-round picks and the like) ... and meanwhile, Dallas would absolutely want some sort of assurance that free-agent-to-be Rondo would re-up with the Mavs this summer. As always, the Mavs are cocksure about getting that done -- though agent Bill Duffy is hardly Dallas-friendly over the years.
Standing in the way of the deal? Sources tell DB.com that, for one thing, the Mavs arent' anxious to sacrifice Wright. And that the Houston Rockets are involved -- if not to acquire Rondo themselves than to block Dallas from doing so.
There are other bidders involved and frankly, Dallas might be outbid here. There is also the issue of Rondo's agent, Bill Duffy, no great pal of the Mavs organization. But the Mavs front office, in its minds, has cleared up questions of fit and finance here. He would represent an ace as a defensive point guard, would be an unselfish operator of the Mavs' top-notch offense, and has already passed Dallas' "tests,'' of you will, regarding personality.
Rondo. Dirk. Monta. Tyson. Parsons. That's a quintet that matches any in basketball for now. And again, for the future, the possibility that Rondo doesn't stay put here is minimized by a) Dallas' belief it can sell him on staying and b) B-Wright being lost in the future, anyway. in a high-octane starting five.
My personal belief? Ainge has no reason to be in a hurry here. His Celtics are going nowhere, either way, and the trade deadline is two months away. But if Dallas can pull this off? Sooner is better than later, as the Mavs are already trying to integrate three new starters and a mostly-all-new bench into a contender.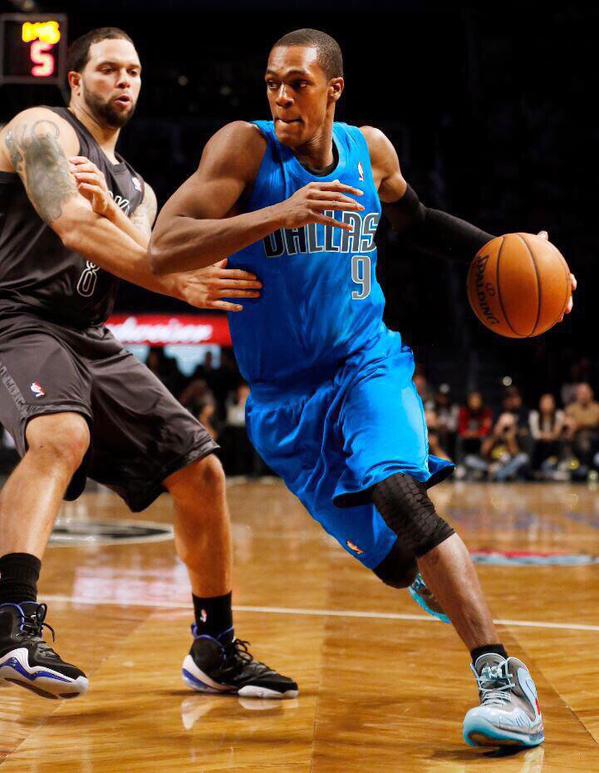 Rajon Rondo would provide Dallas with a wealth of talent. The only need would be a little bit of time.