DONUT 1: Another travelin' song
The Mavericks have now crushed their second winning streak of at least five games this season. Last season they had one (Jan 31-Feb 9). The season before they had zero. My how things have changed.
It was roughly about 12 months ago when I was on the trade machine desperately trying to get Larry Sanders out of that Milwaukee Bucks uniform and into some Mavericks threads. My how things have changed.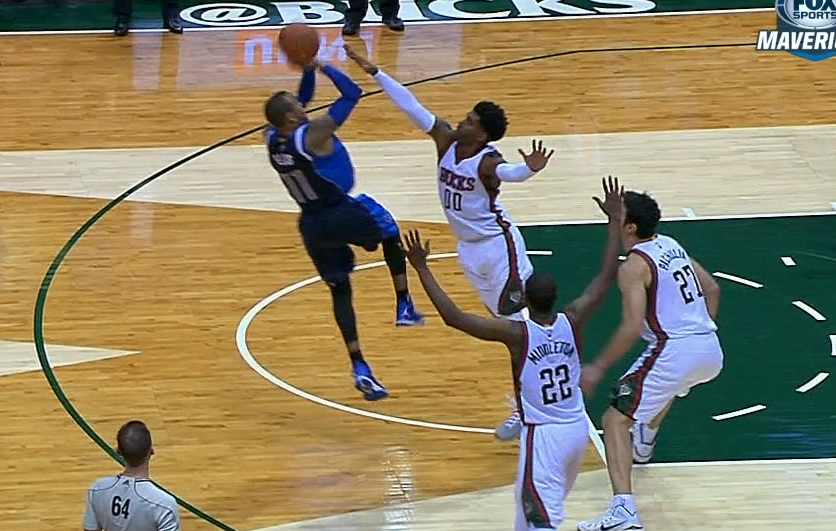 Dallas Mavericks
107, Bucks 105. My how things have changed.
DONUT 2: Floored
First issue: what in the living hell is on the Bucks court? It looks like a giant print cutout of one of the enemy ships from Galaga. Milwaukee, you can't do anything right.
DONUT 3: The Planet Haveitall
We've gone long enough without talking about that mutant man from The Planet Haveitall. Dear ghost man in the sky, send us a few more just like him. Dude is a goddang witch. If you're interested in picking gnits about his poor field-goal percentage the last two games then you're no friend of mine and I'll politely ask you to go jump in a well.
All I need to see is Monta Ellis scoring the Mavericks' final four field goals on Wednesday on his way to 23 to tell you that there aren't that many guys in this league that have the magic within them to take over a final minute like that.
His second-half numbers end up at 7-of-14 shooting for 14 points, three assists and two steals. Monta's second-half numbers of his last four look like this: 18.3 points on 53 percent shooting with two assists and 1.5 steals.
THAT'S JUST IN THE SECOND HALF, BRO.
The big question is, what does he think of the latest Big K.R.I.T. album? No … did he travel?
"Coach called the play for me to get an iso," Ellis said. "He wanted me to take the last shot, so I just took my time. I just faded to try and get a shot off and was able to see the basket."
In all honesty, it looked like he traveled but with the pivot move to open up the basket neither official could tell when the dribble actually ceased. Even if they did, I doubt they'd have the nerve to end the possession there. They're more concerned with whether he gets the shot off in time. They're looking at the release and the clock above the backboard. That's on a different plane from Monta Trillest's little magical feet.
Maybe they were just dazzled, like TY.
"Too much Monta," Tyson Chandler said. "He's been playing unbelievable, doing a great job. Not just the final shot, but throughout the game with great penetration, finding guys, keeping the defense on their heels, getting us to the bonus early. Just playing great."
Great, on back-to-back efforts, as
his work in leading the Mavs to a signature 2-OT win in Chicago on Tuesday is worth your review here.)
We'll be screwed by a similar call at some point in the season (if you don't count the James Harden game as one already). It comes and goes. What matters is the Mavericks went 4-0 on a road trip that saw Dirk sit two games with wins over two of the East's best, Toronto and Chicago. Bravo, boys.
And Monta?
"The load he has carried on this trip has been phenomenal,'' coach Rick Carlisle said. "Look, that is an All-Star, flat out.''
DONUT 4: Mavs, P.D.
I don't want to bring anybody down, Bruce. But, I can't help thinking about what this team will look like P.D. (post Dirk) when I watch them struggle against the Milwaukee Bucks, who have two guys in worse physical condition than me (Mayo/Dudley) and a dude named after a hotel (Zaza) on their roster.
I see you, O.J. Mayo. Growing that helmet fro thinking it will make you look slightly less fat. I'm onto you. It's as if his jowls grow in unison with his hair, like a chia pet.
Back to people that matter.
Dirk Nowitzki
missed his third game this season and his second on the road trip. He's played one game in five days and after the off day Thursday (there's no practice for the fellas) it will be one game in the last six days. If that doesn't get you right or rested or whatever the goal is here, I'm not sure what will. I'm assuming that it's in preparation for the Memphis-New Orleans-Golden State run that's coming down the tracks next week but it could be as simple as him playing a season high in minutes the previous night.
Carlisle called the sitting "precautionary'' and added, "We've got to get that thing knocked out of there and get him ready for whatever the next game is.''
OK, I've talked myself out of writing about the Mavericks post-Dirk. I don't want to do it and there will be plenty of time for that. Just know that all that good ball movement we saw tonight as it bounced from perimeter player to perimeter player with nobody willing to swing the hammer probably wouldn't be an issue if one of the league's best scorers in history was on the court. The ball would have found him and then the bucket.
DONUT 5: Don't tug on TY
There have been six games this season in the NBA in which a player has totaled 20 or more rebounds. Tyson Chandler is responsible for two of those.
Tyson's line over the last five games is 14.2 points and 16.4 rebounds. (Boogie Cousins is currently leading the league in boards with 12.6 per game.)
Another fun trick that Tyson rolled out in Milwaukee was his nifty elbow jumper that we haven't seen in a while. He splashed two of those bad boys for his fourth and fifth jumpers of the season as he taunted Zaza Pachulia, saying something like, "You're not famous enough for me to get in a fight with."
For real, Zaza, don't tug on Superman's cape.
This was Tyson's fifth double-double in his last seven games and his 10th of the season. It was fun watching the Milwaukee band of goons not box him out one single time over the 48 minute ballgame.
DONUT 6: Half-n-Half
Chandler Parsons' first-half fun continues to steady the Mavs early especially on a night without the god (Dirty). It still kind of sucks that he's shooting so poorly in the second half that his line looks like borderline garbage. Check back with DB.com this afternoon ... I'm going to break this down in a way that is going to want to make the Mavs show him a trend so he will DO SOMETHING ABOUT IT.
For now, we'll watch the official highlight reel ...
And for now, we'll
include Parsons on our list of "Dirkie'' candidates. Come and vote!
DONUT 7: Hook up with DB.com!
Keep it here on DB.com as we will keep you posted in a variety of ways from inside your team ... Here on the HOME page,
and here on DB.com Boards
... Thanks for joining us in our 15th season inside the Mavs!
Oh, and if you want to be
a Mavs Insider with Premium coverage? Click here
to take our free 7-day trial and then for 10 cents a day, you are among the most informed Mavs followers on the planet! Go Mavs and Go Premium!
Also, hook up on Twitter with
Fish
,
Mike Marshall
,
Michael Dugat
,
Jonny Auping
and
David Lord
.
DONUT 8: Model of consistency
Now onto a player who is the model of consistency for three-point shooting, Al Farouq Aminu.
He's actually been OK (not like "Oklahoma OK'' because that's actually terrible) from three of late. He polished off two bombs here and is hitting 36.4 percent from deep in his last four games. He had a steady game with the extra exposure (starting for Dirk), finishing with 13 points, five rebounds and three blocks (nine points in the first quarter). He did a really good job limiting Jabari Parker who never really factored into the contest.
When I see a team like Milwaukee, I think about all the guys (like Aminu) who could have easily ran off and Mayo'ed (signing a bigger deal with a turd team) but chose to come to Dallas and play for a good organization with a chance to win. Basically, the Dallas entire second unit is made of guys that could go somewhere else and get more money, minutes and numbers on a team that has no real opportunity to compete. Whether it was good advice from their agent or just a true desire to win, it's worked out for those guys like Brandan Wright and I'm happy to see their careers thriving here instead of being miserable on one of the Third-World teams.
Just ask Monta about Milwaukee.
DONUT 9: Not Jameer's fault
As bad as Jameer has played this season (here he was actually fine so I'll leave him be) there's a different position that's still the only one netting a negative PER compared to their opponent. It's small forward. Khris Middleton got his in this game and you can just add his name to the pile of Butler-Dunleavy-Deng-Green-Gay-Beal who have gotten theirs against the Mavericks perimeter defense.
I think there has to be a deal made at some point to acquire a perimeter defender off the bench that can do something besides hope that the opposition goes cold at some point. In fact,
Fish and D-Lord are kicking around that 3-and-D concept here.
DONUT 10: Thanks to our pals and sponsors!
Well, first of all ... Fish and some of the fellas opened a bar!
It's
'The Maverick' and we're all going over Saturday night to blow it out with burgers, 30 TVs (including a 200-inch screen) and DFW's hottest band, Incognito.





Come over and pester Fish at "The Maverick''!

Here's
McKinneyDentist.com
... with us since 1995! Give "the finest dentists in the land'' a click and a call!
Thanks to
Red Rock Bar & Grill,
our north Dallas hangout for live music and sports!
Meet
LS Wealth Strategies,
with Woody and Bill helping to guide my family and available to do the same for you!
And
Dee Lincoln's,
the famous DFW restauranteur now with a new location near Park and Preston!
Finally, welcome
Apple Moving DFW
, the most honored with honors moving company in North Texas ... and now we're honored to be affiliated with them!
DONUT 11: Playing with your food
At points it felt like the Mavericks were playing with their food making the extra-extra pass showing off good ball movement to the point where two different good looks had been surpassed and now the shot clock is at 5. It seemed inevitable that the Mavs were going to put the hammer down and reel off a good run to put Milwaukee in the rear view. ... and it was.
With 4:30 left to play they did just that storming the castle for a 10-1 run to take a three-point lead. The Bucks just didn't have the tools to counter and when they needed a bucket they leaned on an O.J. Mayo isolation dribble and a dump-off to Zaza Pachulia (you deserve to lose for that alone). In what universe on what timeline does that seem like a good idea? That's where the Bucks live, though. Ilyasova was sidelined and they obviously don't trust Brandon Knight enough to go to him consistently (that step back was pure luck on a break down so I don't think that was the plan).
It's really great to not be Milwaukee. We'll see you idiots again Sunday. Bring the same b-s to that game if you don't mind.
DONUT 12: The Final Word
Congratulations are in order for the King Shark (I'm not a marine biologist, guys) Mark Cuban for getting his first technical foul of the season. Way to give em hell. If Monte Mathis has to take the fall so be it. Gotsta regulate.
"Mark has promised to email the league and let them know it was him who yelled at the ref and not my assistant coach," Carlisle said. "The hope is that the technical will be rescinded. Just to get that on the record."
Home we come for four of five and some juicy match-ups for Boogie Bob to enjoy.