Ah, roadies. Wherein the good guys go visit cities, wreck them, and leave.
This trip hasn't been easy -- with the exception of Philadelphia (which if you haven't heard got their first win Wednesday so well done them) none of our hosts have been pushovers. And with
Tuesday night's double-overtime Chicago trip through Happy Hell
, well, it wouldn't have raised many eyebrows if tonight's visit to Milwaukee went down to a valiant loss.
But that, apparently, is not how these
Dallas Mavericks
roll.
Down by eight as the minutes ticked off, the Mavs went on a 12-1 run and took the lead on a Monta layup. Brandon Knight did the talking as the Bucks answered, making the score 105-all with 8.9 left. With a groan in our mouths we watched Monta take the inbound pass, size up the white jerseys flying at him, fire a very Dirk-like off-balance fadeaway ... hits!
The final is 107-105 and the celebratory mob dashes off the floor, proud owners of another win and a 4-0 road trip.
Said Tyson Chandler: "Too much Monta. He's been playing phenomenal."
While he definitely deserves the Dogpile of Victory heaped on him by his teammates, Monta is not the only "Dirkie'' contender here -- six of the good guys scored in double figures.
So here's your slate, vote your heart. ... and vote here for "The Dirkie.''
Monta Ellis -- the bad, bad man notches 23
Tyson Chandler -- 18 points, 20 boards, untrimmed beard
Chandler Parsons -- 14 points, 8 rebounds, pretty dunk
Jameer Nelson -- 13 points, 3 dimes, big three late
Al-Farouq Aminu -- 13 and 5, plus three blocked shots as
Dirk Nowitzki
's understudy.
Richard Jefferson -- 10 points and 2 dimes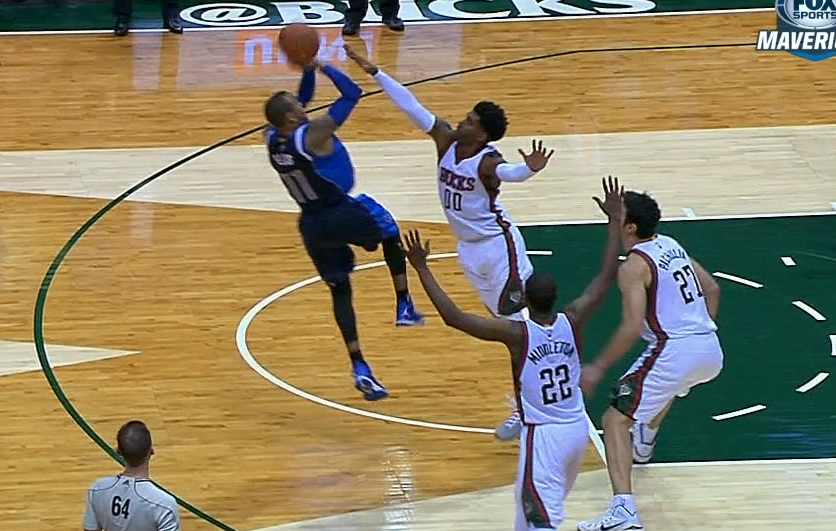 Said coach Rick Carlisle, essentially casting his vote: "Monta Ellis is having some kind of year. ... They'll be watching that shot for the next day and a half on SportsCenter."