The Brotherhood
The verdict came early, perhaps prematurely: Rajon Rondo and Monta Ellis are a bad fit.
The reasoning is not unsound. Ellis is a ball-dominant shooting guard. He is excellent at running the pick-and-roll in late-game situations. For the past two years he has excelled playing alongside point guards like Jose Calderon and Jameer Nelson, guys who can knock down three-pointers when he drives to the basket and kicks the ball back out. Rondo is a shaky three-point shooter who also prefers to dribble the ball and captain his teammates with his best judgment. The prevailing notion has been that if one of them has the ball then the other is being wasted.
There's truth to this line of thinking ... and we have evidence to back it up.
But we are starting to see their potential as a
Dallas Mavericks
duo and that potential is rooted in the aggression the two play within particular aspects of their games.
The reality of the situation is that Ellis should often be handling the ball in half-court sets and Rondo should be quarterbacking every transitional opportunity possible. That seems like an oversimplified solution, but it requires both players buying in and over the past few games we've seen the Mavericks reaping the benefits.
Rondo is at his best in transition and the Mavericks have a fine complement of players for him to work with. He can evaluate a number of running defenders and determine where the open shot will develop. The result is usually a layup opportunity or an open three. The most important aspects are getting defensive stops and putting the ball in Rondo's hands as quickly as possible.
Ellis has the speed to run a one-man fast break on his own, but he is beginning to understand that a better shot will often present itself if Rondo probes the scrambling defenders. Obviously, it is ideal for Rondo to get a defensive rebound and immediately begin the fast break or have a rebounder immediately send an outlet pass to him. That's easier said than done. Realistically though, a rebounder's immediate instinct is to get the ball in the hands of a guard — any guard — as soon as possible. If Ellis is the closest guard then the pass will likely go to him. But, a little wrinkle has been added lately. As soon as Tyson Chandler or
Dirk Nowitzki
or any other rebounder gets the ball and gives it to Ellis, before even dribbling Ellis immediately makes the pass to Rondo, who has come towards him to receive the ball. Once he gives up the ball, Ellis sprints in the other direction for the possibility of getting it back in transition.
Obviously, circumstances will prevent this from happening every single opportunity, but it is a noticeable adjustment if you pay close enough attention. It is an example of Ellis trusting Rondo and the results have allowed Dallas to take advantage of one of the more unique skillsets in the NBA.
On the other hand, Rondo with the ball in the half-court against a set defense is not the most effective plan of attack. This type of attack accounted for a number of Rondo's eight turnovers in
the Mavericks' narrow 107-102 victory over Orlando Wednesday night.
That's why we have seen in increase of him handing the ball off to Ellis a few beats into the shot clock to run the offense. Ellis can initiate an offense by simply by driving to the basket. It may mean settling for a few contested layups, but by sucking the defense in he can kick the ball out and allow Parsons or Rondo to operate against a scrambling defense (their specialty) or opens up Nowitzki for a jump shot or a lob opportunity for Chandler.
Ellis finished with 21 points off of 9-of-17 shooting Wednesday night. Rondo scored nine points to go along with six rebounds, 11 assists and an uncharacteristic eight turnovers.
Rondo's presence also shouldn't take away the weapon that is the Ellis/Nowitzki pick-and-pop. This is a difficult play to defend and it requires the ball being in Ellis' hands. We should probably see more of an Ellis/Amar'e Stoudemire pick-and-roll, which has a lot of potential as well.
These adjustments by the Mavericks' starting backcourt require them to give up the ball in situations when they're used to holding on to it with the understanding that the ball could come back to them in a more favorable situation.
Defensively, Rondo and Ellis form a small backcourt, but that doesn't mean they can't be effective. Rondo is an stellar on-ball defender when he's locked in. Ellis, to put it kindly, is a bit more of a liability. The one thing that Ellis is quite good at is jumping the passing lanes to steal the ball. Unfortunately, that leads to a lot of gambling on his part and when he doesn't get the steal it leaves the entire defense exposed. Rondo's on-ball defense directly affects Ellis' opportunities to pick off passes. If the opposing point guard is hardly being bothered by his defender then the chances of him throwing a careless pass are pretty low. This means that trying to jump the passing lane would be ill-advised. This doesn't usually stop Ellis, who takes unnecessary risks on defense. But Rondo's tenacious defense can force a guard to get rid of the ball just for the sake of getting rid of it and that's when Ellis can strike most effectively. With both Rondo and Ellis playing focused and energetically they can create a sort of havoc style defense that sparks momentum.
The two guards have combined for at least three steals in each of the past three games.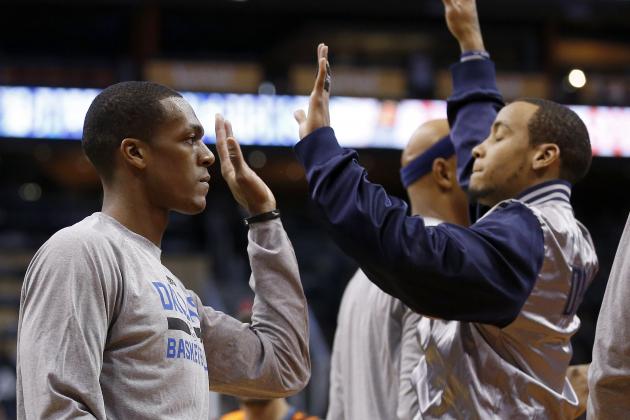 It was easy to forget when the team was adjusting to Rondo, but he and Ellis are two of the most aggressive guards in the NBA when attacking with their specific skillset. When they allow each other to take advantage of those skillsets they can put serious pressure on the defense. That type of aggression can frustrate even the best teams in the NBA. ... as the 44-25 Mavs hope to demonstrate again in tonight's 7:30 tip at the AAC against the Grizzlies.
Rondo told
Yahoo a few weeks ago that, "Monta is like my brother."
If those two brothers can keep trending in the right direction they may prove to be the kind of backcourt you want to go to bat with in the playoffs, despite early concerns of the contrary.
See what Mavs fans are saying here!
Related Story: Grizzlies-Mavs: Tonight's GameThread

Related Story: Rondo's 'Car Keys' - Fish's Premium Mavs Column

Related Story: Mavs All-Access Donuts - Best Mavnalysis in the Business!