DONUT 1: Pacers 104, Mavs 99
It is funny and strange that we have chosen to use the word "chemistry" when talking about the way a group of basketball players, or for that matter any group of people, interact and mesh and bond.
In its original meaning, chemistry is a science, is about precision, about exactitude, about knowing what to mix to get exactly what result.
It's the year 1000 BC and humans are figuring out how to get metals out of ore, getting medicine from plants, and figuring out how to ferment beer. (Which you could use immediately after Sunday's 104-99
Dallas Mavericks
loss at Indy.)
And here we are 3000 years later ... And chemistry can't give us, with a basketball team, what chemistry gives us with metals and medicine and beer.
DONUT 2: Chemistry Class
Chemistry is the theme of the last two weeks for the Mavericks, both in the media and in their own inner circle, and they know it. (I repeat: Don't kill the messenger on this because THEY KNOW IT.) When Dallas lost at San Antonio on Friday, I wondered aloud on the FOX Sports Southwest postgame show: Maybe this is all as unsolvable as the chicken-or-the-egg conundrum. I mean, are the Spurs good because they have chemistry (that stems from their Big Three being together for 14 years) or do they have chemistry because they're good?
Did the Mavs lose for the ninth straight time at San Antonio in the regular season because they lack chemistry, or because they aren't good enough?
And now you've done it again, against a Pacers team that you know you are better than ... and if you as a fan watched Dallas mount a 61-55 halftime edge without Monta Ellis (his calf injury ending his iron-man streak at 237), you might've wondered,
"Hmmmm, does our chemistry seem to be better without Monta?''

And then you kept watching, as the Mavs defensively failed to close out on long-bombers (result: DFW native C.J. Miles scores 28 on 5-of-6 shooting from the arc) and then you watch the Mavs offensively fail to score 100 (result: Indy throws a parade because that club's been letting all comers score 107 against them for weeks) ... and you realize:
Real chemistry is a science; basketball chemistry seems to be an art, or maybe even something less calculable that that: happenstance.
You throw 15 human ingredients into an oven and hope it comes out a cake.
This cake did not rise.
DONUT 3: The first quarter
Rick Carlisle talks a lot -- way too much, if you think about it, even though he is justified as viewing it as mandatory — about this group of Mavs playing hard for 48 minutes.
Again, he's right: I'd rather lose like they did Friday at San Antonio when they gave effort but played poorly in a loss to an arguably superior team, than lose the way they did a week ago, in Phoenix, when they let cockiness or dysfunction or a lack of trust wash over them for a first half, causing a loss to an inferior foe that never should've occurred.
None of that seemed in play on Sunday. There was effort ... though among the many blown opportunities was the lack of results in the first quarter, where the Pacers had proven to be most vulnerable.
The Pacers, even as the vie for the No. 8 spot in the East, give up enough points over the course of four quarters in the previous eight games to have lost seven of those ... and look at the first quarter in particular: They'd gone 10 straight games getting outscored in the first quarter. On Thursday against the Bucks, they were outscored 34-to-15 in the first. And get this: They'd scored no more than 15 points in the opening period in three straight games.
So, somehow, what did Dallas manage to allow in the first 12 minutes? A total of 33 points. A 33-27 score. Yeah, the Mavs allowed the Pacers to pretty much score twice as many first-quarter points as they usually do.
DONUT 4: Power Points
Our man Saad Yousef contributes the Power Points:
*C.J. Miles was 9-of-12 from the field. Fittingly, it was Miles who iced the game with 1.7 seconds left by knocking in two free throws to extend a three-point Pacers lead to a five-point win.
*This is the first time this season the Mavs lost a game while leading after three quarters (they held a 79-78 advantage entering the fourth quarter). That dropped them to 33-1.
*The Mavs are 1-4 in their last five games.
*The Mavs are 1-7 on the road post-All Star Game.
*Most of the Mavs' offense came in the form of Chandler Parsons, who had 27 points on 55-percent shooting and added 10 rebounds.
*Mavs Minute Management- Rajon Rondo played the most minutes at 38 minutes with Parsons just behind at almost 37 minutes. Dirk played nearly 34 minutes and Tyson played 28 minutes. As for Monta's spot, it was a committee filling in for him. Richard Jefferson started and played 16 minutes, but Devin Harris played 27 minutes off the bench. Raymond Felton also contributed 14 quality minutes off the bench.
*The Mavs finished 21-9 against Eastern Conference opponents. They were 8-7 at home and this loss in Indiana put them at 13-2 on the road against the East.
*The Mavs were out-rebounded 43-41.
*3-point percentage- Though the Mavs did shoot 40 percent from downtown, this stat is more notable for the defensive ineptitude. The Pacers poured in nearly 60 percent, 58.8 percent to be exact, of their 3-point attempts.
DONUT 5: Quoteboard
Our stir-it-up buddy Tim MacMahon asked Brian Cardinal -- the ex-Mavs champ now working at Purdue and in attendance Sunday - if he misses playing.
"Only when I'm awake,'' the "Custodian'' said dryly.
DONUT 6: Dirk's touch
It's probably not a coincidence that when
Dirk Nowitzki
loses his offensive touch -- or doesn't get touches — the Mavs lose their offensive way. Dallas is 1-4 in its last five games now, and Dirk averaged 12 points on 37-percent shooting coming into Sunday. Dirk scord just seven points Friday in San Antonio. In Phoenix, he didn't launch a shot in the entire fourth quarter. I said going into Sunday, it's on Dirk's touch - and touches — to be fixed and to fix.
Dirk scored 19 points on 7-of-13 shooting.
More touches, please.
DONUT 7: Stat O' The Night
When Dallas doesn't score 100, as was the case against the Spurs, and now is the case against the Pacers, the Mavs are 10-21. This stands as the least complex and most telling stat of the year, I think.
DONUT 8: No, they're NOT good
Carlisle followed The Coach's Creed by saying how good the Pacers are.
"They're a good team,'' Rick said, "and they put you in some tough situations.''
Aww, horsespit.
The Pacers are a team that doesn't beat West teams at home (they were 4-9 going into Sunday), they are a team that doesn't win at home (they'd lost four straight in that barn going into Sunday) and (as noted above) they are a ripe-for-the-taking team if you take them early.
But if you let C.J. Miles score THREE TIMES his career average? Especially because you fail to close on him defensively even though it's clear he's fooled himself, at least this week, into thinking he's Reggie Redux?
Yeah. Sure. Indy's a good team.
DONUT 9: Scoreboard-watching
Teams like to say they don't scoreboard-watch.
Teams are LIARS.
The Spurs won at the Grizzlies on Sunday, so there goes Dallas' chance to get back to within a half-game of San Antonio. The Mavs are now 2.5 back of the Spurs, but ...
DONUT 10: Scoreboard-watching II
Here's a weird bright side: While the Mavs struggle and while the Spurs don't, seemingly cementing the 6-7 race that maybe had the victor excited to oppose the Rockets ...
The Rockets have been so successful in riding The Hated Harden that they're now in second. So No. 7 would play No. 2 and maybe No. 7 doesn't look so horrible.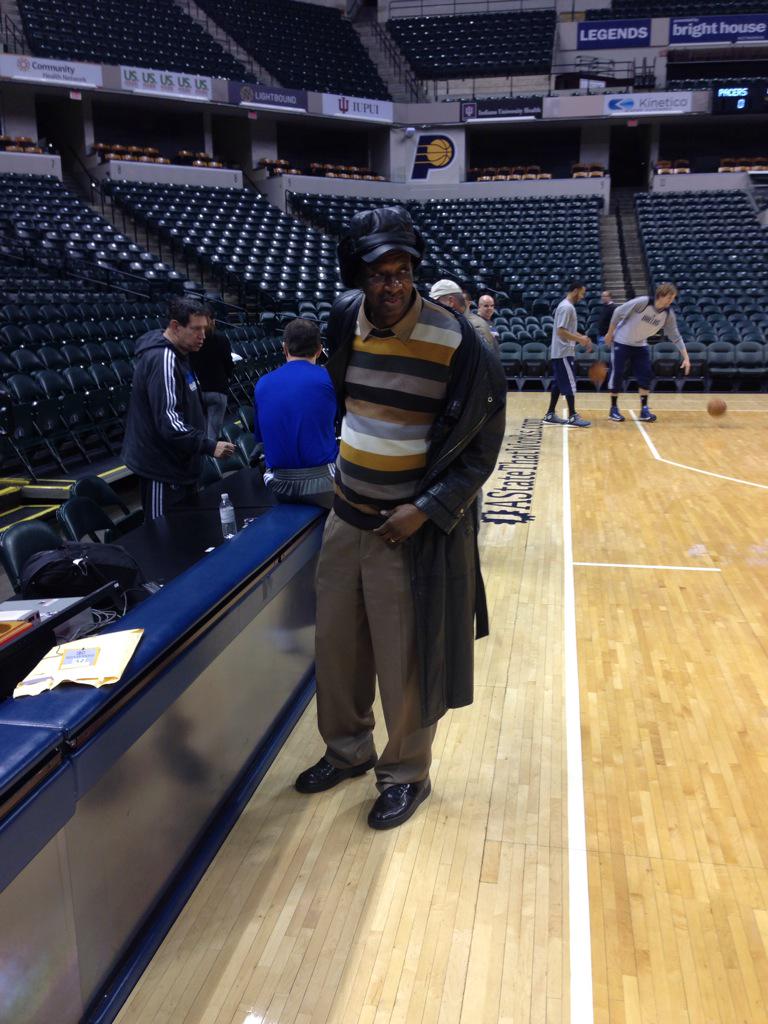 And then there's ol' pal Dwain Price, seriously pondering the mathematical unlikelihood of Dallas slipping to No. 8 ... while stealing all my white-jacketed thunder while dressing like a "Good Times'' stuntman Halloween reject.
You know, CBS' Dennis Dodd is on this weird campaign to keep Aaron Rodgers from being able to mull around a basketball floor ahead of media members ... but then you see Dwain mulling about a basketball court and you think,
"Maybe we in the media ought to leave well enough alone.''
DONUT 11: The positive Rondo
I'm a stubbornly defiant homer, so here goes:
I think the way Rondo finished the first half was wildly promising. Seriously. n the final few minutes of the first half of this game, we witnessed the most boring four-minute run of Rondo's career in Dallas.
And by "boring," I mean "damn-near terrific." Consider ...
-4:07 left, an assist to Felton for a 50-47 lead.
-3:34 left, an assist on Charlie V's three… And you'll notice, nothing fancy ... it's just a handoff to an open receiver.
-2:31 left, and Rondo fights to tip for a defensive rebound.
-1:47 left in the half, and Rondo finds himself open from 13 feet .. And he does what every single basketball player in the NBA under 6-foot-9 must do: he takes that shot.
-22 seconds left: Rondo feeds to Parsons for the dunk.
Dallas ends the half with a 61-55 lead ... It's done on the road .. It's done Without Monta ... But it's also done with Rondo recording, by halftime, 12 points and five assists. Oh, and two rebounds, one steal, and zero turnovers.
This was five plays over the course of four minutes and guess what? There wasn't a fancy pass, or an acrobatic layaup attempt, or a do-too-much error, or even a dissatisfied grimace at the head coach for Rondo, who finished with 17/10/7 ... and by God I believe it's in there.
Just five good, sound basketball plays over the course of four good, sound basketball minutes.
So boring.
So terrific.
So homerifically promising.
DONUT 12: The Final Flo-Jo Word
Indiana is now 5-0 while wearing its 1980s throwback uniforms designed by the late Florence Griffith-Joyner. And I mean no disrespect when I say this is the sort of note that gets celebrated when a team wins ... and never, ever, ever mentioned again if a team loses.