Mavs at OKC
The
Dallas Mavericks
don't need a ton of victories in these final eight regular-season games. But this one tonight? They could really use this one.
A win tonight in OKC (7 p.m. tip on FOX Sports Southwest) puts Dallas is terrific position to lock itself into the favorable No. 7 spot in the West, as they'd be up four over the No. 8 Thunder with seven then left to play. "Favorable'' because you damn sure don't want to be No. 8 and then having to clash with the Warriors to start the playoffs. "Favorable'' because it matches you up with a Houston team that has been lights-out but might still have some vulnerabilities ...
Of course, the Mavs are in no position to giggle at anybody else's flaws. The Mavericks are 45-29, having dropped four of five and now in danger of completing a three-game roadie with three losses. Dallas has come up with recent solutions against the Thunder (especially with their roster stripped down to Westbrook and not much else) but OKC has, overall, won six straight home games and 20 of its last 22.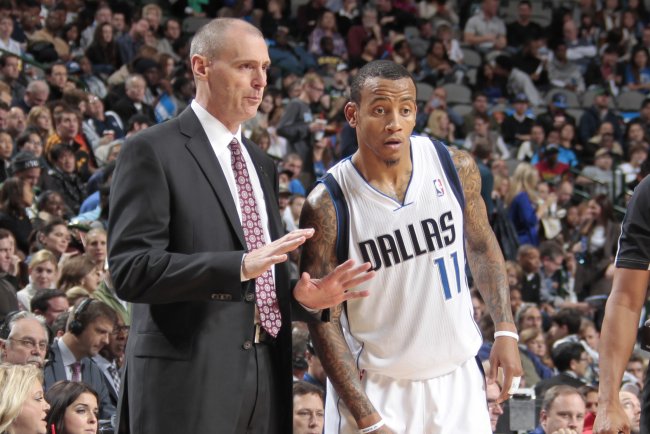 "Looking forward ... The game (Tuesday) is very important, Oklahoma is a hot team ... it's another opportunity for us,'' says
Mavs coach Rick Carlisle. (More from Carlisle in his Top-10 Donuts).
Dallas is hoping to have Monta Ellis (calf) available to start another iron-man streak and to contribute something near his 19.1-point average.
Ellis -- who sat out Sunday's loss at Indy to end his 237 regular-season run -- practiced fully with Dallas yesterday.
(Carlisle is saying today that he'll update Monta's status tonight, but there is a positive vibe here.)
OKC is 42-32 and staying afloat even without Kevin Durant (done for the season with a foot injury) and Serge Ibaka (knee). Oklahoma City is 2.5 games ahead of New Orleans for the eighth and final postseason spot and has won five of seven behind Westbrook, who has overtaken James Harden for the NBA scoring lead with 27.6 points per game.
"It's Westbrook attacking almost every time down,'' Carlisle says. "Gotta give Scott Brooks and their team a lot of credit for hanging in. No Ibaka, no Durant. On paper, it looks like, 'How are these guys even hanging around?' But they're dong more than hanging around.''
Rajon Rondo will bear the Westy burden on the defensive end, and
Dirk Nowitzki
and Parsons need to be top-notch on offense (with or without Monta) as Dallas has managed to average just 88.4 points in its last eight roadies -- seven of which have been losses.
Dallas' road woes against winning teams looms large no matter where the Mavs end up in the standings and no matter who they oppose in the postseason. The Mavs haven't beaten a winning team on the road since Jan 19 at Memphis. After OKC, they don't have another opportunity do record such a win. So tonight is big, in the standings for certain and psychologically, maybe too.
No foolin.
See what Mavs fans are saying here!
Related Story: Mavs at OKC: The GameThread on DB.com Boards

Related Story: Why Can't The Mavs Just Get Kevin Love?

Related Story: Mavs Donuts - In Which We 'Shut Up And Dance With Dirk'