DONUT 1: JJ Barea Gets the Start
The last time J.J. Barea was unexpectedly placed into the starting lineup shortly before tip-off, the adjustment helped the
Dallas Mavericks
defeat the Miami Heat and win the NBA championship. When Rick Carlisle made that decision back in 2011 it was a strategic move to change the pace of the series. Wednesday night against the Pelicans, Barea was inserted into the starting lineup, this time because of a shoulder injury to Jameer Nelson.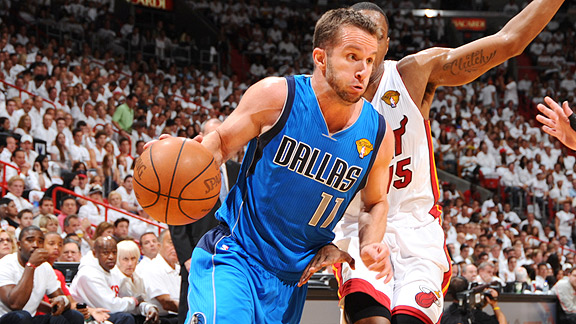 The results were not quite as dramatic this time around.
Barea missed all four shots he took in the first quarter before being replaced by Devin Harris. He also looked quite incapable of guarding Jrue Holiday (as did the rest of the Mavericks' guards).
Barea was unimpressive Wednesday, scoring just two points and shooting 1-of-7 from the field. But JJB has been terrific in the late-going in games ... so there is a time and place for everything and everybody. A healthy Jameer Nelson will likely start, with Devin Harris and Barea being much more effective off the bench.
Barea has a role on this team. For as much criticism as Jameer has earned, he has a role, too. And it doesn't mean he's "more important'' than Barea, just that he'll stay ahead of him on the depth chart.
DONUT 2: All-Access to win over Pels
Want DB.com's exclusive analysis, with all the trimmings,
of Dallas' win over the Pels? Yes. You do. Read about it here!
DONUT 3: Significance of Wednesday's Game
Wednesday's game against the Pelicans was sandwiched between two games that were highlighted and circled on the calendars of most Maverick fans. The night before they
lost 114-105 to the Memphis Grizzlies (see our Grindhouse review here)
and Saturday they will face off against the Warriors.
Beating a top team in the Western Conference would be a great sign for Dallas, but don't downplay the significance of that 112-107 victory over the Pelicans. At the end of the day, matchups between elite teams like the Mavericks, Warriors, Grizzlies, etc. are ultimately a toss up, especially this early in the season.
But a game on the second night of a back-to-back against an emerging dominant young player ... after having just played the most physical team in the NBA? That's a game that tests your resolve. It's a game that the Mavericks needed to win to compensate for the fact that they will likely end up losing somewhere near half of the games they play against the many elite teams in the NBA.
Last year's version of the Mavericks might have watched Anthony Davis score 31 points and grab 11 rebounds and accepted a loss. This year, they understood the importance and they took care of business.
DONUT 4: Take it to 'em
Davis and Omer Asik represent what is probably the best defensive frontcourt, on paper, in the entire league. They are both defensive monsters with incredible range and natural instincts for defensive positioning.
They only way to defeat a frontcourt like that is to be aggressive and unafraid of getting your shot blocked. The Mavericks did just that on Wednesday, scoring 46 points in the paint against the Pelicans. Devin Harris and Monta Ellis led the way attacking the rim off of pick-and-rolls and setting a tone for the game. And it's a lesson to file away, and to build on. The Warriors are long and active, too. The fearlessness of Dallas' "littles'' combined with the work of the high-flying bigs? We say getting to the rim is the pivot point in Saturday's matchup, which of course you can see on FOX Sports Southwest beginning with the Emmy-award-winning "MAVS Live'' at 12:30 p.m. and tipoff at 1.
DONUT 5: Stat O' The Day
This will be a theme all season: Defending the three-point shot has been a glaring weakness for the Mavericks so far. They might have the best record in the league if they had just been around league average in defending the long-range shot. So naturally, any game they can contain a team's three point shooting is very likely to result in a victory.
The Pelicans made only seven three pointers Wednesday night, a good number for the Mavericks. Five of those three pointers came from Jrue Holiday, which can be seen more as a good player getting hot as opposed to a total defensive lapse.
We'll be updating this progress all season, but if this is a sign of opponents' three-point shooting regressing to the mean—and/or improvements in the Mavericks' three-point defense? Then it could also be a sign the Mavericks could soon be moving up the standings.
DONUT 6: Quoteboard
"First of all, he has great skill. He certainly has the ability and he is an ultra competitor. He wants the ball when the heat's on and he's unafraid. ... Everybody was asking questions about his elbow and the majority of the guys in this league would have sat this one out ... but he wants to play. He wanted to play, he wanted to compete.'' -- Rick Carlisle on Monta Ellis.
DONUT 7: Hook up with DB.com!
Keep it here on DB.com as we will keep you posted in a variety of ways from inside your team ... Here on the HOME page,
and here on DB.com Boards
... Thanks for joining us as we launch our 15 season inside the Mavs!
Oh, and if you want to be
a Mavs Insider with Premium coverage? Click here
to take our free 7-day trial and then for 10 cents a day, you are among the most informed Mavs followers on the planet! Go Mavs and Go Premium!
Also, hook up on Twitter with
Fish
,
Mike Marshall
,
Michael Dugat
,
Jonny Auping
and
David Lord
.
DONUT 8: The Closer starring Monta
Monta Ellis has the skillset to score a lot of points in the NBA. He has the swagger to take on anyone. Eventually, those two things were bound to come together and make him one of the NBA's best closers.
Monta embraces putting the team on his back and Dirk is humble and smart enough to let him do just that. Excluding two Richard Jefferson free throws with four seconds left to seal Wednesday's game, Ellis scored the last 13 points for the Mavericks, shooting 5-of-5 in that span.
It's easy to say that Ellis "has ice water in his veins.'' It's also metaphorically true. But his late-game heroics have much to do with his incredible conditioning, too. Ellis seemingly has the same amount of energy in the fourth quarter as he does in the first and his constant attacking only makes defenses more fatigued. That's when he takes over.
And yes, that leads to talk-show conversations about "who is the best player'' on the
Dallas Mavericks
... a conversation we find immaterial. It's more about having multiple answers than it is about "appointing'' a full-time designee. Monta's time is now. Dirk's time has been for over a decade and continues. Parsons, TY, Devin ... there are enough balls to go around.
DONUT 9: Parsons Settling In
Speaking of CP ...
It's about time we kill any remaining talk about whether or not Chandler Parsons fits with the Mavericks and can live up to his hefty contract. Parsons has certainly had a few off-nights offensively, but he has proven to be a consistent scoring option who competes and contributes in every area from defense and rebounding to helping initiate ball movement.
Parsons on Wednesday continued his hot streak with 20 points off of 8-of-13 shooting, his third consecutive game scoring 20 or more points. Increasingly, we're less concerned about his "fit'' and more concerned that his back "tweak'' isn't a lingering one.
DONUT 10: Thanks to our pals and sponsors!
North Texas' most-honored movers ...
Apple Moving DFW,
, the best in the business!
Meet the family at
Estilo Gaucho
, selected as one of the top 100 steakhouses in America ... where every occasion is a special occasion!
Here's
McKinneyDentist.com
... with us since 1995! Give "the finest dentists in the land'' a click and a call!
Thanks to
Red Rock Bar & Grill,
our north Dallas hangout for live music and sports!
Meet
LS Wealth Strategies,
with Woody and Bill helping to guide my family and available to do the same for you!
And
Dee Lincoln's,
the famous DFW restauranteur now with a new location near Park and Preston!

Oh, and guess what? Fish is opening a bar!
It's called "THE MAVERICK''!
Sports, live music, burgers, all with a Texas flavor ... come LIKE us on Facebook and then swing on in!
DONUT 11: D-League Donuts
*"Ivan's Return": You may remember Ivan Johnson from the Atlanta Hawks squad 2011-2013. Ivan played in China last season but is now looking to make his way back onto an NBA roster and is utilizing the most-proven route through the D-League. Johnson made his debut with the Texas Legends last Friday, and his impact has continued to deepen each game since. Johnson's talent at this level is unquestionable, his size and strength make him a fierce competitor under the basket. The scouts will be looking to see what kind of shape he's in and whether or not he can stay out of foul trouble. The NBADL's annual Showcase is in January so he's got a few games to get himself ready for the stage.
*"Ledo Ledger": Ricky Ledo has been back and forth a number of times already this season, however this time is a bit of a surprise. The Mavs have pulled Ledo in time for the road trips up until this point, so it was news to see Ledo sent to join the Legends in Austin. What e will say: it's Austin. The team then takes its time getting up to Oklahoma City to play on Thursday. We're not talking about any major flights or desolate areas, so Big Brother's still keeping him close.
This is more of a benefit for young Ledo as he wouldn't be playing on the Mavs road trip anyways, so may as well get some PT in where he can.
*"Dueling Double-Digit Wins": We got a double dose of basketball Sunday night with the Legends playing the Grizzlies' affiliate and the Mavs taking on the Greek Freak and his Bucks. The Legends set the stage with a 22-point win in Iowa and the Mavs rounded off the celebration with a 23-point win at home. No, we can't make any correlations here; it's just nice to see both squads take a W in the same day. With those big wins, the Legends stand atop their division and the Mavs place themselves in playoff contention. Dallas basketball glory!
*"Frisco Road Warriors": While it may be frustrating for the home crowd, the Legends have made a statement that they travel well. We'll chalk it up to a rough schedule (especially Friday night's loss to OKC when the team got back in town from the Valley THAT MORNING after a game the night before and played another one that night), but the Legends are currently (knock on wood) undefeated on the road. The team has a rough stretch ahead that may be a test (played Sunday, traveled Monday, play Tuesday, travel Wednesday, play Thursday) but then there's a nice break before the welcome roar of a home crowd on Friday, Dec. 19th.
"Billie Clyde in Frisco": Speaking of Friday, Dec. 19th … bittersweet news. While you may have had your hearts set on heading over to Dr Pepper Arena, taking in an exciting Legends game (against the 76ers' squad … their D-League not their actual team … yes, we know we all have a joke built into that one), and seeing Fish behind the mike with Choppy … Fish is on assignment that night so we've arranged for a great substitute: Billy Gillispie, who many around here remember from Texas A&M's only basketball glory days, will be co-hosting the broadcast with RJ.
So keep your ears out for some insider knowledge that only a coach can give. It'll be a special broadcast…I'm not saying better, I like my job!...but different. So call up and get your tickets
from the Texas Legends
and take the family out to meet Billy and the team!
DONUT 12: The Final Word
"(Thursday was) an off-day and we have to get these guys in the training room, get them to do their therapy rehab and get them ready for Saturday when we have the best team in the league coming in here." -- Rick Carlisle.