Prickly Rick
The
Dallas Mavericks
are in a foul mood.
This is the Season of Giving and they feel like they've given away way too much ground in the West by failing to close out on winnable games against contending teams in the West. ... so on Monday, coach Rick Carlisle was in no mood to give information to the media -- at least not without a tug-of-war.
First, Earl K. Sneed of Mavs.com (hardly an Enemy of the State) asked a question about Tyson Chandler going against the Knicks on Tuesday, and how excited he will be to do so. Earl repeated Dirk's "we'll-need-a-tranquilizer-gun'' line, wishing Rick to follow up that clever quip with ... something. Clever. Innocuous. Anything to acknowledge that TY's return to NY will be the highly-emotional visit that we all know it will be.
"Why are you trying to stir things up?'' Carlisle said to Sneed in an accusatory manner. "There's no story there. ... Ask me questions about the basketball game.''
OK ... so I asked Carlisle about the success Memphis had in preventing Dallas dunks, and wanted to kick around the X's-and-O's of doing so.
"That was a week ago!'' Rick growled. "So you want me to tell you about the techniques and strategies and game-plan stuff we use in a game? Really?''
Carlisle added one more critique regarding how long it's been since I'd attended a practice (too long, I guess) before acknowledging something about how Tyson brings intensity to every game, or whatever.
This was Prickly Rick at his best/worst; playful, kind of, if you are used to it. A high-school gym teacher not wanting us to wear black-soled shoes on his floor. An attempt to set a no-nonsense tone. Hey, if it helps the Mavs someday register a victory against a top-eight team in the West, like they have the opportunity to do Saturday against the visiting Spurs, abuse away!
Using better manners but the same general approach, Dirk Nowitzki met a handful of reporters and fieled Question No. 1 -- the same TY-tranquilizer query we'd lobbed at Rick -- and Dirk flipped it around.
"Doesn't matter,'' he said. "We're losing a bunch of games. We're losing track in the race in the Western Conference.''
Here's hoping the Mavs' collective prickliness is used to poke holes in the Knicks on Tuesday.
Coach Monta
Monta Ellis spent the final 15 minutes of Monday's workout chanting, chanting, in a deep voice, "Cannot play with them, cannot win with them, cannot coach with them. Can't do it.'' ... "Cannot play with them, cannot win with them, cannot coach with them. Can't do it.'' ... "Cannot play with them, cannot win with them, cannot coach with them. Can't do it.''
He did this while Tyson Chandler was practicing free throws. He did it while jogging over to get something to drink. He did it while walking up the stairs to exit practice. ... Until I stopped him to inquire why he was channeling Mike Singletary's 2008 rant as coach of the 49ers against selfish tight end Vernon Davis.
"Oh, I just thought it was funny,'' Monta told me. "I was there for that (Ellis having played in the Bay Area during that time). "Cannot play with them, cannot win with them, cannot coach with them. Can't do it!''
I have a feeling it might be a private joke between Monta and TY that has something to do with Phil Jackson's overseeing of the Knicks and his ridding them of a player like Tyson, who obviously you cannot play with or win with. Ahem.
So, seriously, Tyson
The Knicks are 5-21. The Mavericks are 17-8. Nobody really believes that New York's problem was this guy, right?
"You know, I put that in the rear-view mirror a long time ago," Chandler said. "But every game I step on the floor, I'm going to get out there and give it my all. That doesn't change from game to game. Some games are better than others, but this is going to be an important one for us because we're coming off of a loss and we need to make up some space."
Mavsellaneous
*Dirk says Madison Square Garden is his second-favorite place to play -- behind the AAC, of course.
*Rick didn't want to play along. But B-Wright was very cooperative with me on the subject of the alley-oops -- or the lack of them against the Grizzlies. "It's not really that they pin you down physically or anything like that,'' he told me, recalling the loss in which the NBA's top-dunking team never recorded a slam. "If it was just that, Tyson and I can just jump over that. But they stuck with us on the pick-and-roll. And that's fine, too, most nights, because then it's our guards getting a chance to go to the rim and finish. It's pick-your-poison, most of the time. Either way teams defend it, we can still make it work.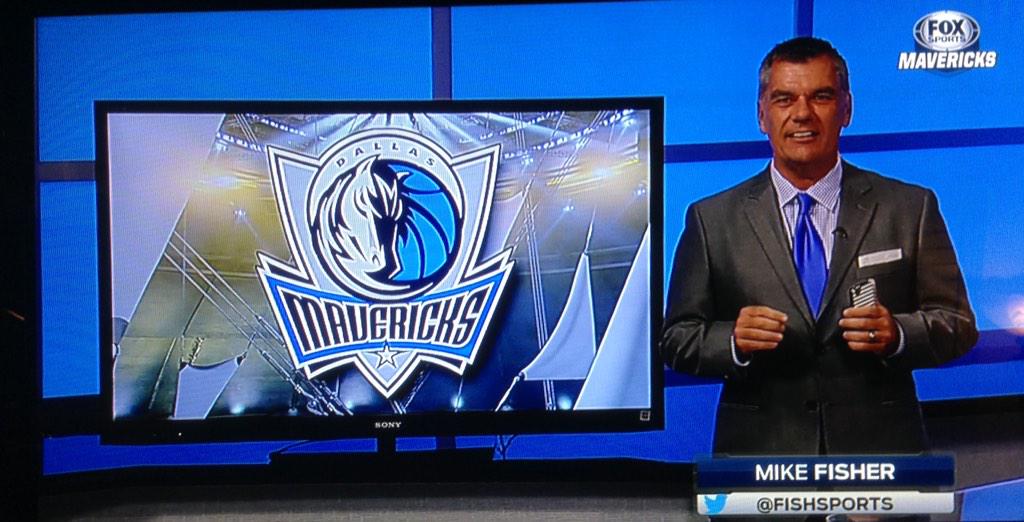 *Following practice, the Mavericks traveled to New York. Dallas leads the season series 1-0 after a 109-102 overtime win at home back on Nov. 26. The game will air locally on FOX Sports Southwest with our "MAVS Live'' pregame show at 6:30 and tipoff at 7 p.m. CT. See you on TV tonight!
*I watched at length as Chandler and Felton interacted. If there was ever a conflict between the two back in NY, as is so often rumored and suspected (especially as we search for reasons for Raymond's incredibly long ankle rehab), it doesn't exist now. They were goofing around together, working together ... no problem.
*Carlisle paid special teaching attention to TY at the free-throw line.
*Dallas plans to list Chandler Parsons as questionable for the Knicks game, the first of two back-to-back roadies as the Mavs will be in Detroit.
*Charlie V was so intent on not letting Aminu win a 3-point contest with him that Villanueva on consecutive shots 1) goaltended an Aminu release and 2) threw another ball at Aminu's launch to send it off-course.
Dirk goes deep
As part of Dirk's unique routine, here's his deep knee bends before 3-pointers:
Additionally, upon discovering that Meb Keflezighi was present in the gym for a visit, Nowitzki hung out with him and engaged in a mock-race against the world-class marathoner.
Thanks to our pals and sponsors!
Here's
McKinneyDentist.com
... with us since 1995! Give "the finest dentists in the land'' a click and a call!
Thanks to
Red Rock Bar & Grill,
our north Dallas hangout for live music and sports!
Meet
LS Wealth Strategies,
with Woody and Bill helping to guide my family and available to do the same for you!
Thanks to
Estilo Gaucho,
authentic Brazilian cuisine, family-owned and operated and just named one of the top 100 steakhouses in America!
And
Dee Lincoln's,
the famous DFW restauranteur now with a new location near Park and Preston!
Oh, and I've opened a
bar and restaurant, "THE MAVERICK,'' at 121 and Hebron, and would love for you to come say hi!
The Final Word
"We got to win. That's really all it boils down to." -- Dirk Nowitzki.