The Case For 'Hero Ball'
In last year's opening round of the Western Conference Playoffs, the
Dallas Mavericks
were expected by virtually everyone to lose to the San Antonio Spurs in a seven-game series. And with good reason: the Spurs went on to win the NBA Championship, crushing two-time defending champion Miami Heat in five games. In the first round they were facing a below-average defensive team that relied on production from Samuel Dalembert.
Yet the Mavericks nearly defeated the Spurs, taking the eventual champions to a Game 7. The reasons for this near-upset obviously consisted of a combination of factors, but perhaps the largest was the aggressive play of Monta Ellis.
Ellis has been one of the most polarizing players in the league for much of his career. His shot selection and efficiency have often been questioned especially among those in the analytics community. Still, he was given the keys to the Mavericks' offense during their playoff stretch and he almost defeated one of the most efficient teams in NBA history.
The Mavericks haven't been clicking on a title-contending level as of late. Defensive rebounding has been a big part of their recent struggles. Injuries have been an even bigger part. But the most noticeable issue is their lack of offensive flow. With Rajon Rondo in the lineup they appear to be a bunch of square pegs trying to fit into a round hole.
This was the case yet again Tuesday at the AAC, with coach Rick Carlisle labeling the Cavs 127-94 decision "the lowest point we've been at'' ... "the worst performance of the year'' ... "(I'm) sick to my stomach.''
Dallas - a .500 team since Jan. 7 -- slips to seventh in the West. The fix?
The consensus hope to repairing this lack of offensive chemistry (and maybe overall chemistry) seems to lie in the hands of Rick Carlisle. As one of the best coaches in the NBA perhaps he will find the right amount of tinkering to his current schemes that will make everything click before the playoffs.
But maybe it's simpler than that.
Perhaps gambling on the decision-making (decision making that has been questioned for years) of Ellis is the best chance the Mavericks have of righting the ship.
In last year's playoff series with the Spurs it was Ellis who was the aggressor on offense. Obviously he and Nowitzki worked in tandem to form a dangerously versatile combination, but it was the pressure that Ellis put on the Spurs' defense that resulted in open shots from Nowitzki and the rest of the Mavericks' shooters.
If we only look at the first six games of that series (the seventh game was a blowout victory by the Spurs in which Ellis got in early foul trouble) then you'll notice that Ellis was the Mavs' leading scorer in five of those six games. He also shot more free throws than Nowitizki in all of those games. In game six, with the Mavericks facing elimination, Ellis scored 29 points off of 11-22 shooting. He scored 12 of those 29 points in the fourth quarter.
It would be a mistake to say that Ellis has taken a step back this season. After hurting his hip in mid-February he went into a relative shooting slump in which he did not look like himself, though both he and Carlisle insisted he was healthy. Even with said slump he has had an All-Star caliber season. His 19.2 points per game is good for 17th in the league. His 44-percent shooting number is better than that of Damian Lillard, Russell Westbrbook and Kyle Lowry, all three of whom were All-Stars this season.
Sunday night against the Lakers it appeared that Ellis has put that slump to rest. He scored 31 points off 12-22 shooting to go with three rebounds and three assists. And here? Ellis' shot did not seem to be falling Tuesday against the Cavaliers. He was one of the few Mavs we thought were playing hard the entire time he was in the game, however. He played all 12 minutes of the first quarter and played a total of 32 minutes in the blowout loss. He scored 17 points off 8-18 shooting to go with four assists and three rebounds.
Defense was the real issue on Tuesday as the Cavaliers already had 99 points through only three quarters. But Cleveland was able to push the ball in transition in large part because of stagnant and inconsistent offensive execution.
LeBron James and Kyrie Irving got to the basket at will and created effortless shot opportunities for their teammates. James finished with 27 points, eight assists and seven rebounds while Irving put up 22 points, five rebounds and five assists. Kevin Love contributed 21 points and 14 rebounds.
Irving and James each have a first step to the basket that is tops in the league so the Mavericks had little chance of holding them in check. But Ellis is quick and crafty in his own right and players like J.R. Smith and Irving struggled to check him. A number of Ellis' misses at the rim led to second chance points for Dallas.
The lack of a defensive presence was the ultimate detriment for Dallas against Cleveland, especially with Tyson Chandler clearly limited by his own hip problem. There are no title contending teams the Mavs can compete with giving that kind of defensive effort. Even offensively though, there is little evidence the Mavericks have found the secret to success.
Should they always beat the Cavs? No. What about "compete,'' though?
Said Chandler Parsons: "We've got one of the most talented teams in the NBA. We're just not playing like it."
The common logic behind Ellis' reemergence last season was that Carlisle was the best coach that he had ever played with and, more importantly, it was the best roster that he had ever played on that prominently featured him. Well, the latter should be updated: As CP suggests, THIS SEASON'S TEAM is the best roster Ellis has ever played on.
Every other starter on the Mavericks provides specific and valuable offensive skill sets. Basketball hasn't changed. Penetration is still the key to opening up all those skill sets. Ellis is the most consistent penetrator on the team and his aggression will make it easier for every player on the roster. Nowitzki is well-suited to play long stretches as second fiddle because he spaces the floor so well simply by standing on the court.
Ellis needs to be ball-dominant and the Mavericks offense may need to live with a lot of heat-check shots from him. Analytics are obviously valuable and they are not wrong pointing out the inefficiency of Ellis in hero-mode when his shots aren't falling. But it is hard to quantify the mindset of defensive players when a player as fast and offensively capable as him is playing with such aggression. Other defenders tend to help in ill-advised situations, not necessarily because they fear Ellis, but because they think they will be able to make a play. If Ellis is aware of how his assertiveness can dictate the defense then he can make a play first, whether that be finding Nowitzki, getting Tyson Chandler an easy basket or kicking out to Chandler Parsons at the three-point line for an open shot or his resourceful pump fake and drive.
The question is how will Rondo fit into this? The answer, if he and everyone else buy in, is beneficially. Rondo has long been a player that is hard to fit into a specific system because he thrives so well off of spontaneity. If all 10 players on the court are scrambling, not quite sure what will happen next, Rondo is the one you want with the ball because he will find something out of nothing.
Ellis' shot making ability and potential to drive to the basket will make the defense scramble. Rondo's inability to consistently make open three-pointers can be compensated by his ability to make quick decision and find open teammates.
Imagine the following situation: Ellis uses a Chandler screen to begin a drive towards the basket. He then kicks the ball out to a semi-open Parsons with a man running at him. Parsons pump fakes to get that man in the air and begins his own drive to the basket. He then kicks out to Rondo. At this point the defensive is scrambling and someone is out of position meaning that someone is open. Rondo is as likely as anyone in the NBA to get the ball in the hands of that open player.
This sounds extremely specific, but any number of variations of that sequence can occur as long as it starts with Ellis getting near the paint. The idea that Rondo needs the ball in his hands a lot to be effective is a fallacy. Rondo with the ball against a set defense is mostly ineffective. He is most effective with the ball against a scrambling defense. Ellis can trigger that scramble.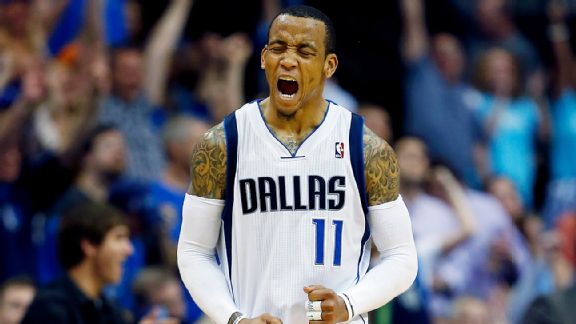 Demanding that Rondo prove himself through obvious impact or statistics because of his looming free agency might be interesting fodder for fans and media, but it is not the most direct correlation to the Mavs wining games.
It could very well be in Dallas' best interest, at least from an offensive standpoint, to treat the Mavericks as if they are now "Monta Ellis' team.'' If we accept him as one of the top offensive players in the NBA (which at his best he is) then he has the supporting cast to play the most effective and most winning basketball of his career.
When a defense refuses to adjust to Ellis' aggression then it might mean Dallas having a strong reliance on him playing one-on-one against whoever is guarding him. That might be a scary proposition, but with Nowitzki becoming less reliable at creating his own shot, it might be the best option Dallas has to offer in the grand scheme of things.
Why? Because Dallas needs a hero.