DONUT 1: The Big Lead
The
Dallas Mavericks
could've lost these two games, anyway, you know.
That's not an apologist's take (though I am very much a Mavs apologist); it's a fact of
Atlanta Hawks life that their Monday win at Dallas meant 14 victories in the last 15 for them.
And it's a fact of
Phoenix life that they received the Mavs on a second night of a back-to-back, helping the 16-14 Suns to a win.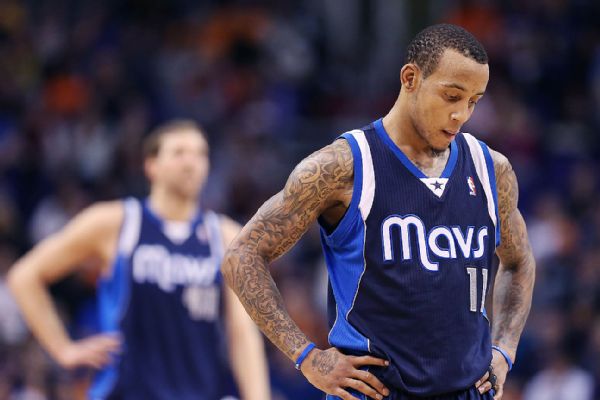 The Mavs lost back-to-back games against teams with a combined record of 37-21 That's an easy and fair way to characterize Christmas week around here so far.
Do the issues -- however temporary we hope they are for a club still hovering right around the No. 5 slot in the impossibly tough West -- go deeper? Sure ... with some of the issues centering around the play of the oldest Mav and the newest Mav.
DONUT 2: Dirk Issue
After scoring 22 points in Phoenix, Dirk needs six points on Friday against the visiting Lakers to pass Elvin Hayes for eighth in NBA history in scoring. Dirk has 27,308 points and counting.
I "count down'' with Dirk. But counting out Dirk? Not me. Not ever.
A few guys hit me up
on Twitter this week
insisting that DB.com rip Dirk, noting that we are "afraid to criticize him.'' That's never been true (ask Nowitzki himself) but what's true is there has for a decade and a half been precious little to criticize.
But now, there is this, reporter Jared Zwerling saying that Phoenix guard Goran Dragic recently said: "We attack Dirk all the time on pick-and-rolls and he can't stay in front of us. Every game we do it."
Working to victimize Dirk on the defensive end is nothing new; hell, where else would you victimize one of the eight greatest scorers of all time? But saying it out loud? And doing so with such specificity?
That makes this a revelation. A revelation in need of more
Dirk Nowitzki
effort, more cover-up from mates, a Carlisle counterbalance. Something. Because if it's really as easy as Dragic says, Dallas' offensive prowess will never be enough to overcome a defensive flaw so obvious that foes are unafraid to talk of it so openly and without fear of retribution by the offended.
DONUT 3: Rondo Issue A
Rajon Rondo did not attempt a free throw in the Phoenix game ... an oddity, you would think, for a point guard with so much control of the ball and so much ability to break down a defense and, in this particularly high-scoring game, so many possessions.
But wait: Turns out, Rondo has not attempted a free throw in 10 of his past 12 games, spanning, of course, his time with the Celtics and Dallas.
Initially, when news of this trade was hitting the streets, some Mavs observers worried that Rondo was a poor free-thrower. I've got a more valid concern at this moment: He's not a free-thrower at all.
DONUT 4: Rondo Issue B
Monta Ellis scored 38 points in the Rondo debut against the Spurs. But in these two games, he's 13 of 39. Maybe that's an unfair way to slice up a sample size, but I think when the Mavs go back and review film of the Hawks and Suns losses, they'll see that the Monta/Dirk pick-and-roll is being clogged up/is ineffective/isn't being used because of the predictable bugaboo of "spacing.''
The integration of Rondo has meant the loss of spacing for Dallas' bread-and-butter offensive set.
This isn't Rondo's "fault.'' It's just part of
Carlisle's "light years''
that needs to hurry up and mesh.
DONUT 5: Rondo Issue C
Rondo's rep as a non-shooter is well-established. It hasn't prevented him from being a double-figures scorer for his entire life and it hasn't prevented him from making four All-Star Games already in his career.
But in these two games, opponents are daring him to shoot. He is answering properly, by taking the open shot; hey, this isn't like a 7-foot lug being left alone 14 feet away from the basket and nevertheless passing up the shot and letting someone else regenerate the possession because ... well, because he sucks. This is a creative guard who needs to be the generator of a good shot from that spot.
And it's a good shot. And Rondo keeps missing it.
DONUT 6: Relief in sight
The Mavs are not being made available to the media on Christmas Eve or Christmas Day. That doesn't necessarily mean there isn't work being done. (That includes in the front office, regarding everything from a Jermaine O'Neal retirement check-up to a Josh Harrellson courting. (No, not Josh SMITH. Josh HARRELLSON. See below.) Nor does this week of holiday blues mean there isn't hope on the horizon.
Oh, look, it's the Los Angeles Lakers!
DONUT 7: Lakers Unchained
Kobe is resting. He might play on Christmas Day and then rest again on Friday when "his'' Lakers come to Dallas.
While he is resting, the Lakers, on Tuesday, anyway, were winning. How? Why?
Said Nick Young: "Some guys just played like 'Django Unchained.' They were free tonight."
Wow. The Lakers aren't still "Showtime.'' But yet they're "Showtime,'' you know what I mean?
DONUT 8: Quoteboard
"We're three games into this (Rondo era),'' coach Rick Carlisle said. "When you have two games like these last two, it looks like you're light-years away. But we're a lot closer than it feels. We just got to stick with it."
DONUT 9: Apple Moving Move of the Game
Your Mavs Apple Moving DFW "Move Of The Day''?
It's a deal not done ... as Josh Smith is signing with the Rockets because they've not only promised him they'll contend for a title but they've also promised him they'll start.
No sour grapes in this space. Dallas had its desires here, and I think talked to Smith about being the "sixth man.'' But Houston promised "fifth man'' ... and it's a good trick, as I hear Morey has told that to, like, 15 of his guys.
Seriously, let go Monday by the Pistons, would've been hailed as a "get'' here. So the Rockets deserve no less. But why is it the Move of the Day? Mostly because it once again puts the spotlight on the Dallas/Houston rivalry, the holiday gift that keeps on giving ... including every July for years to come.
Oh, and call
Apple Moving DFW
, the very best in the business, when you need a mover. all 'em. And tell 'em DB.com sent you!
DONUT 10: CP's shrivel
As Tim MacMahon notes, Chandler Parsons' numbers have shriveled up this week with the arrival of Rondo. December pre-deal, CP was at 22.2 points, 2.8 assists, 52.1 percent shooting and 49 percent from the arc. Post-Rondo in three games: 9 points, 1.3 assists, 36.7-percent shooting, 16.7 percent from the arc.
DONUT 11: Swaggy Everything
So about that 115-105 Lakers victory over the W's. The aforementioned Nick Young -- or "Swaggy P'' as he likes to be known -- had a message for Kobe.
"We're going to have to tell Kobe to pass me the ball,'' he said. "Pass us the ball. Tell him to take a backseat a little bit."
Yes, yes, "Showtime'' is coming to Dallas. And help is on the holiday horizon.
DONUT 12: The Final Word
What allows - coach Rick Carlisle optimism that his Mavs will eventually "get it''?
"Thirty-one years in the league,'' he says.