Mavs 99, Toronto 92
For the majority of the first half of Tuesday's contest the 13 players dressed in The
Dallas Mavericks
gear appeared to be auditioning for roles as extras in the popular television program "The Walking Dead'' (the least creative show on television). The building blocks of an absolutely inexcusable loss were mounting one on top of another. Ten turnovers, allowing 26 points in the paint and simply not being able to reach deep down and pull out that indescribable concept of effort were teaming up to construct an ugly home loss.
Then, it just happened.
One can't be sure if it was a result of Toronto playing 4 games in 5 nights or playing on the tail end of a back-to-back or if the Mavericks just realized they were a better team than the Raptors. We may not need to look any further than Rondo not being on the court for the final 20 minutes of the game. What appeared to be a disastrous endeavor eventually turned into one of the Mavericks better home wins of the season as a 15-point fourth quarter sunk the Raptors and the Mavericks leap-frogged their dead-dinosaur legs for a 99-92 victory for their 39th of the season and third straight.
Only three teams in the NBA now have more wins than the Dallas Mavericks.
Oh-no, Rondo
The Mavericks announced this afternoon they suspended Rajon Rondo one game for conduct detrimental to the team. He's serving the suspension tonight at Atlanta. And that's a sign for us to get to what everyone wants to talk about ... Chuck Hayes' weight problem. I mean, my gosh you're not supposed to look like a dude that works at Burger King trying to hawk his mixtape on the side. You're a professional athlete!
With 8:10 left in the third quarter this happens ...
What I interpret happening here is Rondo giving up on a play defensively, shows the worst body language possible for a human being after Amir Johnson makes the put-back, doesn't hurry to get the ball out of the hoop and in-bounded and then walks the ball up as he ignores the instructions from Rick Carlisle on the sideline and calls a different play. The back and forth between Rick and Rondo appears to end with Rick saying "sit your ass down." It has been reported that it was a profanity-laced tirade back and forth. Rondo would not play the rest of the game.
Let me preface my opinions on the Rondo situation by letting you know that last night's events have very little to do with my take on the matter as a whole. It's fun and it makes headlines/gets clicks but the majority of my assessment comes from watching him on the basketball court. Some of the issues do tie together, such as pissing Rick off by not getting into offensive sets until the clock is at 14 and an unwillingness to make a simple pass (thus pissing everyone off). Multiple plays during every game it appears that Rondo takes so long to get into the play that the other four participants have an "Are really still doing this?" reaction once he actually tries to get the play going.
The main issue I have with last night's events is the fact that Rondo had no hesitation in barking back at Rick (and that he walked right by me and a gaggle of reporters after we waited 10-plus minutes for him at his locker). To me that's a sign that he doesn't respect Rick and the fact that he ignored his play-calling and was even annoyed by it represents a bigger schism.
For somebody that has looked like a wandering drunk toddler on the offensive end it might make sense to take some pointers.
You can't help but look towards this summer and question what kind of number the Mavericks will be willing to commit to a player that has flopped their audition with the team this poorly thus far. Granted, there aren't a lot of options for replacing him and when you factor in the investment it would be a pretty damning failure. I don't like enjoy writing about things like this but I can only go for so long before the things I'm seeing on the basketball court begin to be reflected in my writing/conversations. If you're telling yourself that Rondo's first 25 games in Dallas have been anything but a failure then you're not being very honest with yourself. I've preached patience continuously but doesn't there need to be some measure of improvement other than the faith that "Rondo will turn it on in the playoffs?"
You
can read Rick and Rondo's comments, and Dirk's, too, here on DB.com, all interpreted by Fish.
And Dirk's sentiment from above is true. There is still plenty of time for everything to turn around ... but the returns as of right now are nothing short of pitiful.
Back to facts
Let's get back to facts rather than speculation if that pleases the court. What's the statistical representation of these terms like "ball stopper" and "dribbling the air out of the ball" in regards to Rondo? It's not very difficult with the sportvu tracking data that the NBA provides currently to check how many passes, dribbles etc a player takes per game. It's not pretty when you look into the case of Rajon Rondo ...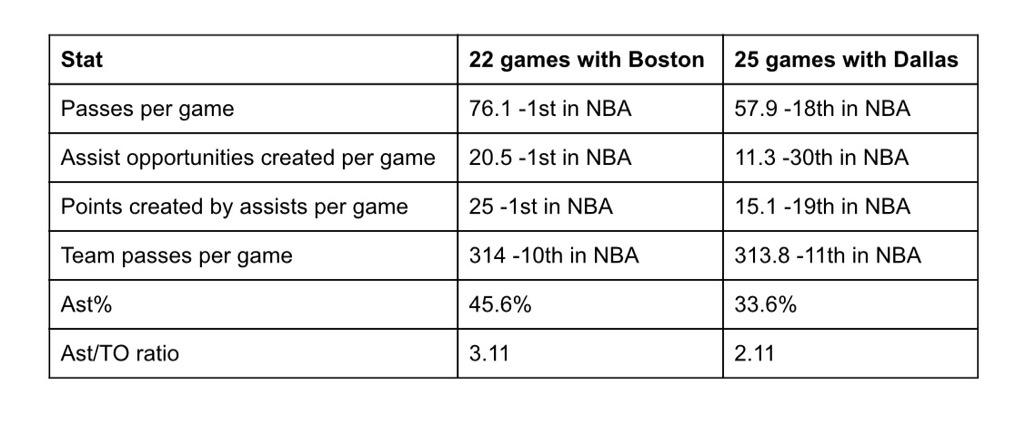 What has happened since Rondo was traded to the Mavericks is that he's changed from being the best facilitator in the NBA to hover somewhere around the group of Elfrid Payton and Tyreke Evans in terms of generating offense via the pass. Why? Being uncomfortable is an obvious factor. Does the uncomfortability come from a different offense or just somebody else telling him which plays to call? Does he honestly assume that conducting the offense like ass will get Rick off of his back and let him do things his way? I'd argue it would cause the opposite.
The common narrative that gets casually tossed around when defending Rajon is the imbalance that the offense and defensive ratings were experiencing prior to him becoming a Maverick. "If you're not top-10 in defense you'll never win a title" gets tossed around as if it came out of The Bible. Here's a little secret, if you're not top-10 in offense you don't win anything either and the Mavericks have now slipped out of the top 10 in offensive rating since the Rondo trade (11th at 104.3).
The Mavericks net rating since the Rondo trade is +4.6 (the difference between a team's offensive rating and defensive rating). Prior to the Rondo trade it was +8.5. The margin for error has been shrunken because of the presence of Rajon Rondo on the offensive end. I'm not telling you you're wrong if you're a Rondo trade supporter. Like always, I just want you to consider all of the information that is at our disposable. I've said this before, they could have never anticipated how bad Rajon has been offensively. There was no evidence towards it.
Jeff vs Vince and Farouq vs Matrix
I got a crazy idea last night and it centered around two bench players (what should be bench players) and how they compare to last year's versions of themselves. Let's start with Richard Jefferson vs Vince Carter.

This is not some kind of trick. Vince Carter is Player A and Richard Jefferson is Player B. I just wanted you to realize what kind of production they're getting out of Jefferson for half the money and 2.5 fewer field-goal attempts per game.
On to AFA vs The Matrix

Player A is AFA and Player B is The Matrix.
Second quarter from hell
In the second quarter last night it appeared that everyone was trying to make the perfect pass for an assist instead of simply swinging the ball to one of the perimeter players that to make a play. When it was all said and done there were as many assists as turnovers (6) and the Raptors had scored 14 fast-break points and extended their lead to six points. This is when the absence of Chandler Parsons (ankle) was noticed for me. There were several drives when Monta took it into the lane and looked for a kick-out shooter and the player wasn't in the spot they usually are. Dirk was off in the second and Jefferson had to sit and there was the soft underbelly of how quickly this team can go from good spacing to toilet spacing.
Spacing is a real thing and not just a word that basketball heads use to convince you that they're smarter than you. It's hard to explain but watch closely tonight at what the Hawks will be doing (Fish has pregame at 6 p.m. on FOX Sports Southwest) compared to what the Mavericks try to do when a Jefferson and Villanuea-less lineup is on the court.
Devin has been insane
I have no idea what's gotten into Devin Harris but ever since the All-Star break he's been playing possessed. In the first game back he seemed to want a piece of the cross-dressing Russell Westbrook and even got in his kitchen while diving on a loose ball. In the second game he didn't back down from guarding James Harden and recorded a line of 17-7-6 on the night. Last night he was superb again. He knocked down 5 of 10 for 14 points to go alongside 5 assists, 4 steals and 3 boards. Since the break he's averaging 11.8ppg, 4.3ast, 3stl, 2.5reb and shooting 43.9% from the field. All that in just 24 minutes of play with a net rating of +13.4 and a plus/minus +5.8. Devin is ramping up into playoff Devin mode. Wish we could say the same about Rajon. A tip of the cap to JJ Barea as well for just doing what he always does in fourth quarters, knocking down improbable shots and keeping the offense on schedule. He had 8 points and 2 assists in the final frame but it felt like 20 and 10.
Mavsellaneous
*The Mavericks have actually out-rebounded three straight opponents and have the fourth highest defensive rebounds per game of the last three games at 37.7 drpg and a healthy 51.5% total rebound percentage.
*With 7:33 left in the third quarter the Mavericks were trailing 53-64. From that point on they finished on a 46-28 run and held the Raptors to just 15 points in the fourth quarter. Rondo sat that entire time….
*The Mavericks have held three straight opponents to 100 points or fewer for the third time this season. The prior two were 1/28-1/31 Hou, Mia, Orl and the other was 1/16-1/21 Den, Mem, Min.
*The Dallas Mavericks are No. 1 in defensive rating over their last eight games played with a defensive rating of 93.8. Three points better than the second-place team Memphis (96.8) in that timeframe. They're also 25th in offensive rating in that time frame (99) but let's ignore that.
Here's the song
Music to soothe the savage Mavs fan through tonight's game (which will not be snowed out!) ...