Twitter bombs over Baghdad were dropped late Wednesday/early Thursday by Adrian Wojkn!oiangaokgna;lknaaglkn~ of Yahoo and by Marc Stein of the four-letter and by
Fish
and D-Lord in
this Mavs premium piece
(if you don't know these people then I have no idea how you found this exact article but yeah go follow them) that centered around the
Dallas Mavericks
interest around Rajon "Johnny" Rondo.
We all assumed this topic would come up in secret alleyways and on land-line phones in mahogany offices somewhere sometime soon, especially after recalling that Rondo-to-Dallas has been a "thing'' for 15 months now. But the fact that it has come to the light so quickly and so robustly means a few things. First, who would benefit from this information being public? I can't think it would benefit the Houston Rockets (despite the fact that Fish seems to be hinting that they are super-sources in the middle of lots of this; We'll address Houston more in depth in a bit.) And when my eye turns towards the Boston Celtics? A general tightening-of-the-screws can never be overlooked as a negotiation tactic and it could be that simple, but with what Fish says is the Mavericks' reluctance to include Brandan Wright in the deal (Wright will have to be involved; this is just a method of reaffirming to them that he's worth the weight he's throwing around in this deal) ... a little pressure in the (W)right direction could go a long way. According to what we've gathered, this is the bones of the potential deal:
Rajon Rondo
for
Brandan Wright + 2015 first-round pick (possibly more picks) + filler (possibly Harris/Felton/Nelson+)
And now Fish reports talks are "accelerating'' and I'm fine with all of that. I'm fine with
D-Lord adding pieces and names, including Jae Crowder
. I'm fine with all of it. If you're getting hung up on losing Brandan Wright, then I really don't want you managing my stocks. Wright's value is at an all-time high at this very moment. You collect good players so they can supplement your great players and potentially garner you more great players. That's how the game works. I love Brandan Wright. His skillset is incredibly rare in this game and you won't find a better dude.
But he's not a franchise cornerstone (don't tell the Celtics this). He has his limitations. I'm not going to badmouth his abilities because he's a special player. He's notm however, a Rajon Rondo. The Mavericks have salvaged a career for a former bust lottery pick and turned him into an asset worthy of trading the NBA's fourth highest assist man over the last eight years for. That should be applauded.
Could the next Brandan Wright be on this roster in the form of Al-Farouq Aminu?
What about Fish and D-Lord's Mavs Donuts mentions of a Greg Monroe trade or a Jermaine O'Neal un-retirement or a Greg Smith step-up or hell
, any number of any other backup centers to come here and play a few minutes?
While we're here let's touch on a few Johnny Basketball numbers. In Rondo's eight seasons he's been top twelve in the league in assist to turnover ratio six times (he's 14th this year).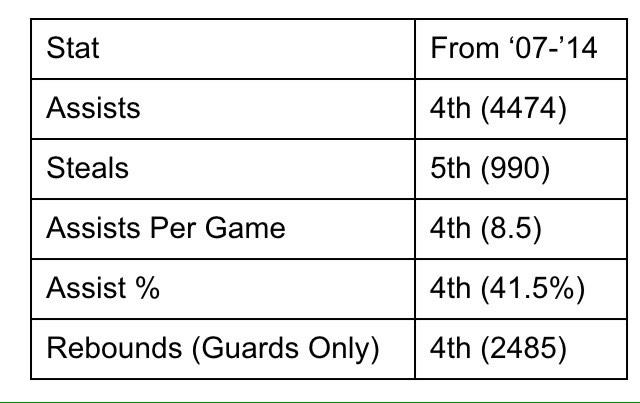 It feels like Rajon Rondo is the fourth-best point guard in the league. That sounds about right. Also, keep in mind when looking at those totals that Rondo has missed the majority of the last two seasons ... and that's why he's available at all. You can't hold up a trade for the fourth-best point guard in basketball because you're really attached to your backup center. Especially when you're so incredibly starting-point-guard poor.
Concern over Rondo fitting into this offense has become a popular storyline over the last few hours. Whether or not these worrisome people have any idea what the hell they're talking about when they use words like "spacing" and "flow" or not (I assume not) is inconsequential for the moment. I assume the fear is that any kind of shift in the formula will have disastrous effects on our little toy that is this magical Mavericks offense. Ye of little faith!
If you don't believe that Rick Carlisle could make this work then we've done a terrible job reaffirming to you how great of a coach Rick Carlisle is. The common bugaboo is that Rondo dribbles too much and makes the offense stagnant. Well I'll have you know that Jameer Nelson has had more possessions of 15-plus dribbles this season than Rondo has (five to four). Thing is, Rondo is actually DOING SOMETHING while dribbling that much: He's shooting 75 percent when he dribbles the life out of the ball.
Also, the assumption that Rondo's role on the drowning Celtics would be an exact replica here is just idiotic. I don't know how many times I need to say it or how many times you need to watch Monta Ellis play basketball before you realize that situation and environment means everything. A player can be unrecognizable from outpost to outpost. We don't need Rondo to find some new basketball personality.
We just need Rondo to be Rondo, which is phenomenally better than Jameer Nelson.
I think I've made my feelings about Jameer Nelson rather clear here at DB.com. Jameer Nelson isn't working. In the end isn't that the point behind all of this? You're trying to fix a position that has been borderline-terrible without crippling other areas of your roster and let's be honest, the Mavericks are another off-season away from competing with the Grizzlies-Warriors-Clippers-Spurs-Rockets.
Yes, this needs to happen.
Let's talk Houston. What can Houston give? My belief is Houston's role in this is that Fish is dead-on, that the Rox want to just muddy up the waters. I assume they're in Ainge's ear saying "We'll give you Beverley just don't make a move before you talk to us." Then they never actually include Beverley in an offer and this takes much longer than it really should.
When you look at Houston's assets, you realize that they are incredibly top heavy as far as salary is concerned. They have four players making north of $5.8 mil (Howard-Harden-Ariza-Terry) and one making $4.7 mil (Papanikolaou). The rest are making less than $1.7 mil a year. They're not giving up Howard-Harden-Ariza and Terry-Papanikolaou don't have much value. A Houston offer would have to center around Terry's $5.8 mil contract as they need to reach roughly $8.5 mil to make the wheels move. Let's assume the Rockets go Terry-Beverley-Jones-filler to peak Boston's interest. The Celtics in turn would have to waive or cut two players to appease their roster limits. The Celtics have been gobbling up young assets they like on the back end of their roster and they'd have to cut at least one of them.
While we're going through these gymnastics it might occur to you that it would be a lot easier to just trade for Wright and waive Felton thus receiving roughly the same value. With all that said, we're still overlooking the fact that Boston might just say no to any deal that brings Jason Terry back to their locker room even for a minute. Houston doesn't scare me.
If the Mavericks make this move, just know that they will do it being confident that Rajon Rondo will be a part of this team for the next four-plus years. (Fish uses the word "cocksure,'' which sounds gross.) If you need my endorsement then you have it. I was kind of attached to stockpiling more good players this off-season and keeping this band together but when it came out that it wouldn't take an entire gutting of the Mavericks secondary pieces I became incredibly interested.
If a trade for Rondo requires more than Wright+Felton+picks and say Devin Harris and Aminu are involved, then I'm fine with waiting until this summer. For what you'd fix in starting point-guard play you'd lose in lack of bench productivity and Paul is smiling while you're robbing Peter. It would just be two steps forward and one back for something that could be addressed this summer via free agency for simply cold, hard cash.
But as we sit here today? I'll always fall back on acquiring the great player when you can get him and the trust that I have in this front office. This organization knows what it's doing. ... and what it's doing is Johnny Basketball.