DONUT 1: The Big Lead - No TY
Even before the
Rajon Rondo
trade that sent away Brandan Wright, many had wondered aloud what would become of the
Dallas Mavericks
should Tyson Chandler miss time. It was a false hypothetical, of course, as Wright couldn't hope to fulfill the role Chandler does.
Nonetheless,
last night -- even in a 112-107 win over OKC chronicled here by Fish with "whimsy and beer''
-- offered a glimpse of what life could be like should Chandler's back cause him to miss extended time, and indeed Chandler's absence was felt. Dallas was hammered on the boards, losing the battle 53-37 and surrendered 60 points in the paint to the Thunder while notching only 40 of their own.
DONUT 2: The Parsons Project
Chandler Parsons poured in 26 points on 10-16 shooting, including 5-9 from the arc. Though Parsons did not immediately seem to justify the team's financial investment, the young forward -- even with a temporary post-Rondo dip -- has been absolutely on fire lately. Shooting over 50 percent from the field this month, Parsons scoring average has risen every month this season and ... it doesn't look like he's found his ceiling yet.
With the win, the Mavericks improved to 9-1 this season when Chandler Parsons scores 20-plus points.
DONUT 3: Monta Does Not Have It All
Though his 18-point, four-rebound, five-assist night looks good on the surface, Ellis suffered through his fourth-worst shooting performance of the season, hitting only 6-20 from the field.
Ellis' night did not get better as he rolled his ankle late, coming down awkwardly on a Thunder player's foot. Watching replays, his injury mechanism looks to be of the low ankle variety rather than the dreaded high-ankle sprain.
We will keep a close eye on this one but Ellis was heard in the locker room after the game saying he wouldn't be missing any time. Monta has yet to miss a game since becomming a Maverick. In the midst of what many are calling an All Star-caliber campaign, Ellis' absence would be a significant blow to the Mavs in the midst of what is perhaps the toughest stretch of the year.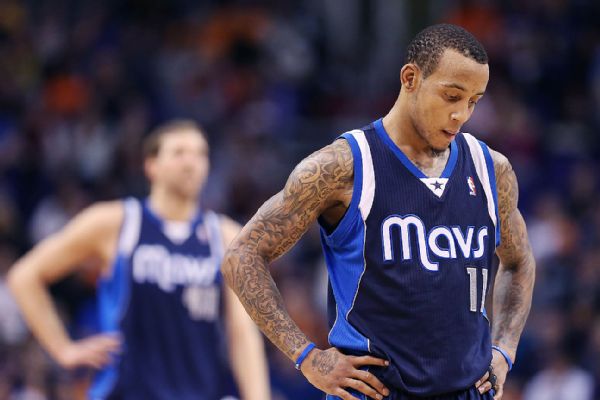 So "I'm not missing no games'' sounds good, as long as he's smart about it.
DONUT 4: No Rebounds, No Rings
Dallas' rebounding woes have been well-chronicled this season. Minus Chandler those deficiencies will only become more apparent. The Mavericks surrendered 14 offensive rebounds to the Thunder and the Maverick starters were out-boarded by their counterparts, 31-24.
It will undoubtedly be a team effort to try to replace Chandler if that's what's required (Dallas' next plays at home against the Wiz on Tuesday, but only getting a combined 10 rebounds from their starting 4 and 5, as they did Sunday, will likely not often be sufficient.
And
the Jermaine O'Neal watch marches on ...
DONUT 5: Rondo Settling In
Rajon Rondo's transition process will likely not be complete until sometime next season (assuming he is re-signed). However, the early returns continue to impress.
Though the sample size is small, Rondo's statistical profile is starting to take shape. Since arriving from Boston, Rondo is averaging nearly five points more per game, dishing out two fewer assists, grabbing one fewer rebound and committing two more fouls per game. Though these numbers reflect a player still acclimating to his new teammates, Rondo's most significant impact Sunday night wont show up in his own box score. Indeed his defense, both on the ball and off, against Russell Westbrook represents perhaps Dallas' greatest hope to keep some of the West's elite wings in check.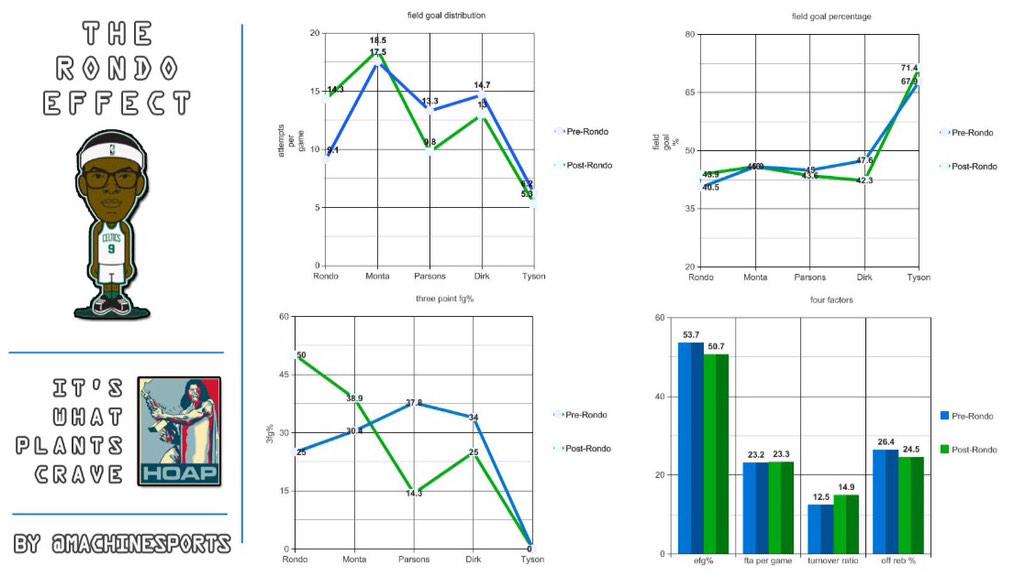 But if you're a numbers guy? You'll enjoy our Mike Marshall's graphic take on Rondo's start:
DONUT 6: Speaking of Westbrook
He's had quite the December, averaging nearly 30 points/6 rebounds/7.5 assists per game. Further, his 33.3 Player Efficiency Rating is league-leading. As long as Durant is out, his workload will fall into the "massive" category.
And as long as Rondo stays in front of him, as was the case Sunday, Dallas has some defensive hope on the perimeter in future duels.
DONUT 7: Thanks to our pals and sponsors!
Here's
McKinneyDentist.com
... with us since 1995! Give "the finest dentists in the land'' a click and a call!
Thanks to
Red Rock Bar & Grill,
our north Dallas hangout for live music and sports!
Meet
LS Wealth Strategies,
with Woody and Bill helping to guide my family and available to do the same for you!
Thanks to
Estilo Gaucho,
authentic Brazilian cuisine, family-owned and operated and just named one of the top 100 steakhouses in America!
And
Dee Lincoln's,
the famous DFW restauranteur now with a new location near Park and Preston!
One more thing ...
Did I mention Fish has opened a bar?
DONUT 8: Small Ball
Employing a three-guard lineup with
Dirk Nowitzki
at center, Rick Carlisle opted to rely on SmallBall against the Thunder. Though such a lineup will do no favors for Dallas' porous perimeter D, it will leave endless driving lanes open for Rondo, Ellis, and Barea. Dirk at center notched a season-high-tying 30 points, including 10 in the fourth quarter. It marked the highest scoring game by a Mavericks starting center since Nowitzki himself had 34 vs. in 2005. Nowitzki's defensive deficiencies became apparent, however, as he struggled to stay on the court with five fouls.
He's also struggling with a stomach virus of some sort. ...
"I'll be alright,'' he said. "It's a piece of work. I guess at 36, you wake up and something else is wrong. That's part of the business."
It's always charming when The Big German says "a piece of work'' when he means "a work in progress.''
DONUT 9: Apple Moving Move of the Day
Your Mavs Apple Moving DFW "Move Of The Day''? Yeah, it's an emergency lineup born of TY's injury and Carlisle -- napping before his 1,000th game as an NBA coach -- dreaming a scary dream of having to match up against zany NellieBall.
That's right: You coach 1,000 NBA games, and you dream about ... basketball.
Dreaming about moving?
Apple Moving DFW
, the very best in the business, when you need a mover. all 'em. And tell 'em DB.com sent you!
DONUT 10: MVP MIA
Missing his 23rd game of the season, and sixth in a row, Kevin Durant is having his worst season since his rookie year. Though his right ankle and foot issies explain the vast majority of maladies, it's shaping up as a lost first half of the season for the league's reigning MVP. And while opponents think it's a scary thought when he comes back right ... shouldn't OKC folks be harboring some scary "what-if-he-doesn't'' thoughts?
DONUT 11: Stat O' the Day
From our man Followill, who notes that the Mavs are now 11-3 in games that have been within four points at some time in the final two minutes.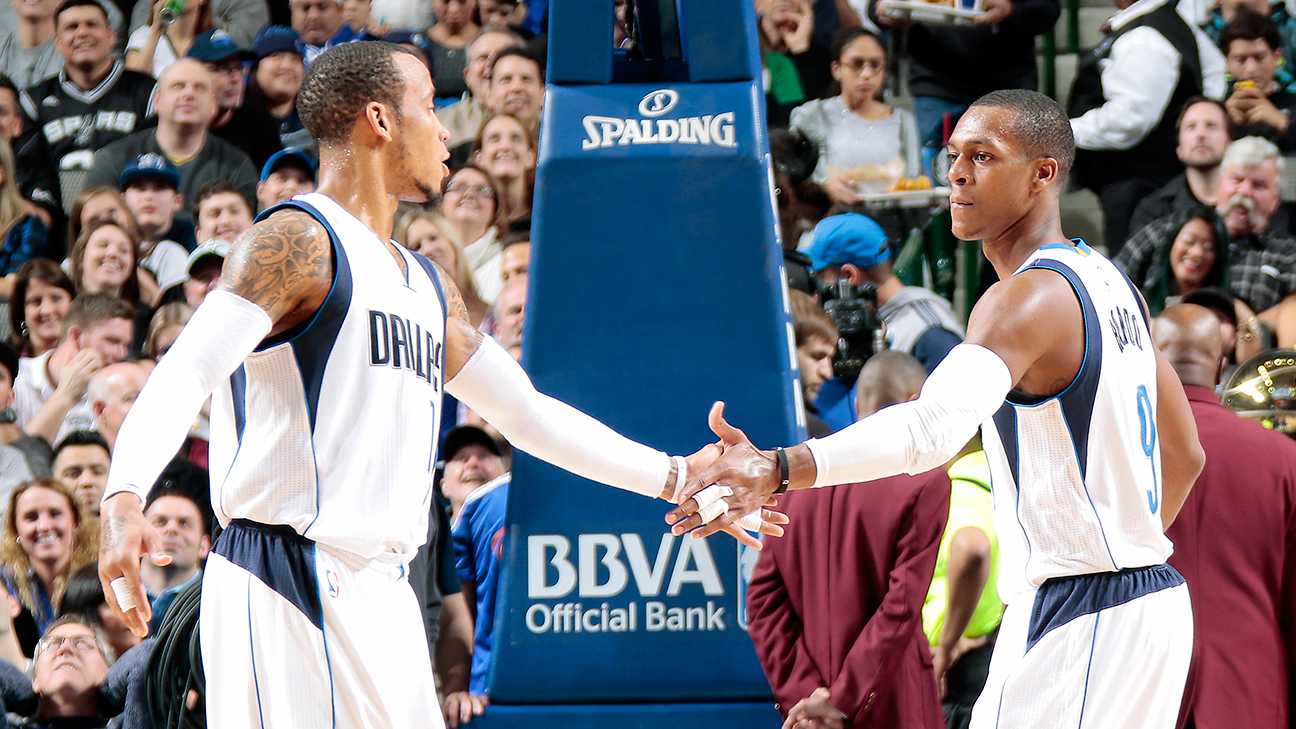 Monta was a driving force for much of that. Rondo can now join him as a crunch-time force.
DONUT 12: The Final Word
As we noted above, Carlisle coached in his 1,000th career game on Sunday. He became the 27th coach in NBA history to reach 1,000 games. With the win, Carlisle improved to 591-409 (.591) all-time in the regular season.