The
Dallas Mavericks
have now established themselves as
"an offensive juggernaut," as Minnesota coach Flip Saunders put it following Dallas' 98-75 win at Minny on Wednesday. But in its last three games, all wins, Dallas has allowed an average of 86.3 points per game on 39.3-percent shooting. And in the 16 games since
Rajon Rondo was acquired in trade
, the Mavs have limited opponents to 99.4 points per 100 possessions - the sixth-best number in the NBA in that span.
"We're never gonna say we're any kind of a finished product on January 23,'' said Carlisle, whose team is 30-13 and just a half-game behind Memphis for first place in the Southwest. "The second half of the schedule is unbelievably difficult. This is another of those difficult games. ... These are the kind of tests that help teams get better.''
Rondo and Tyson Chandler are Dallas' key defenders, and they have their own chemistry, too, as demonstrated at Friday's morning shootaround when the two busted each others' chops while Rondo fed TY fancy passes for free-throw practice.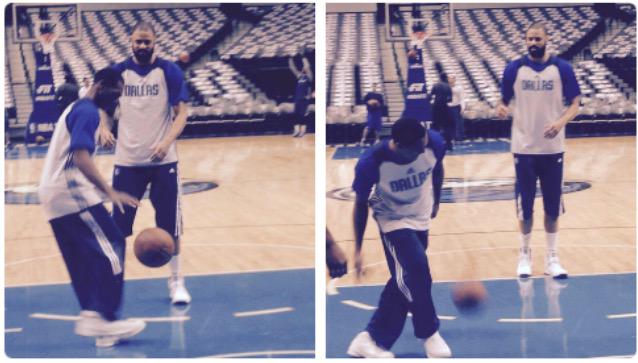 The 28-16 Bulls have a reputation for scrappy defensive play -- "a blender with body parts,'' if you will -- but had lost six of eight before Thursday's 104-81 home win over San Antonio. In the previous five games, the Bulls had allowed 108.8 points per game ... which Mavs fans hope blends nicely with the fact that Dallas is averaging 108.1 points per, second-best in the NBA.
Each of Dallas' starters scores at least 10.7 points per game, with Monta Ellis very much in the middle of all that, as Chicago well knows, as back on Dec. 2 Ellis had a season-high 38 points in a 132-129 double-OT win.
Monta seems loose and ready as you see here ...
And the Bulls are hoping Derrick Rose is healthy and ready. He's struggled lately but in beating the Spurs was 9-of-16 for 22 points. Joakim Noah (ankle) won't play and the Bulls will also be challenged by the travel to the second night of a b-2-b; Chicago is just 6-6 on the second night of back-to-backs this season.
One more thing: Carlisle is one win away from 600 in his coaching career. He can become only the eighth NBA coach with both 600 wins an a .590 winning percentage. Coach, care to comment on that achievement?
"I'm not going to talk about that, no,'' Rick grumbled. "I'm going day-to-day, concentrate on the first quarter, try to win that and go from there.''
See what Mavs fans are saying here!
Related Story: Bulls at Mavs: Tonight's GameThread

Related Story: Retiring Marion: His HOF case

Related Story: Inside the Mavs' 'signature win' at Memphis