DONUT 1: 'Bound to happen'
The
Dallas Mavericks
' chance for the second coming of Jason Kidd is complete ... or, rather, will be complete if Rajon Rondo helps Dallas to true title contention as Kidd did before him.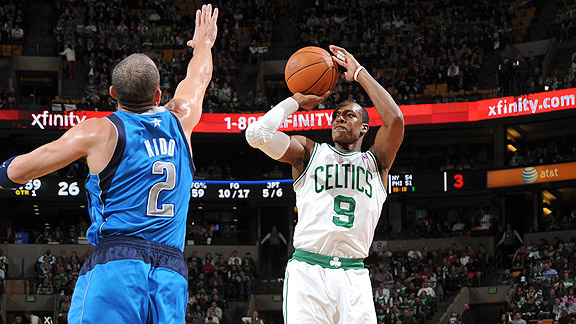 "Both Jason and Rajon had something to prove,'' Mavs owner Mark Cuban tells DB.com. "Hopefully it turns out with the same results.''
You know the nuts and bolts: Rondo and third-string center Dwight Powell were acquired Thursday for center Brandan Wright, forward Jae Crowder, point guard Jameer Nelson, a first-round draft pick in 2015 and a second-round choice in 2016.
Rondo is just 28, but as he's rebuilt his knee after surgery a few years ago while his championship Celtics were trying to rebuild, too, he's been enveloped by trade rumors.
"It's been about seven years now and I've been in trade rumors," said Rondo. "(So it was) bound.''
DONUT 2: See you at THE MAVERICK
Tonight it's Spurs at Mavs (more on that below) ... and you need a place to gather to watch, right?
We now have such a place!
We've
We've opened a bar! It's called 'The Maverick' and I'd love for you to like us on Facebook and then come see us tonight
for our speciality burgers, our 30 TVs (including a 200-inch screen) and wall-to-wall Mavs!

Come say hi at "The Maverick''!
DONUT 3: The Kidd parallel
We have written volumes on how Dallas needs an upgrade in perimeter defense, someone who can guard wings, and help in rebounding. ... You know, kind of like Kidd did here.
Rondo is that.
"I view Rondo as an extremely resourceful guy with a lot of ability," coach Rick Carlisle said. "He's a guy that loves winning. We'll figure it out. I'd rather be charged with the task of figuring it out with guys of that competitiveness and ability level."
The word "resourceful'' is a Kidd echo. The "figure it out'' part is more about Rondo's role on the offensive end, where he has tremendous skills as an assist man but often dominates the ball to do so. Dallas' offensive philosophy is about ball movement. There will be some adjustment here.
DONUT 4: Go-through guy?
An important quote from Rondo that speaks volumes about where's he's been:
"I'll do what I do best, take the responsibility, and run the show,'' he said.
Ah, but wait. That's not exactly how it will work here. Monta Ellis will actually "run the show'' quite a bit, in terms of initiating the offense in crunch time. Luckily, Ellis is a supporter of this acquisition and Rondo is a supporter of Ellis.
"At times I'm going to have the ball," Rondo said. "At times he's going to have the ball and I have to learn how to play alongside Monta. I'll pick up his game really fast."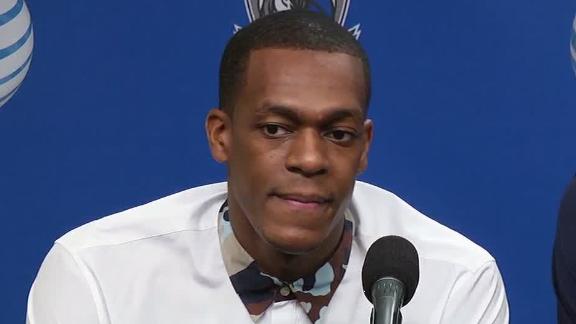 Yes. That's more like it. More, please.
"I'm not going to dominate the ball,'' Rondo said. "I'm able to help guys make it easier for themselves offensively. Just get the ball out of my hands quicker and let guys make plays.''
Yes. More, please.
"That (being a perimeter defensive stopper) is my job and I take full responsibly and I'm looking forward to it,'' Rondo said.
And there you go. A complete morphing of philosophy in one Donut!
DONUT 5: Stat O' The Day
Rondo's playoff stats take a leap from his triple-double-level regular-season work. His postseason statistics: 14.5 points, 9.2 assists, 6.0 rebounds, 2.0 steals per game.
DONUT 6: Simplicity
Carlisle said simplicity would be part of the formula, and
Dirk Nowitzki
has a suggestion for such a plan for Rajon. "Find me a lot on the offensive end and he'll be OK," said a joking-but-not-really-joking Dirk.
DONUT 7: Thanks to our pals and sponsors!
Here's
McKinneyDentist.com
... with us since 1995! Give "the finest dentists in the land'' a click and a call!
Thanks to
Red Rock Bar & Grill,
our north Dallas hangout for live music and sports!
Meet
LS Wealth Strategies,
with Woody and Bill helping to guide my family and available to do the same for you!
Thanks to
Estilo Gaucho,
authentic Brazilian cuisine, family-owned and operated and just named one of the top 100 steakhouses in America!
And
Dee Lincoln's,
the famous DFW restauranteur now with a new location near Park and Preston!
One more thing ...
Did I mention we're opening a bar?
DONUT 8: Quoteboard
"I believe it's a great legacy I leave behind. I can't remember one bad time I had in Boston as far as where I got negative feedback from fans, no matter the first year we lost 18 straight or the following year we won a championship." - Rondo, a four-time All-Star, on his Celtics career.
DONUT 9: The future fit
It is not legal to talk about re-signing with a player on another team before you actually acquire him. It is legal, however, to "get a feel.'' So the Mavs can, say, inquire about Rondo's general opinion of DFW. And they can ask Michael Finley what he thinks of Rondo. And Carlisle can visit with the Boston coaches about him. And Donnie Nelson can use his deep friendship with Boston GM Danny Ainge to get frank answers.
Dallas did all that, and as DB.com has been writing all week, came away "cocksure'' that they will be able to convince Rondo to re-sign here this summer when he's a free agent.
And now they can say so out loud.
"We wouldn't give up picks if we didn't think it was long-term," Cuban said. "We're past the days of rent-a-player. We want (Rondo) to be here for a long time and we want to earn his desire to stay here."
Cuban also envisions the rest of the core -- Dirk and TY and Parsons and Devin -- to be here long-term, as well.
DONUT 10: They all fit?
Can they all fit, financially? We've got you covered here with a look at the Mavs' projected dollars and cents, like only DB.com's David Lord can do it.
DONUT 11: Oh yeah, the Spurs
The Mavs entered the weekend at 19-8 and in sixth place in the West. The Spurs are among the clubs ahead of them, with tonight's 7:30 tip at the AAC a chance to close the gap. (Though San Antonio is coming off a Friday night triple-OT loss to Portland, preceded by a Wednesday triple-OT loss to Memphis. Rest night? Indeed, as Duncan, Parker, Manu and Kawhi will all sit tonight.) The Mavs have not defeated SA in the regular season since March 2012. That's 10 straight losses. But the Mavs are 0-5 against last year's West playoff teams ... so this trade is about competing with all of them, contending with all of them.
This trade is both
a no-brainer upgrade to arguably the fourth-best PG in the NBA
and an admission that the pre-Rondo Mavs were not good enough. This trade is a bold, and yet not very expensive, effort to fix that. There are more moves coming, too, sources tell me, with Powell and Greg Smith both relatively unproven as the only backup bigs. Retired DFW resident Jermaine O'Neal is in this mix, though in an ideal world the Mavs would like younger and springier. Trades for No. 2 centers are already being discussed. Dallas is a body short right now. They won't remain that way long.
DONUT 12: The Final Word
"To be a contender right away, there's a goal that you have in mind and I'm dying to get a ring again,"
Rajon Rondo
said. "I want another parade."