THE PLANNED MARRIAGE
When the
Dallas Mavericks
acquired
Rajon Rondo
in mid-December, it was done with the expectation that the team would re-sign Rondo in the summer, along with starters Tyson Chandler and Monta Ellis, and have a contending starting five in place for years to come alongside Dirk Nowitzki and Chandler Parsons.
It's only about two months later, and in the wake of
the public blowup between Rondo and coach Rick Carlisle in the middle of Tuesday's game – an event that led to Rondo being benched, an even uglier post-game confrontation between the two, and a one-game suspension of Rondo for insubordination
– the road ahead looks murky. One local writer has already announced that
this player-team marriage is "extremely unlikely" to last beyond the season's end.
While we don't know if that's accurate or not --
Fish's Mavs sources insist we "tap the brakes'' while waiting on the playoff results of the marriage
-- divorce is certainly possible. The humble prophet asked years ago, "Can two people walk anywhere together if they disagree on where they want to go?" And it's clear that there's quite a bit of disagreement in this mix. They may be walking nowhere.
Which makes us wonder: if Rondo and Rick can't get on the same page, where do the Mavs go from here, in building a winning roster for the next few years? What will have to change? Can they replace him easily? If so, how?
The answers are a bit confusing, and are all tied to the limits placed by the cap rules, in adding and keeping players.
THE MAVS' GENERAL ROAD AHEAD
Last summer was pivotal for the Mavs. The large multi-year deals of older veterans Dirk, Shawn Marion, and Vince Carter ended. Dirk stayed on a much smaller deal, the others took new deals with other teams, and the Mavs were re-stocked primarily with younger players and smaller contracts.
More importantly, and quite relevant to their choices now, the Mavs set themselves up to operate over the cap in the summer of 2015, planning to use Bird rights (which allows the team the ability to go over the salary cap when keeping players ) to keep their own free agents and cap "exceptions" (such as MLE and BAE) to sign more talent on top. This approach is only possible when a team's own free agents are a desirable core foundation and are ones they want to keep. And because it generally tends to allow a team an extra 20-25 percent of the salary cap over teams who are operating at or under the cap, it can make a vital difference in having depth in talent on the roster that can make a difference, when used wisely.
Acquiring Rondo fit perfectly with that plan, as he came with full Bird rights in place for the future.
IF THE FUTURE INCLUDES RONDO?
When Rondo arrived,
he said he "looks forward to building something special in Dallas.''
That would be wonderful.
With Rondo penciled in to return, the future seemed somewhat set, and the ability to put together a very talented team for the long run was there for the taking for the Mavs. Projecting exact numbers is a bit iffy at this point, because we don't even know what the cap will be in the summer, but here's how we think it would have (and still might) fit together. We start with a cap of $68M as recently guesstimated by Zach Lowe. (That's a bit higher than we've used before, but he has good sources and it isn't far more than what previous projections we've been hearing.) That sets a tax threshold of $82.84M and an "apron" (which is an inflexible payroll ceiling on teams who use the full MLE and BAE) of $86.84M.
As we sit, only Dirk, Parsons, and Harris are already under contract for the long haul, and we expect that short-termer Powell will be kept while Felton's final season will be stretch-waived. As we look forward, we assume the Mavs intend to use the full MLE and BAE for talent for the second unit, and we pencil in the Mavs draft pick at 24th in the first round. And finally, we assume (ideally, of course) that all the Mavs players want to return if given the chance, rather than play elsewhere.
With those assumptions, the Mavs player payroll this summer might look something like this, before the Mavs re-sign their three starters (Chandler, Ellis, and Rondo):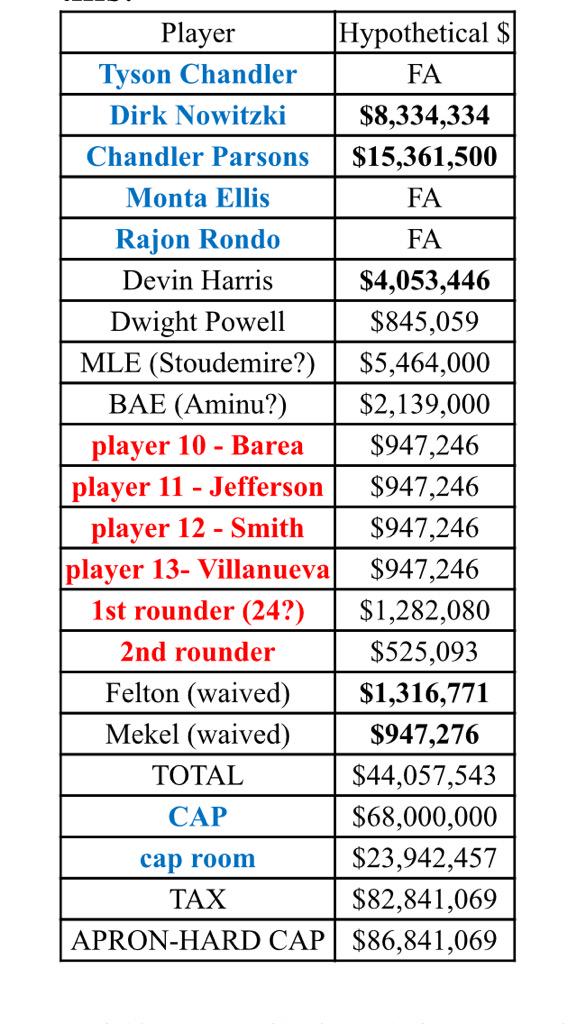 While very little of that would be set in stone, it looks like a feasibly workable plan. On paper, it still has $42M of spending room (below the apron limit) to split between those 3 returning starters – Chandler, Ellis, and Rondo. Stoudemire gets the full MLE to stay and back up Chandler and Dirk, Aminu gets a raise to the BAE, and Jefferson, Barea, Smith, and Villanueva are invited to return at the minimum salary with hopes that they want to remain a part of the mix despite no more money to offer.
Of course, one huge component to that plan would be for all three starters to want to work with the Mavs to fit into that sort of salary setup, and before that happens it will be mandatory for Rondo and Rick to end up on the same page. We had thought it was very doable before this week, but the scene currently playing out definitely creates doubts.
So is it still possible? Perhaps. Another wise man, many years ago, told us, "You use steel to sharpen steel, and one friend sharpens another." Maybe what we've been seeing is merely a sharpening process, as two strong-willed men try to reach the same goal in their own way. And as that same wise man later noted, "It's better to have a partner than go it alone. Share the work, share the wealth. And if one falls down, the other helps … By yourself you're unprotected. With a friend you can face the worst. Can you round up a third? A three-stranded rope isn't easily snapped."
IF THE FUTURE IS WITHOUT RONDO?
On the other hand, it's always possible (and even being predicted) that Rondo and Rick can't become two-thirds of that three-stranded rope here. What if that happens?
It probably changes everything.
The hurdle it presents is that because Rondo's retention comes by Bird Rights (over the cap spending), it becomes very difficult to add an equally-talented player instead. Without those Bird Rights, a substitute would have to be added using cap room or an exception, but in our outline those would already be used elsewhere.
To illustrate further, if we assume that Chandler, Ellis, and Rondo will each get a $14M starting salary, here is a side-by-side look at the roster-building and cap result, either with or without Rondo.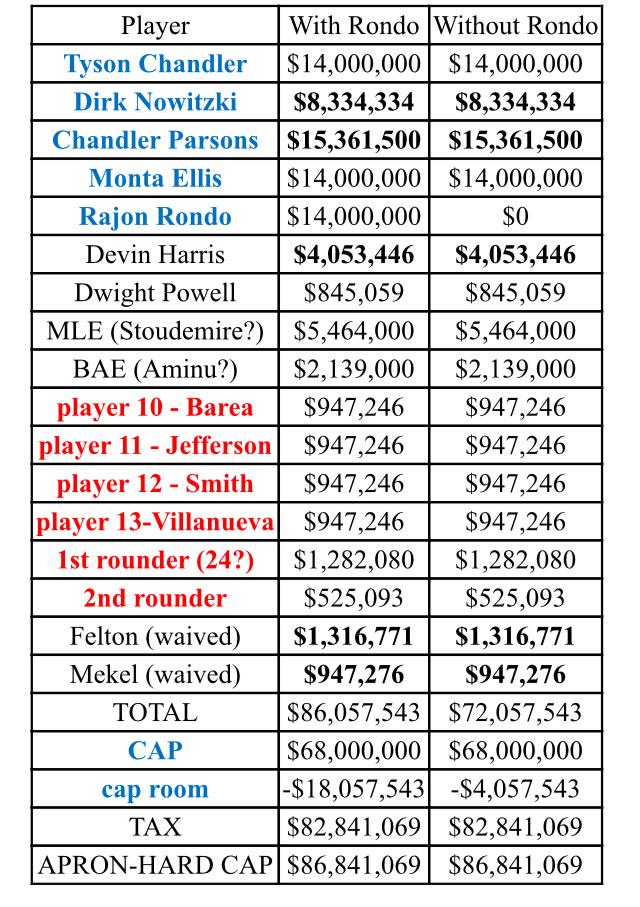 As shown, after Rondo's salary is removed, with everything else staying the same, the Mavs are already over the cap by more than $4M, so there is no cap room left to spend. And the MLE and BAE are already committed to Amare and Aminu. The net result, in this scenario, is in essence a swap of Rondo for a minimum salary player in free agency. Talent-wise, that would be quite a loss.
If put in that situation, in all likelihood the Mavs would do one of two things:
1) They would first try to do the same over-the-cap plan as they originally intended, but help Rondo sign elsewhere with a team lacking cap space, using the sign-and-trade process. It they could do this, they would be able to replace Rondo with whatever talent they could get for him in return in the sign-and-trade. Such a plan would be predicated on Rondo deciding to sign a new deal with a team that lacked the cap room to meet his demands, and would require the cooperation and desire of both the other team and the player to make this happen. Possible, but iffy.
2) If that proved to be a dead end, then the Mavs would almost certainly proceed as an under-cap team in free agency this summer, as they have the last few years. This would open up a bit more spending room and flexibility than simply working over the cap as shown above, but not much.
UNDER THE CAP IN SUMMER OF 2015
Using the same salary and player-preference assumptions as earlier, but operating under the cap, here's how the Mavs' summer might play out. On the left we have the Mavs general cap commitments, with cap charges for the empty cap slots, and we can see that as they begin they would have about $32M in cap room. Then on the right we've added two players that we think they would prioritize, Chandler at the same $14M level we theorized earlier, and an Early Bird Rights hold for Ellis.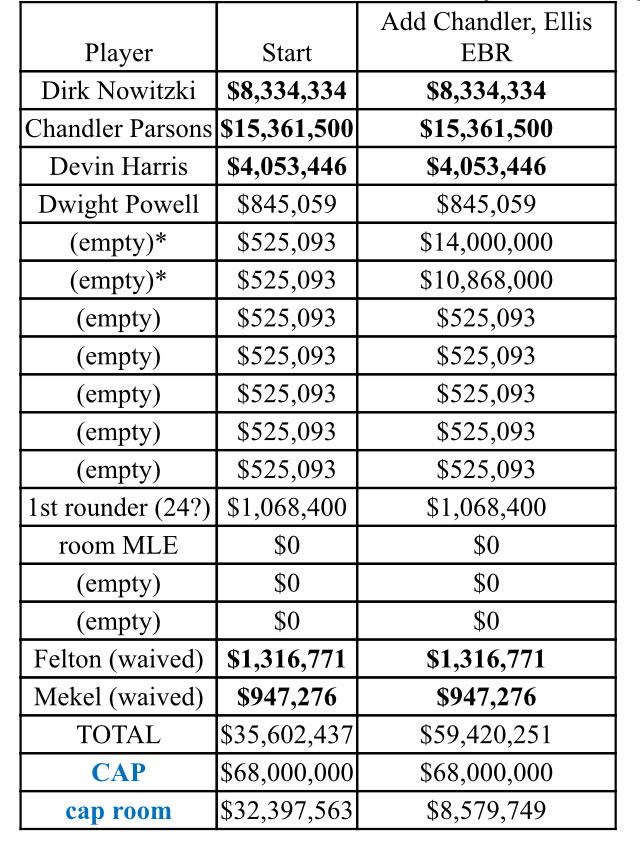 At that point, the Mavs would have one player for each position (Chandler, Dirk, Parsons, Ellis, and Harris), plus Powell and a 1st rounder, and there is about $8.5M in remaining cap room. If they chose, in that same framework they could still sign all the same players to the same contracts as we penciled in originally, plus a bit more. Pencil in the same amounts for Amare ($5,464,000) and Aminu ($2,139,000), and assume the others will take the minimum, and there's cap room left for a player at $977K (under the minimum salary for most veterans) plus the room MLE of $2.814M to spend somewhere.
So in this alternative, Rondo's talent is replaced by a room MLE player plus a minimum-ish player.
That's not a win, of course. And more notably, it skirts the question of whether the Mavs would be comfortable going forward with the very same team, except with Rondo subtracted and one $2.8M player replacing him.
In theory, that would leave a PG tandem of Harris-Barea, both of whom they love. But they already had them on the roster, and able to fill the PG minutes, before they traded for Rondo in the first place, yet they spent assets to add Rondo. Could they go back to that and be satisfied? And if they did, could Harris ever survive the wear-and-tear of starter minutes for a full season?
If not, then dominoes begin to fall in non-preferable directions.
Maybe they would decide they needed a new outside talent. If $8.5M isn't enough, would they decide not to keep another starter and add the $14M set aside for Chandler or the $10.8M set aside for Ellis to bring in someone new? If they did, then how would they replace not only Rondo but also Chandler, Ellis, or both as well?
Or maybe they would then decide to take the entire $8.5M cap room and, instead of spending it on Amare and Aminu, spend it on a new PG. But, if they chose to try that, what sort of PG would they possibly be able to get for $8.5M that would give them what they needed?
But supposing they did. Then, how would they have a strong backup unit? Aminu could get the room MLE instead of the BAE, but where would they get a proper backup for Chandler and Dirk? And if the backup talent was lacking, would Carlisle feel forced to wear out Chandler, Dirk, and others during the grind of the regular season, just to keep up? And then, if some of those top players break down from overuse (see Rose, Derrick) how good can the team be without them? And so on.
The questions are many, the answers few.
Admittedly, a team has to do what it has to do. If Rondo (mavs.com graphic) doesn't want to be here, the Mavs will have to figure out answers – and no doubt they will. But, at least from this vantage point, the future sure looks more promising with Rondo as part of the mix.
THE BOTTOM LINE
In some ways, like it or not, the Mavs' future is tied up in Rondo. That's a daunting prospect, to be sure, until we also realize that Carlisle is also here. If he can find a way to make it work (and he's paid the big bucks because of his skill in "steel-sharpening" and in forming three-stranded ropes), the difference can be huge.
See what Mavs fans are saying here!
Related Story: Short-Handed Mavs Spring Leak In Atlanta

Related Story: Rondo Suspended - And Here's Why

Related Story: Want more Mavs? Become A Premium Subscriber for Pennies!