The Big Lead: Dirk catches Elvin
The
Dallas Mavericks
beat the Lakers on Friday, 102-98, and when we prioritize, we are happy to start with
Dirk Nowitzki
moving to the eighth slot on the all-time scoring list. Dirk entered needing six points to top Elvin Hayes and also entered listed as questionable to even play in the game due to a stomach bug. But Dirk toughed it our and had 14 points on 5-of-13 shooting (including the third-quarter jumper to give him the mark) and added eight rebounds and a steal.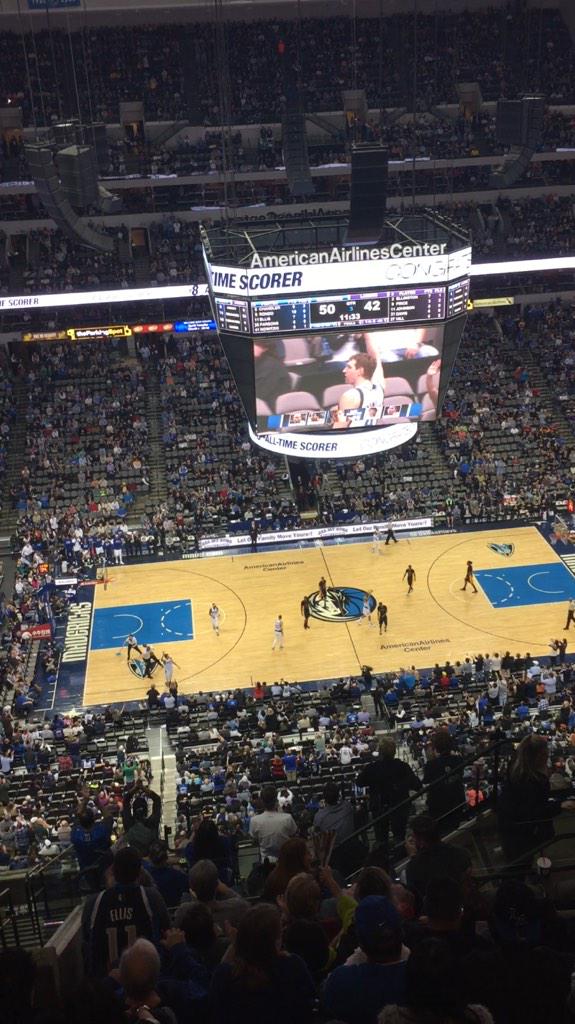 Dirk is 88 points shy of moving past Moses Malone for seventh place on the all-time scoring list.
Rondo aggressively fitting in
Rajon Rondo
led the Mavs in scoring. Yes, go ahead and read that again. Rondo, not known for his scoring prowess, scored a season-high 21 points on 10 of 17 shooting including 1 for 1 from downtown. Rondo also had eight rebounds, seven assists, and a steal to sum up his best night as a Maverick. His chemistry with Tyson Chandler was visibly improved as they connected on two early alley-oops and then a late one in which Chandler tipped in the lob and got fouled.
The only negative in Rondo's night was that he was 0-2 from the line. Coming to the Mavs he was a 33 percent free-throw shooter on the season and has yet to make his first in Dallas. But he was a boxscore filler overall, adding eight rebounds and seven assists.
Charlie V for 'The Dirkie'?
On a night when Dirk passed Elvin on the scoring list and Rondo had his best game as a Mav, an argument could be made that Charlie Villanueva was the player of the game for the Mavs. He had his "binge scoring" period (as head coach Rick Carlisle called it before the game) in the fourth when he scored 10 straight points for the Mavs from the 7:31 mark to the 5:46 mark. After his first jump shot and layup in that time, he had a huge block on the defensive end and then came back and hit his first of two consecutive 3-pointers.
For the night, Villanueva played 21 minutes and had 13 points on 5 of 9 shooting, including 3-6 from downtown. He also had three rebounds and an assists and four big, momentum shifting blocks. A very complete game by a player who barely saw any time prior to the Rondo trade.
So is Charlie V your guy?
Vote here for Player of the Game ... "The Dirkie''!
Mavs Minute Management
The minutes were spread out in a most judicious way. Chandler Parsons had 32 minutes, Tyson Chandler had 31, and Rajon Rondo played 35 minutes.
Monta Ellis
, who was a game-time decision with an illness, logged 34 minutes and Dirk played just 24 minutes, in large part to his stomach illness. With Dirk limited, Villanueva picked up the slack, playing 21 minutes. Greg Smith had a bigger presence in the post tonight with 17 minutes but picked up five personal fouls. J.J Barea played 13 minutes and was often on the court with Rondo, making him more of a scoring threat than a facilitating point guard.
Mavs "Big 3" Stats
The Mavs saw themselves getting outshot by the Lakers in two of the three categories. The Lakers shot 37.9% from beyond the arc to the Mavs 27.8 and shot 75% from the line to the Mavs 54.2%. However, where it mattered most: The Mavs shot 50.6% overall from the field to the Lakers 36.4%.
Quoteboard
"A lot of blood, a lot of sweat and a lot of guts go into a career like this." - Carlisle on Dirk.
What's next?
The Mavs play the Oklahoma City Thunder Sunday night at 6:30 p.m. at the AAC. It's going to be a big Western Conference game between two elite point guards in Rajon Rondo and Russell Westbrook. This is exactly the sort of game for which the Mavs brought Rondo in.
The Final Word
Kobe Bryant - the third all-time NBA scorer - sat out the game, choosing to (as Fish says) "rabbit-ear'' his way through the proceedings.
Earlier, Dirk said that he visited with Bryant and joked, "I told him that I was going to catch him. That's going to be tough."
See what Mavs fans are saying here!
Related Story: Mavs Christmas Donuts: Holiday Help?

Related Story: Mavs Center Philosophy and Jermaine O'Neal

Related Story: Mavs Asset Management: A Paperclip Becomes A House