The Big Lead
The weight of the world is on LeBron James.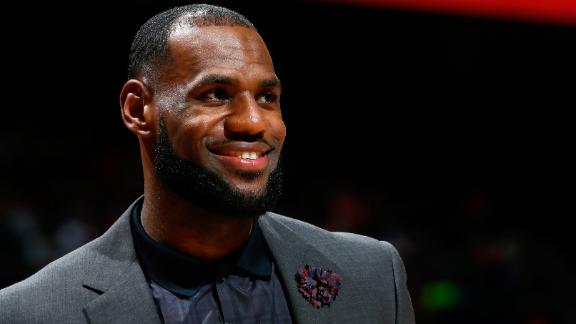 Meanwhile, the
Dallas Mavericks
on the road generally experience the Very Bearable Lightness of Being.
Here's how the Cavs entered the weekend: On a three-game losing streak. With rumored backstabbing of their coach inside the locker room. With Kevin Love not getting winning-time minutes. And with LeBron scheduled to miss the next two weeks with knee and back problems.
LeBron's burden — which includes his willingness to feed rumors that he might not remain in Cleveland long-term — includes this: Counting the playoffs, The four-time NBA MVP has logged 41,000 NBA minutes — ninth-most among all active players.
Meanwhile, the Mavs entered the weekend (that is, before Friday's emotional visit to Boston) with a 10-5 road record and, most interestingly, a 13-3 record against the NBA Leastern Conference.
And then came Friday, and
Rajon Rondo
's
brilliant performance in his homecoming game at Boston in which he scored 29 points
... and now Dallas is 24-10, in fourth in the West, a half-game out of first in the Southwest and 3.5 games away from the very top of the conference.
Cleveland beat Charlotte on Friday with Love playing a starring role alongside Kyrie Irving. (Ex-Mav Shawn Marion is also involved, and is currently averaging 5.7 points and 3.7 rebounds in 23.1 minutes per game.) But the Mavs have won seven out of their last eight meetings with Cleveland, have a 11-5 road record, a 14-3 mark against the East, and with a win today -- it's an 11:30 a.m. pregame show with "Mavs Live'' on FOX Sports Southwest and then a noon tipoff -- Dallas can go 10-0 against the East on the road.
I hear the "Dallas-hasn't-beaten-anybody'' argument a lot, an argument that focuses on this team's struggles with Western contenders but ignores Mavs wins at Chicago, Washington and Toronto. Those are definitively "somebodies,'' involved in Dallas decisions that are part of the Mavs having the No. 1 offensive rating in basketball, a No. 18 defensive rating (hopefully with a bullet) and a Point Differential of +7.3 because of how all these "star role players'' are performing. It dates back to forever with
Dirk Nowitzki
, to last year with
Monta Ellis
(who averages 22 points per in his two meetings with the Cavs last season) and to Tyson Chandler now, as he has grabbed at least 12 rebounds in six straight games and eight out of nine games.
Beating the East. The good teams and the bad ones. The LeBron teams and, as is the case today, the non-LeBron ones. And doing it on the road. Just as Mark Cuban buying the Mavs 15 years ago for $285 million is the foundation upon which a decade-and-a-half of success is build, winning on the road for this year's club is a foundation upon which Dallas' record is built, and there are no apologies to be made for that.
Today, one team today has weight, the other light.
Today, one team today is loaded down by something ... burdening. The other team today is buoyed by something … burgeoning.
See what Mavs fans are saying here!
Related Story: We've opened a bar! 'The Maverick' for Mavs and Cowboys games!

Related Story: Mavs front office: Execs of the Year?

Related Story: Happy Mavs-a-versary! 15 years ago today Mark Cuban bought the franchise. Aren't you happy?