Asset Management Post-'Plan Powder'
A few years ago,
I traced nearly a decade of Mavericks front-office moves to illustrate how the roster was built that delivered Dallas its first NBA championship.
Largely through opportunistic trading and a willingness to accept contractual bloat, the Mavericks finally found the correct pieces to harmonize with one of the most unique superstars in NBA history.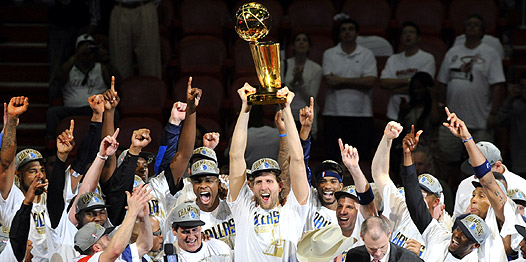 Then everything changed.
After the lockout, a new financial reality swept the league and owners scrambled to avoid a punitive luxury tax that they themselves imposed.
Mark Cuban manifested this shift by allowing the majority of the title team to walk during following two seasons. Not only did this create a new type of asset, cap space, but also represented the ends of several long asset-management lineages.
Dallas lurched through three uneasy seasons trying to remain competitive during Nowitzki's final act while delivering him a team worthy of once again delivering him to the championship stage. After striking out trying to assemble this team primarily during free agency, Dallas returned to its wheelhouse because of the financial freedom afforded by Dirk's historic hometown discount and the coming NBA TV mega-deal.
An update on Asset Management since 2011
Dec 10th, 2011
A mere six months after capturing a first championship, Dallas said goodbye to (well, officially traded away) a heart and soul of that first team, Tyson Chandler. Dallas officially received a protected 2nd-round pick and players not worthy of name, but officially, Chandler left for nothing. Many key contributors would follow TY out the door with next to nothing for Mavericks compensation.
June 29, 2012
Dallas acquires Jae Crowder in a trade involving Kelenna Azubuike and Tyler Zeller to the Cleveland Cavaliers for Crowder, Jared Cunningham and Bernard James
July 12, 2012
Waived Brendan Haywood. (Fun fact: Mark Cuban will pay Haywood slightly fewer than $200k less than Dirk Nowitzki to play basketball for the Mavericks this year.)
Traded Ian Mahinmi to the Indiana Pacers for Darren Collison and Dahntay Jones.
July 11, 2013
Signed Jose Calderon as a free agent.
July 19, 2013
Signed Samuel Dalembert as a free agent.
July 23 2013
Signed Monta Ellis as a free agent.
June 25, 2014
Traded Jose Calderon, Samuel Dalembert, Wayne Ellington, Shane Larkin, a 2014 2nd-round draft pick and a 2014 2nd-round draft to the New York Knicks for Tyson Chandler and Raymond Felton.
July 13, 2014
Signed Chandler Parsons
July 15, 2014
Re-signed Dirk Nowitzki
October 29, 2014
Signed JJ Barea
December 18, 2014
Traded Jae Crowder, Jameer Nelson, Brandan Wright, a 2015 1st-round draft pick and a 2016 2nd-round draft pick to the Boston Celtics for Dwight Powell and Rajon Rondo. (2015 pick is conditional. Boston also receives $13M trade exception.)
The Two Eras
This is the fourth season since the summer of 2011. Since Dallas' first title we see two eras: one in which Dallas largely trended towards short-term flexibility and the other in which the Mavericks began to take on long-term contracts again.
As dictated by the new CBA (or at least as Cuban and Company interpreted the dictation), the 2012 and 2013 seasons were all about acquiring another star through free agency. Dallas positioned itself well to capture one of the many premiere free agents that became available in those summers. "Plan Powder,'' we called it. However, Deron Williams, Dwight Howard, Chris Bosh, LeBron James, Carmelo Anthony and others all landed elsewhere.
The third week of July 2013 brought change, however, as Dallas began acquiring long-term assets in the forms of Jose Calderon, Monta Ellis, and Samuel Dalembert. The Mavericks would add Chandler Parsons this past summer. Together, these moves would shore up the talent surrendered in previous seasons and give Dallas multi-year control of talent.
Suddenly,
the bare cupboard -- one too empty to do anything when Dallas called Boston 15 months ago about Rondo's availability
-- had some cups in it.
The Mavericks also began to accept long-term commitments via trade once again by re-acquiring Tyson Chandler. Led by
the Chandler-Nowitzki-Parsons-Ellis lineup, the Mavericks crafted an historically-efficient offense.
Dallas charged out to a 19-8 record.
An Eye Towards the Future
However, while this year's Mavs were murdering the leagues dregs, they floundered against the elite. Such a path would not bring
Dirk Nowitzki
his second ring, and would represent a failure to make good on
the historic hometown discount Nowitzki gave Dallas this offseason. (Review the details of that deal here.)
With the addition of Rondo, Dallas now fields perhaps the best starting lineup in the NBA. Though Rondo's addition likely cannot help to statistically augment Dallas' offense, properly motivated, Rondo can be the type of two-way floor general Dallas has lacked since Jason Kidd left town two seasons ago.
(Those Kidd-like traits were on display in Rondo's debut in Saturday's win over the Spurs.
Dallas plays host tonight to the Hawks in a 7:30 tip on FOX Sports Southwest.)
The Mavericks' move here is not without risk, however, as Chandler, Rondo and Ellis could all become free agents this offseason. Dallas will retain Bird rights on each, though. Coupled with the expected salary-cap increase resultant from the infusion of cash the league will soon receive from its nine-year $24-billion TV deal,
our David Lord has forecast Dallas' plan for retaining its talented starting five. (The finely-honed details of Dallas' financial future are here.)
Though the Mavericks are now perilously-thin across the front line (Fish reports they are working to fix that with a multi-pronged chase for bigs), they have become an attractive destination for ring-chasing vets who will happily join the fold for the minimum.
It should be noted, however, that sweeping transactions like the Rondo deal usually bear their fruit in Year 2. So there are no guarantees that Dallas reaches the Promised Land this postseason, and we'll do our best to view
Rajon Rondo
as part of the "long-term core'' Cuban talks of retaining. A "long-term core'' means long-term contention, maybe even of the sort Dallas was blessed with in the 50-plus-wins-a-year pre-CBA-change Cuban Era.
This was a long asset-management process to get here ... as we've noted before, like the internet
legend of the trading of a paperclip for something better, then something better than that, and finally, for a house.
Long process into it ... hopefully
Dallas Mavericks
long-term contention out of it.
See what Mavs fans are saying here!
Related Story: Rondo's Debut: Blow-by-Blow

Related Story: Mavs Rondo: 'I Want A Parade'

Related Story: Mavs Future Payroll: How It All Fits