Rondo the Aggressor
Rajon Rondo
has now played 10 games with the
Dallas Mavericks
. The Mavs have won seven of those games so it's fair to say that Rondo has been effective in Dallas, but it's still a work in progress for a player of his creativity to reach his full level of impact.
The unpredictable variable in acquiring (and evaluating) Rondo is his scoring, more specifically his shooting. Rondo is far from a good shooter by NBA standards. He makes up for that by being good at just about everything else, but defenses will always adjust to a player who isn't a threat to score no matter how good he might be at passing.
The criticism of Rondo for most of his career has been that when he loses confidence in his shot he actively avoids taking shots and opts instead for passing it to teammates with worse looks at the basket. Some would say this is a mental block due to a lack of confidence. More cynical observers claim he is simply trying to pad his assist total. Rick Carlisle has been adamant since the trade that he wants Rondo to be aggressive and take shots whenever the opportunities present themselves, which is likely to be very often considering the attention his Dallas teammates draw on offense.
The good news is Rondo has been very aggressive as a Maverick, as the numbers have shown. He has scored 120 points in 10 games for Dallas. If we extrapolate that number and apply it to an 82-game season then it would result in the second most points that he has scored in a season in his entire career. He has taken 122 shots in a Maverick uniform. That would easily put him on pace for his most shot attempts in a season. And as ghastly as the free-throw shooting has been (33 percent as a Maverick), Rondo's three-point shooting has been surprisingly good. He has made 44 percent (8-18) of the three-pointers he has taken since the trade. The three will be open for Rondo as long as he plays with
Dirk Nowitzki
, Parsons and Ellis. He is unlikely to fall in love with it (for good reason), but his willingness to step up and sink one makes the Mavericks that much harder to defend.
And Dirk as the centerpiece helps make it all work ...
Wednesday's loss to the Pistons was the first game Rondo played as a Maverick in which he did not shoot a three-pointer. It was also their first loss in seven games. He also had an uncharacteristic seven turnovers. It was an off-night for most of the team, however, and it's hard to fault Rondo for the Mavs' inability to knock down open shots.
Throughout most of Rondo's short tenure in Dallas he has achieved a very deadly combination: aggression and precision. Passiveness could have been the one quality to make this a regrettable trade. It is not as simple as giving Rondo a bunch of scorers and letting him rack up the assists. The offense really hums when everyone considers himself a scoring threat.
The remarkable thing about Rondo is how easy it is to sit back and trust him with the ball. Since joining the Mavericks he has tended to shoot the ball when it is beneficial to shoot it and pass it when it is beneficial to pass it—to whom it is beneficial to pass it to. Precision can come when a player sits back and picks his spots (see: Jose Calderon), aggressiveness can come when a player has tunnel vision (see: Brandon Jennings). The combination of both; continuously doing the right thing at the right time is the catalyst for a great team.
Rondo's shot isn't pretty so you might have to prepare yourself for the inevitable bricks produced by his clunky release over the course of the season. But it's a price worth paying. Rondo's aggressiveness leads to Rondo's effectiveness. The Rondo that trusts fully in all his abilities is the Rondo that best utilizes every inch of the basketball court.
Not enough of this was in evidence in the loss to the Pistons. All of it will be tested again on Saturday afternoon with the visit to the 24-11 Clippers, featuring a backcourt challenge in Chris Paul. But the Mavs have trust here. And you should be encouraged by Rondo's feelings about Carlisle, as told to USAToday.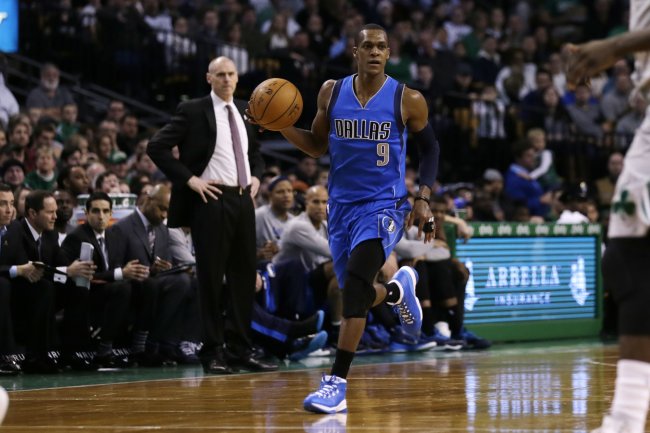 "I love the way Carlisle coaches the game," Rondo said. "He shakes up the lineup. It's fun to play for a coach like that. Obviously Doc pretty much made me the player I am, along with other teammates. (Celtics coach) Brad (Stevens) helped me in my career and was very positive for me, but Carlisle is different between both of those guys. He's a great X's-and-O's guy from what I can see so far, and I love the way he shakes up the game."
The shake-up will continue to be aggressive. It's the only way.
Fish Video Visit
Mike Fisher and Annabel Stephan recap the Mavericks' 108-95 loss versus Detroit and take a look ahead at this week's game versus the L.A. Clippers ...
See what Mavs fans are saying here!
Related Story: Mavs re-set "Inexplicable Loss'' timer

Related Story: Mavs face a "kink'' in O'Neal pursuit

Related Story: Why can't the Mavs get in on Denver fire sale?