DONUT 1: The Big Lead
The biggest win of the season.
I'm not afraid to claim just that after a 112-107 victory over the resilient Oklahoma City Thunder. Perhaps an assessment of the other
Dallas Mavericks
victories is necessary. There are three other victories that I'd consider as in contention for the best victory of the season and they are all road wins against the Eastern Conference. The Mavericks haven't played particularly well against the Western Conference (10-7) but they've done what you have to do to keep pace in the West, beat the bad teams and occasionally take a game from a playoff team. The Mavericks have the second-toughest remaining schedule in the West and while Sunday night's game won't factor into any nifty wins-against-+.500 teams stats because of the hole that OKC is trying to crawl out of, everybody understands how good the Thunder are and what a win against them still means even with Durant sidelined.
DONUT 2: Dirk's best, too
The best win of the season came hand-in-hand with the best game we've seen from
Dirk Nowitzki
in this NBA season.
It was just his 238th career game of at least 30 points scored. No biggie. The only thing that's keeping Dirk from having almost the exact same season as last year (which was some kind of revelation) is his slippage on the above-the-break three which for him is constituted mainly from the trailing three. Last year Dirk shot 40.6 percent on those lethal trailing threes and this year he's only shooting 33.3 percent (which is acceptable for a normal human).
If Dirk starts knocking down one more trailing three a game, then his numbers would be almost identical to last year's when you stack them up. Sunday he knocked down 2 of the 3 trailing threes he took. The savvy thing he did to keep the Mavericks in the game and then pull away eventually in the fourth was force his way to the line. Oklahoma City has never had a defender that could slow down Dirk and Steven Adams definitely is not that guy. Ibaka probably has the best chance but then you get into the dangerous neighborhood of your second-best scorer drawing early foul trouble from trying to defend the crafty Nowitzki. Steven Adams got taught just about every old-man trick that comes in the top-10 all-time scorer handbook. Dirk shined brightest in the fourth quarter when I was certain that Russell Westbrook and Serge Ibaka were ready to stranglehold the Mavericks into submission. Ten fourth-quarter points all coming in the final five minutes including the free throws and the field goal that gave the Mavericks their 106-102 lead.
It's good to know that the Mavericks can still win against a very good team when they're forced to lean on the old reliable assassin.
Now, for fun: Watch every bucket of Dirk's hyper-efficient effort against the Thunder with this nifty representation by NBA.com.
DONUT 3: Parsons' pocket
Rajon Rondo
is taking too many shots and they've been coming directly out of Chandler Parsons' pocket. Rondo took 17 shots Sunday and has been averaging 14.8 since his arrival in Dallas. That's a 50-percemt increase compared to what he was doing with Boston (9.1 FGA).
Why is this happening?
Does he feel pressed to contribute more offensively now that he's on a good basketball team? Is he just responding to teams daring him to shoot? Whatever the reason, I don't think the formula should be drawn up for Rajon Rondo to be taking 15 shots a night on the offensive end.
DONUT 4: The Marriage
It was good to see Chandler Parsons have his best game in the Rondo era. I was starting to wonder what kind of unanticipated adverse effects the new point guard was going to have on his game and shot total.
Parsons started hot knocking down six of his eight first-quarter shots including a trio of threes for 15 points. The three ball had became a real issue for him with Rondo on the team (14.3 percent in the first four Rondo games) which was not something any of us could have projected. The common thinking was that Rondo and Parsons would be a perfect fit together seeing as Rondo dominates the ball and has little interest in shooting and Parsons doesn't require the ball to contribute offensively but Rondo has only assisted on seven Parsons made buckets in these five games. Parsons dropped his eighth 20-point game of the season after averaging just 9.8 in the first four Rondo games.
The Mavericks can beat any team in this league when Chandler Parsons is their third best player on the offensive end and they can lose to any team if Chandler Parsons doesn't have a role in the offense. It's Rondo's job to get him involved because the other two studs can consistently get their own shot off. Parsons can create his own shot on occasion but he's much more deadly when working off the ball. He finished with 26 points on 10 of 16 shooting.
DONUT 5: Where's Aminu?
What the hell is going on with Al-Farouq Aminu?
He truly is the next Brandan Wright with the way Rick is treating him. He's missed the last three games and played less than six minutes in the three games prior to that. I think he can bring a lot to this team that nobody else can. Why couldn't he get some run against Andre Roberson and even create an offensive mismatch for the Mavericks? I'm just confused as to why he all of the sudden doesn't have a role on a team that needs second-unit contributors.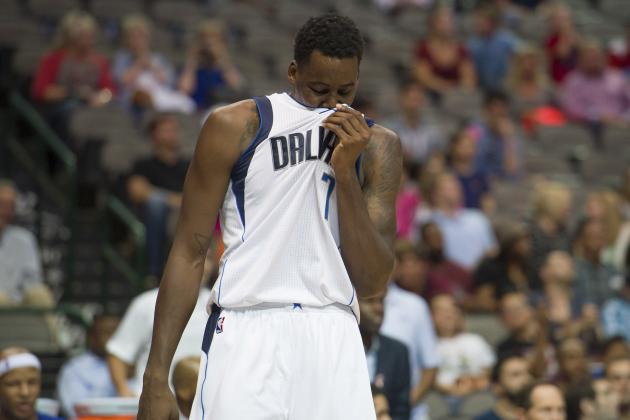 Hey, Fish, pull your head out of
The Maverick Bar
and check into this, will ya?
DONUT 6: Real Thirsty
The thirst for floor spacing is real.
That's why Charlie Villanueva is playing large minutes for this team. At points in games the Mavericks are often operating with three players on the court that the defense doesn't have to defend all the way to the three-point line (and depending on what kind of night Parsons is having sometimes four). That's why somebody that can stretch the floor is essential at this point in the Mavericks roster construction.
You'd like for the player that stretches the court and can't rebound or guard anybody to at least be a guard that's capable of being hidden but that's not a luxury they have at this moment. Despite what Charlie V did Sunday (1/7 from three) he's a real problem if he runs in there and starts splashing in bombs. This is an incomplete roster and that calls for big minutes from guys that aren't exactly two-way players. The Mavericks are clearly still in the market for another shooter (please Ray Allen) and another big (please Jermaine O'Neal).
But Charlie V, for now, is doing what must be done.
DONUT 7: Wrestlin' Westy
The Mavericks played a beautiful defensive game against Russell Westbrook on Sunday, forcing him into a 6 of 23 shooting night with five turnovers (large thanks to Russ and his willingness to just settle for the jumper). It got me wondering why they can't do this every night now with Rondo in the fold. The point guard position has been a bugaboo for the Mavericks defense as they're averaging the most points by any position against the Mavericks.
So ...
DONUT 8: Opponent Production by Position
With the help of 82games.com, let's take a look at Opponent Production by Position.

Good team defense isn't about the best one-on-one defenders (I think the Mavericks have proven their lack of ability in that arena). It's about a collective mentality and an intensity. Think about the Indiana Pacers. None of their players are particularly talented as individual defenders. They just have a stern commitment to killing themselves on the defensive end. What do they have that the Mavericks don't? The Mavs now have above-average defenders at the point and the center position. If you're going to pick two spots to have your best defenders, those are two pretty good places to start. The lack of a true backup center is still an issue but one that is hopefully resolved soon. Why can't the Mavericks be an upper-middle of the league defensive team? The inability to find a defensive system that works could be the great undoing eventually for this collection of Mavericks. Your shot can come and go but defensive grit is just a question of willpower.
Now I sound like Carlisle. Watching him coach 1,000 games will do that to a basketball junkie.
DONUT 9: Quoteboard
"I was playing the 3, so that goes on my resume. I started at the 3 in the league." - Diminutive J.J. Barea, on his unusual starting role in the win over OKC.
DONUT 10: Without a gladiator?
The Mavericks were forced to play that OKC game with one arm tied behind their backs as well as their gladiator Tyson Chandler was held out due to back spasms. There's no denying the importance of the reigning MVP Kevin Durant but I'd argue that Tyson Chandler is equally as important to what these Dallas Mavericks are trying to do and that's why, again, I consider that the best win of the season.
Now we ready for a visit to AAC tonight by another quality team in the Wiz and we monitor the availability of the gladiator. He's presently considered "questionable.'' Fish is at shootaround this morning. So check back here, on
DB.com Boards
and with
Fish on Twitter
for updates.
UPDATE ... as promised, via Fish:
Chandler says he's playing. "I'm feeling all right," Chandler said. "There's still a little soreness, but a lot better than the way I felt the other day. ... If I feel the way I feel now, I'm good.''
Carlisle also reported that Monta Ellis (ankle) and Rajon Rondo (stitches in his face) participated fully in shootaround and will play tonight.
Spirits were high at the workout, as Tyson joked about letting Dirk play the 5 again (thus freeing TY to shoot 3's from the stretch-4 position) and as Monta did his best James Brown imitation, singing "Living In America'' as the workout ended.
DONUT 11: Just four?
Looking forward, the Mavericks only have four home games in January. That's bizarre but it might be a good thing. Road games lend time to bonding and spending time with teammates. That's a good thing with a brand new point guard and presumably a few other new pieces to be brought into the fold. If they can come out of this oddly scheduled month with their heads still above water then we may be looking at the Mavericks at their strongest heading down the stretch as we plow into February.
DONUT 12: The Final Word
There is nothing cooler than a cool handshake.