Mavs Donuts today sponsored by
McKinneyDentist.com,
the finest dentists in DFW ... they've taken care of my family for 20 years. Meet Dr. Berlin and his incredible staff and let him care for your family, too!
DONUT 1: The Big Lead
Dirk Nowitzki
's roots are well-documented, but every once in awhile, just as he explores them (for his own betterment) we do the same. Part of those roots: His mentor Holger Geschwinder.
DB.com Boards
contains a fascinating conversation with Holger (and then your conversation with Mavs fans just like you)
about his protege Dirk and this year's Mavs. Some highlights:
*On point guard changes: "As a result, sometimes they're very good - and sometimes they receive a healthy beating.'' (This requires context. Go read it!)
*"It made sense for Dirk to leave some dollars on the table in order to build a Mavs team that doesn't stumble around hopelessly.''
DONUT 2: More context
Now, that last point is so important ... because of the tone it sets around here but also because, as Holger notes without saying it ... that's not generally what other superstars do.
This is a great time to remind Mavs fans that Nowitzki this offseason signed a three-year deal totalling $25 million ... even though he was eligible for $75 MILLION.
And that while he was doing that, Kobe was taking $48.5 mil for two years while coming off injury and trying to spin his greed as an effort to lead players to stand up against greedy owners.
And today, when Lakers defenders say, "Of course Kobe shoots all the shots! He doesn't have anybody to pass to''? ... they fail to understand the financial reason Dirk has people to pass to and Bryant doesn't.
DONUT 3: One more dollars and sense
And while we're on the subject. ...
Melo got his money with Phil Jackson's Knicks while in the ensuing stroke, the NY boss dumped Tyson Chandler (blaming him for poor leadership of the club) in exchange for a collection of Mavs like Dalembert and Calderon ... both of whom he's now in the process of dumping.
And what Phil is discovering now is that being a coach of a team featuring a Jordan or a Shaq is a lot easier than being a GM of a team where your decisions are on a bigger, wider plane.
Being a great coach doesn't equate to being able to run an entire franchise. And lest you say that Phil is simply executing his well-Zenned-out plan by clearing cap space, I will suggest that there is no way he took this job "planning'' to be 5-32.
And I can prove it.
"We believe we're gonna be a playoff team, then we don't know how far we'll be able to go,'' the Knicks' Jackson said at training camp on Sept. 25.
DONUT 4: I don't get wrestling
As you may know, R.J. Choppy and yours truly are the TV voices for the
Texas Legends
, and most weekends we ply our trade (such as it is) on Channel 47.
And we have a ball, the Legends providing us ample room to talk basketball, life, and I guess, wrestling:
I'm laughing. Even though I still don't get ANY of it.
DONUT 5: What is clutch?
Coop helps us with one definition:
With those two free throws in Brooklyn to force the OT (and help the Dallas win), Monta Ellis is now 11-of-11 from the line in final 30 seconds when the game score is within three points.
"Pretty good,'' Coop says, "for a 78.6-percent free-throw shooter.''
DONUT 6: Mavs info - stacked!
Did you miss a game story, a column, a piece of analysis or video, a one-on-one interview, a scoop? Anything about your
Dallas Mavericks
? It's all
collected here in DB.com News Archives
and individually wrapped for your protection!
DONUT 7: JO latest
The Mavs remain comfortable with the idea they have the inside track on the un-retiring
Jermaine O'Neal. But if you are a Mavs Premium Subscriber you know the inside story on the "kink'' in the pipeline. It's a DB.com exclusive and it's here.
DONUT 8: Apple Moving Move of the Day
Your Mavs Apple Moving DFW "Move Of The Day''?
It's a move home ... if only briefly.
The 26-10 Mavericks improved to 11-0 this season against the Eastern Conference on the road, and they've won 12 of 13 matchups against the East overall, The numbers keep stacking up here with the Pistons in town for a 7:30 tip tonight, as Dallas has won 11 of 12 against the 11-23 Pistons (11-23).
The Pistons are post-Josh Smith-dump hot, having won six straight, highlighted by last night against the Spurs when they recorded a turnover on an inbounds pass so Brandon Jennings could hit a buzzer-beater to win 105-104. The Mavs have won six straight. But here's an oddity: Dallas has just four home games in the month of January. So tonight is a rare chance in this month to make a move.
And when it's your turn? Call
Apple Moving DFW
, the very best in the business, when you need a mover. And tell 'em DB.com sent you!
DONUT 8: Larry Sanders Show
My man David Lord called this last May,
observing that there was a Sword of Damocles hanging over the head of Larry Sanders that would keep the Mavs from being interested.
Now the Bucks' Sanders has his $44 million deal and a desire to quit basketball ... So, what if Milwaukee pulls a Josh Smith here and just says goodbye?
D-Lord is on the case:
If Sanders doesn't want to play, they'll angle a way to stop paying him, if they can't solve the issue any other way. But a simple waiver, ala Josh Smith, rewards him with $44 mil for quitting his job, and I don't think that's not gonna happen.
Josh Smith was waived because he proved in Detroit to be something less than a good player, not because he wouldn't show up for work and try.
DONUT 10: But what if?
OK, D-Lord, but what if? What if Sanders - a gifted young defensive center who doesn't have his head screwed on tight, admittedly - comes free?
*The Mavs have some experience in this matter. They never really put the hammer down on Lamar Odom (until it was too late to matter) because they wanted HIM to somehow be willing to play his best, and continued to try to make that happen. Eventually they sorta fired him ... and rid themselves of the cancer, as costly a lesson as this franchise has had to learn.
*And having learned it ... following an internal division over whether to keep the leash long with LO ... their leash is relatively super-short. Delonte West, well-liked in the organization, was given one strike, allowed to stay, and then pulled his "underpaid'' crap in the preseason, and bam, Uncle Ricky ordered him gone. Period.
The Mavs needed him on-court, but it didn't matter. He was on the same team with Mayo. Knuckleheads were adding up. Gone. Period.
*Later, when Derek Fisher pulled his absurd stunt and decided he didn't want to be a Mav and "needed to be with his family instead," the Mavs did NOT pay him a penny after that point. ... off he went, but not with a full wallet.
No way the Mavs fish around here. The $44 mil is a boatload of money to simply give to a person who won't show up for work. I don't think the Mavs would get involved in that, having learned a lesson. And besides, this organization is built in part on The Dirk Effect, which includes the most legendary Mav ever also being its hardest worker. Will other players who work their butts off for their money while following The Uberman's lead REALLY think Cuban should paid some guy who wouldn't work?
DONUT 11: Acquire a wing?
So there's this idea that's being floated about that "Dallas should acquire a wing.''
It's a homogenization of something David Lord and I have written about since training camp - the "3-and-D guy'' who would be so helpful to this roster.
Some are still beating that drum ... or a version of it. But the roster change has changed the "need,'' if you will.
Rondo's presence IS that perimeter upgrade on the defensive end. Now, you want to stick with the theory that another wing defender would help? Certainly. But NOW that defender needs to be a player who is clearly superior in one area (or more) to steal minutes from Rondo, Ellis, or Parsons.
The idea of finding another DeShawn (or whomever) and giving him minutes was BEFORE Rondo's pickup. To add that sort of player NOW and to expect him to greatly impact the rotation? That would mean altering the rotation and changing the makeup of the entire team ... and again, it would mean Rondo, Ellis or Parsons come off the floor.
Don't hold your breath on a bit player doing such a thing.
Now, if Dallas could somehow acquire a truly top-notch rotation player good enough to earn minutes ahead of Ellis, Rondo or Parsons? Great. But don't hold your breath there, either.
As the games get bigger, Ellis, Rondo and Parsons will be playing more minutes, not less. Mark them down undoubtedly to be logging 38-40 minutes every night when it counts.
The Mavs have Asset-Managed their way to a contending roster. The top people here are the ones that will get the minutes. If there's still a weakness in some way on the perimeter, the answer will most likely be solved by scheme, not by importing someone to sit on the bench. (Again, short of yet another blockbuster trade, as let's acknowledge how unlikely that is.)
Dallas will continue to explore. (With most of that exploration centering on the Jermaine O'Neal level.) But as Lord notes, at the end of the day, every team has weaknesses, so it's about playing past them rather than having to be a perfect team in every way.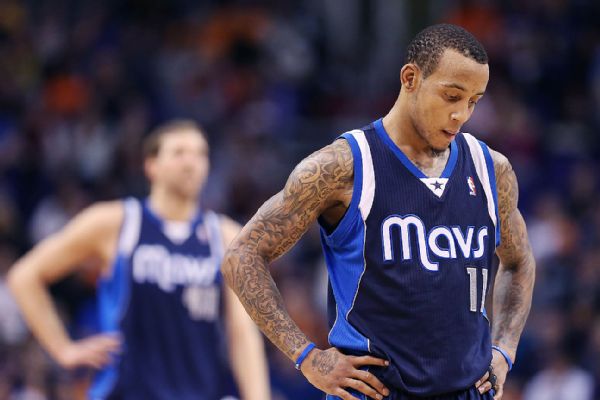 And ultimately here, it's about playing Ellis, Rondo and Parsons and not thinking there's a DeShawn out there worthy of playing while one of them gets benched.
DONUT 12: The Final Word
"Maybe sometimes on the road you're a little more focused. Sometimes at home you have people in here and there and there's a lot of distractions. I don't know. Maybe that's it. I can't really put my finger on it. But I know one thing: the good teams or the great teams in this league are very good at home and they're tough to beat at home. So, we've got to go home and win games. We really only have this one game before we go back out for another tough trip." - Dirk.