DONUT 1: The Big Lead
Quick quiz, the
Dallas Mavericks
in the first half of this season defeated one top-eight team in the Western Conference this season. Do you remember that game?
It was
a December 20th home game against the San Antonio Spurs in which Tim Duncan, Tony Parker, Manu Ginobili, Kawhi Leonard, Tiago Splitter and Danny Green didn't participate.
One win in nine tries and Dallas hadn't looked especially competitive in any of those other eight games. So, needless to say the Mavericks fanbase has been thirsty for a Western Conference victory they could hang their hats on and bracing for a letdown every time one of the brutes of the West came calling. At the end of the season, wins will be tallied by multiples of ones and who they come against won't matter, but for the collective psyche of the Dallas basketball scene, every loss against a Western playoff team had started feeling like two losses. The thirst was real my friends, and Monday the Mavericks brought a big pitcher of lemonade to the picnic party in Memphis with a lionhearted 103-95 effort.
There's your highlight reel. Now let's dig in ...
DONUT 2:
For the first time in roughly a month I feel overly compelled to start a game recap with my favorite player in the history of sports, Lewis Scott (Damon Wayans' character from the movie "Celtic Pride'').
No, you know better than that.
I'm talking about Dirk Werner Nowitzki. There were multiple Dirk moments in this game and none bigger in terms of the ultimate result than the fadeaway jumper with 1:51 left in the fourth that sparked a Dirk avalanche of buckets eventually halting when the Mavs had a 101-95 lead and Dirk had tallied 10 fourth-quarter points.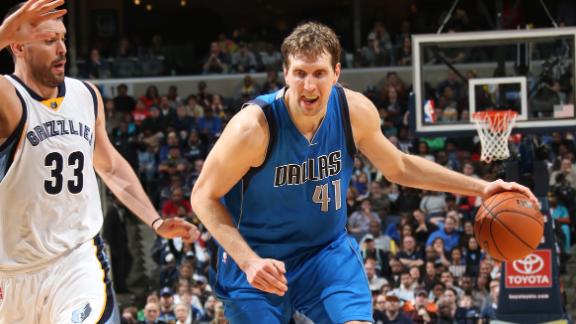 The four-point play was bad-ass and the confidence that Rick showed drawing up a play for Dirk after the Grizz had pulled within one in the third reminded us what we still have here. I'll admit that this year hasn't felt quite the same from Dirk and I do realize that last season was one of the more remarkable NBA years a 35-year-old will ever have. There just haven't been that many moments when the offense absolutely had to run through The Big German. But you step back and you look at in the frame and he's still contributing with elite efficiency and having a year that 80 percent of the players in the NBA would kill to have. When the games get bigger and the spotlight gets brighter you can assume that the lighter offensive burden from earlier in the year will find him in a better way than what we saw last season in the San Antonio series. With all that being said,
Dirk Nowitzki
did have multiple stretches in this game in which he went full on blue-steel.
"Nothing much,'' deadpanned Rondo in reviewing The Uberman's work. "Just Dirk being Dirk."
Coop points out that in three of his last four, Dirk is at 20-plus-points in scoring which shooting 47.6 percent with 9-of-17 shooting from the arc. Remarkable last season. Plenty of time to be remarkable this season, too.
DONUT 3: Powell uprooting
If you blinked you missed the entire portion of the season in which Greg Smith was the Mavericks backup center.
We all assumed this would be something to look back on and laugh about
when Jermaine O'Neal picked the Mavericks as the team he wants to play for
, but no. It took one game of Carlisle sitting everybody (besides Monta) and Dwight Powell showing just something definable (which is more than what Greg Smith had done. Again, it's not his fault he was being asked to be a backup center) for Powell to leapfrog into the backup center role. Monday's 16-minute effort was nothing special from a boxscore standpoint but there were several occasions when Powell (6-11, 240) uprooted Marc Gasol (7-1, 265) from his preferred post position and caused him fits.
With those 16 minutes Powell has already eclipsed his minutes total from his previous 23 games with the Celtics.
This is the point when projecting a young player's path in which I'd hedge the optimism because so-and-so has only played against particular competition and doesn't have a role in every game. Powell appears to be different. If he can hold his own against arguably one of the league's top three centers then in which scenario would he not have a role in a game? He drew fouls, didn't get axe-murdered on the defensive end and played 15+ minutes against basketball's version of the monsters from "Teenage Mutant Ninja Turtles 2: The Secret of the Ooze'' (fifty dollars for every "Secret of the Ooze'' reference if you're wondering). Just imagine what Rick and the Mavericks offense could do for a young skilled big man that didn't already have all the limitations and bad habits of Brandan Wright.
(We speculate here about D-Powell as a B-Wright Starter Kit.)
It's easy to forget that Rick developed Ben Wallace, Brad Miller, Jeff Foster and even Jermaine O'Neal.
DONUT 4: Visual JO
By the way, here's an update on Jermaine O'Neal:
He looks pretty badass in slow motion.
DONUT 5: Rondo with Devin
With 9:47 left in the first quarter, Rajon Rondo earned his second foul and visions of Mike Conley just patiently burning my house to the ground were a real thing. That just really didn't happen.
Devin Harris shot off the bench and into the game smelling like last week's paycheck. Devin's jumper was wet in the first as he scored nine points and grabbed three boards to save the Mavericks from a potentially disastrous set of circumstances. When Rondo did return he contributed at roughly the same level as Raymond Felton (who didn't play).
This was Rondo's worst game as a Mav.
There have been worse shooting nights but not flatlines like this across the board (six points, one assist, two turnovers, three rebounds). Still, his 15-footer jumper with 2:28 left in the game augmented the Maverick lead to four points and essentially turned the tide (despite the fact that I audibly groaned the second it left his hand). The facts are that Rajon is the least important Maverick on the offensive end of the court and as long as they're getting some contribution from the position that doesn't include a plague of turnovers then they'll probably be fine (I mean they had Jameer Nelson for a few months). Rondo only shooting eight times instead of 15 was actually a big reason why the offense never really bottomed out.
RR's biggest contribution? Delightfully Dirty Dodgeball:
After the mostly Rondo-less first frame I was ready to declare that 12 minutes of basketball the Mavericks best against any Western playoff team this year.
DONUT 6: Monta and monk-like
As a Mavericks fan you just know that Jeff Green is lurking somewhere ready to throw rocks at you for a quarter at a time and that's what he did in the second quarter. The only real miss that Green had in the frame that wasn't a desperation heave was his missed dunk that Chandler Parsons blocked. Green went 4-of-6 for nine points in the second and seemed to be paving the way for another Memphis strategic deficit disappearing act ... but a few things stood in the way.
Monta Ellis knocked down a big fadeaway jumper with one second left on the clock to push the lead back to seven points. The other thing was despite the Mavericks losing their grip on the rope they somehow managed to shoot sixteen free throws in the second quarter. In a rare juxtaposition of mentality, the Mavericks were the ones that were setting the physical tone with their monk-like dedication to attacking the basket.
DONUT 7: Full halves
We've talked repeatedly
about Chandler Parsons and his uneven production in second halves of games.
I've been hoping it was just an homage to Josh Howard but I guess it's been a lot of games now.
This was not one of those games.
The third quarter was his playground, knocking down 4-of-8 for 10 points while doubling his average attempts and points per third quarter this season. It felt like every Parsons third-quarter bucket was stretching the one-possession lead back out to a two-possession lead, air-supplying the team with some much needed oxygen. The overall sentiment is that Parsons played well because he was a huge reason why the Grizzlies were a +10% on field goals for the third quarter but didn't gain any ground.
Just examining Parsons' game log it's curious that he has scored under 20 points in 10 straight games. Do the Mavericks need Parsons to score that much anymore to be a good offense? It's easy to notice that the majority of his cooling phase has come when the offense has been slipping from it's once-elite status but if it's a more consistent 16-points-a-game-Parsons who contributes on multiple levels and doesn't turn into a poltergeist in second halves, then I'm onboard and not sure that we need the big-point totals.
DONUT 8: Quoteboard
"This is something we can build on, but the thing about this league is you can never have a letdown,'' said Dirk, mindful of the Wednesday visit to struggling Minnesota.
DONUT 9: Move of the Day
Your Mavs Apple Moving DFW "Move Of The Day''? Very tempting to just keep re-clicking that Rondo Dodgeball play, but ...
When Dirk starts going all H.A.M. he's such a gravitational force that you often overlook the ridiculous efforts of the other contributors. Monta Ellis was exceptional in the second half with 13 points on 5-of-9 shooting with five assists (particularly after not having a great first half handling the ball with three turnovers). For a guy that has just now crept his three-point percentage above 33 percent to take back-to-back threes at the end of the third quarter and truly not give a good damn about anything is just insane. Monta buried both as if there was no other option. It's such a weird dichotomy that he's created here in which he's obviously the one person that can be the offense's z-pack but also gets disregarded as a gunner when he's not making fourth-quarter buckets. I'm as guilty of it as anyone.
But no guilt here. Just Monta for 25 and seven.
"His shot-making at the end of the third quarter gave us a little bit of daylight and put (the Grizzlies) on their heels," Carlise said. "Down the stretch, he was making plays both offensively and defensively."
Those are your Apple Moving Moves ... just as smooth as yours when you call
Apple Moving DFW
, the very best in the business, And tell 'em DB.com sent you!
DONUT 10: The Closers
The Mavs are now 29-13 and just a half-game out of first in the division (and tied for fourth in the conference). Part of the foundation? Dallas is 22-0 when leading after three quarters. They get ahead, they stay ahead, they are 4-0 in OT games ... For all the losses against West powers, these are all playoff-worthy features to boast.
DONUT 11: Good ol' Vince
The Grizzlies owe Vince Carter 4M+ a year for the two seasons following this current one. Vince Carter isn't really worthy of a rotation spot at this point in his career. He's shooting 33% from the field with 29% from three while scoring 6 points a game and dragging around an offensive rating of 93. The Mavs, you'll recall, kinda wanted to keep him.
Man, he got old fast.
DONUT 12: The Final Word
I'm not even going to attempt to describe what Tyson Chandler did at the end of the game to destroy all of Memphis' hopes and dreams. He is just a phenomenal basketball player. We're incredibly lucky to have him.
"I know it's going to be physical any time I come (to Memphis) to play," Chandler said. "I mean, I have some scratches and bruises. It's a wrestling match down there any time you face (Gasol and Randolph)."
And finally, against a healthy West power, Dallas scratched back.