DONUT 1: The Big Lead
Dirk Nowitzki
said it Monday, in the immediate aftermath of the
Dallas Mavericks
' signature win at Memphis.
"This is something we can build on,'' he said of what we're calling a "lionhearted'' 103-95 victory. "But the thing about this league is, you can never have a letdown.''
That's an unusually-focused eye on the prize right there. Bask in the win? Bask in scoring 19 of his 21 points in the second half, including 10 crunch-time points over the No. 1 team in the division, on the road?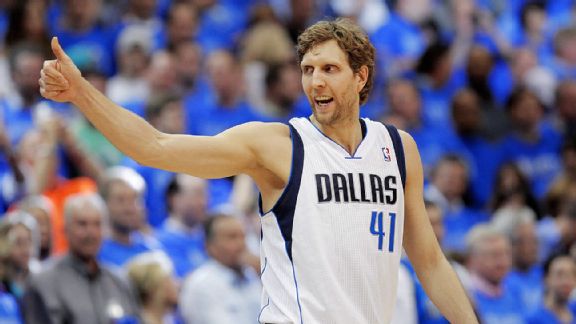 Nah. Dirk
(who, by the way, is reportedly going to be a daddy for the second time, so congrats!)
was immediately mindful of tonight's visit to Minnesota. No time to bask.
DONUT 2: The Win in Review
We've got
the analysis of the Mavs' win in Memphis here, in all its glory.
Dallas needed a Rondo rebound, more Powell power, the Tyson threat and Monta's moves ... and more alliterative junk like that.
DONUT 3: Mavs-Minny preview
Minny is 7-33. The Mavs have 15 road victories (second in the NBA only to Atlanta). The Mavs have been held under 100 points just eight times this season while Minny is last in the league in points allowed at 108 per game. There would really be no excuse for the Mavs to blow this ...
But even the team with the worst record in the West (and the second-worst record in the NBA) has come up to bite somebody those seven times, and Minnesota has won two of its last four games to snap what had been a 15-game losing streak. And when they bite? Well, against the Pacers a few games back they got 52 points from Mo Williams, the almost-Mavs guard. And they do have that youthful balance, with Shabazz Muhammad and Thaddeus Young each at near 14 points per game, backing up rookie Andrew Wiggins, who is at 15 points per. Wiggins is the pivotal piece here, and a study of how difficult live can be in one of the NBA's "Third-World-Country cities. In 2007, the T'Wolves tired of being good, but not quite good enough, and wanted to embark on a rebuilding project. That meant the end of Garnett's terrific 12-year run there, and they turned the page with his trade to Boston, Minnesota's plan being to simply replace him with the next long-term superstar.
That turned out not to be Al Jefferson. It turned out not to be Kevin Love. Now it's Wiggins' turn.
We'll kick this around more tonight as I'll join Dana and Bob for the 7:30 p.m. "Mavs Live'' pregame show on FOX Sports Southwest and then we've got tipoff at 8 in Minny.
DONUT 4: Plumlee in Premium
Is there a Plumlee is Dallas' future? It's a compelling name and Phoenix is making him available but before you get to excited,
you should check into Premium Mavs Discussion where David Lord is guiding you through the Plumlee-Mavs realities.
DONUT 5: "Please Rebound''
So Dirk shoves Parsons. And Rondo pleads with Dirk. And Dirk cusses at air. And it's all just part of competing, right?
We're looking at the video here and we're listening to the dialogue here and as we talk it over on DB.com Boards, and we think all the shove/plead/cuss fits nicely within a basketball frame.
Right?
Oh, and "Please Rebound.''
DONUT 6: Stat O' The Day
In the last two seasons, when Monta Ellis has chipped in with seven or more assists, the Mavs are 28-8. And this season on those occasions they are 6-0.
DONUT 7: Thanks to pals and sponsors!
North Texas' most-honored movers ...
Apple Moving DFW,
, the best in the business!
Meet the family at
Estilo Gaucho
, selected as one of the top 100 steakhouses in America ... where every occasion is a special occasion!
Here's
McKinneyDentist.com
... with us since 1995! Give "the finest dentists in the land'' a click and a call!
Thanks to
Red Rock Bar & Grill,
our north Dallas hangout for live music and sports!
Meet
LS Wealth Strategies,
with Woody and Bill helping to guide my family and available to do the same for you!
And
Dee Lincoln's,
the famous DFW restauranteur now with a new location near Park and Preston!

Oh, and guess what? We've opened a bar!
It's called "THE MAVERICK''!
Sports, live music, specialty burgers, all with a Texas flavor ... at 121 and Hebron ... swing on in!
DONUT 8: Quoteboard
A guy like that, you've got to put him in there in crunch time and let him do what he does. If you're asking me exactly what he does, it's hard to quantify. He just finds ways to make plays." - Carlisle on letting Rondo play through his struggles.
DONUT 9: Contrarian Carlisle
The Mavs posted a damn-good 28-13 record in the first half of the season, as you know -- the best midseason mark in Rick's time here and the best since the powerhouse 2007 club -- and yet when asked about it before the Memphis game, Carlisle mumbled something about not being one who "counts,'' and shrugging it all away with a dismissive "whatever.''
It was psycho-baloney, of course, a way to re-focus the conversation (and his team) on the day-to-day business of beating Memphis.
And once they were ready to do that ... "Contrarian Carlisle'' went contrary again, informing his men before the game that beating Memphis in Game No. 42 would be a great way to start the second half (wait, who's counting?!). And after the win?
"This is a beginning,'' Rick said, meaning his team is 1-0 in the second half (and verifying that he is, indeed, counting.) We by no means have it figured out. This is a team that's relatively new to each other. The only way we're really going to come together is to go through struggles like today and grow together. This was a great opportunity."
And "Contrarian Carlisle,'' a feature of his use of psychology, is a great coach.
DONUT 10: Board-erline good?
Ripping the Mavs for their lack of rebounding prowess is in vogue, and over the course of the first half of the season, was justified. But lookee here: In the 10 games prior to the last two games (wins over Denver and and Memphis), Dallas was outrebounded by an average of 9.3 per (according to our man Followill). But in these last two? The Mavs tied Denver on the boards, 52-all. (The Nuggets are the NBA's second-best rebounding team.) Then against the muscular Grizzlies they did it again, tying on the boards 42-all.
Remarkable. Now, is "remarkable'' also "repeatable''? Yeah, as Minnesota is the fourth-worst rebounding team in the NBA. ... and TY joins Donaldson, Rodman and the late Roy Tarpley as the only Mavs ever to record 16 rebounds in three straight games.
DONUT 11: Rick's mantras
From about the seven-minutes-left mark to the five-minute mark in the final quarter at Memphis, the Mavericks embodied Rick Carlisle's two greatest mantras. One, "We win when when we are balanced'' and two, "Be Ready.''
It's fun to watch a blueprint become a piece of architecture, and this was that. "Be Balanced'' and "Be Ready'' meant Jefferson would have to scrap for a loose ball, meant Parsons would have to put his jaw in the way of Zach Randolph's elbow(!), meant Dwight Powell would get near-crunch-time minutes and be driving to the basket on the break after having earlier been just pesky enough to trouble the Grizzlies two big beefeaters, meant Tyson sprawling to the floor for a loose ball, meant
Rajon Rondo
(nearing the end of his poorest game in a Dallas uni) would have to get an offensive rebound ... It would mean six guys in double-figures scoring -- and Dallas seems nearly invincible when that happens -- but none of them with an individually huge day.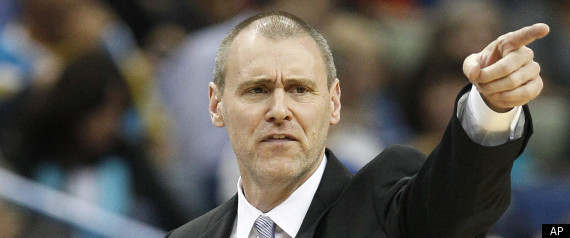 What sticks with me most about that afternoon in Memphis is how encouraging it is in terms of how hard this group can play to get there, how much they can want it, how much they are buying into you "Be Ready'' and "Be Balanced'' and what it can mean going forward.
DONUT 12: The Final Word
"It feels early in a new season, actually. It doesn't feel midseason at all. It's kind of a funky year for everybody." -- Mark Cuban.