DONUT 1: Cuban on Dirk
Dallas Mavericks
forward Dirk Nowitzki will today make his 13th appearance in the NBA All-Star Game as an injury replacement for Anthony Davis. Only 12 players in NBA history have made 13 appearances. So even though
the selection puts a "wrench'' into Dirk's previous plans, the organization is honored.
It's really good,'' Cuban said, "to see the old man keep his streak going."
DONUT 2: What about Monta?
"I'm kind of bummed it wasn't Monta,'' Cuban said. "I think Monta's really been our best player this year so far. ...
"Monta or Tyson or Dirk — all of them would have been deserving.''
DONUT 3: On Analytics competition
Harsh analytics critic Charles Barkley, Cuban said, "is half-right. What happens is when a couple teams are using it, you have an advantage, but now that everyone is using it, that advantage is pretty much gone, and that's where analytics has gotten to now.''
DONUT 4: On the Mavs' analytics
"The Mavs have been using analytics since the day I bought the team,'' Cuban said. "The fun story behind that is I took graduate-level statistics at Indiana University, and after I graduated, never thought about it again, and then after I had bought the team, I'm watching 'Jeopardy' and who should be on but my old stats prof. And then a month later, we're in Indiana playing against the Pacers, and who should be in the stands screaming "Hi" to me, my stats prof, Wayne Winston.
"I met with him and pretty much hired him then. We started using advanced plus/minus to help us, and it started to help us quite a bit … it eventually helped us come back from a 2-0 deficit in the playoffs against Houston, based on what the numbers said. Putting JJ (Barea) in the mix in the championship run had a lot to do with analytics.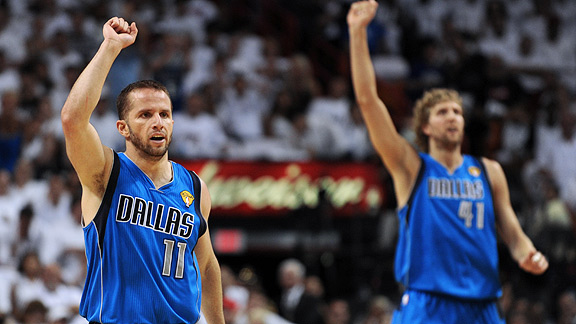 DB.com
pitches into the "debate'' here in my column, "Barkley, the Mavs, Analytics and 'The Revenge of The Nerds.''
DONUT 5: On Monta and analytics
Shan & RJ on 105.3 The Fan
asked how the Mavs "work around'' the idea that Monta Ellis "isn't an analytics fit.''
"Just by knowing basketball, knowing your team, and knowing what you are trying to accomplish,'' Cuban said. "Guys get better when they are surrounded by better players. Guys get better when they have good coaching. Guys get better as they grow and mature in the league, they realize it's not about 'me' and it's about winning. It really didn't matter what the analytics were because we knew that we could make him better. You use analytics as a way to identify guys, and you use 'The Eye Test' to confirm or not whether they can be an asset to your team, and vice versa, you use 'The Eye Test' to say, 'This guy looks good,' but then you see in the numbers if you are missing anything. So they have to go hand-in-hand.''
DONUT 6: The Analytics Tiebreaker
"Talking to the players,'' Cuban said, is the "hand-in-hand'' tiebreaker. "Talking to Tyson, talking to Monta, talking to Dirk. 'You played against them, what are the things I don't know about them? What can they do to help our team?' Then you talk to your coaches, and then you watch film, look at the numbers and see if anything stands out.''
DONUT 7: Why so personal?
"I don't think it's gotten that personal,'' Cuban said of the seeming "jocks-vs.-nerds'' debate. "Here's where this has changed the most: the turnover of NBA owners. When I first got into the league, it was a lot of old-school guys who didn't like me; I was the young guy who had no clue what he was doing, just trying to make a name for himself. Now the old-school guys have sold their teams to hedge fund guys, data-driven guys, guys who understand numbers, understand investing, and understand trying to hire the best people possible in order to win.
"These guys are much smarter in that area, and because of that, they bring in GMs who are data-driven, as well.''
DONUT 8: GM Barkley?
The fellas asked: With Barkley's (stated) approach to analytics, could he be a good NBA GM, something he's at least half-jokingly suggested for himself?
"There's no such thing as a singular GM anymore,'' Cuban said. "Basketball is so global now; it's about who's on the staff, and who can help you. You want as many different viewpoints as possible to bring in all the information you have available to you, and then it's about coming together and making a group decision.''
DONUT 9: Thanks to our pals and sponsors!
North Texas' most-honored movers ...
Apple Moving DFW,
, the best in the business!
Meet the family at
Estilo Gaucho
, selected as one of the top 100 steakhouses in America ... where every occasion is a special occasion!
Thanks to
Red Rock Bar & Grill,
our north Dallas hangout for live music and sports!
Meet
LS Wealth Strategies,
with Woody and Bill helping to guide my family and available to do the same for you!

Oh, and guess what? Our gang has opened a bar!
It's called "THE MAVERICK''!
Sports, live music, specialty burgers, all with a Texas flavor ... at 121 and Hebron ... swing on in!
DONUT 10: The places to kick it around!
The place for Mavs fans to congregate and talk about all these games and all these issues?
On DB.com Boards! C'mon in and sign up for your free membership today!
Also,
dig into DB.com Mavs Archives here
and come
goof off with me on Twitter
and on
our Mavs Facebook Page
as well!
DONUT 11: Malone regrets
The guys, fresh off their interview with
Karl Malone, wondered if Cuban was aware of the future all-time great's deep desire to be drafted by Dallas
...
"Yeah, because I played against him at The Premiere Club,'' Cuban said. "And it killed me. I knew it, but that was before my (basketball ownership) time. I was just trying to make it on my own back then.''
DONUT 12: The Final Word
Kevin Durant, who's missed over half of his team's games this season, took joking exception to those who doesn't think the reigning NBA MVP is deserving of playing in today's All-Star Game.
"Whoever want my spot can play me one-on-one for it," said Durant.
Cuban -- never one to let a PR opportunity slide -- accepted the challenge, noting that he's "beaten" Nowitzki before in a 1-on-1 game.
So when is the big one-on-one duel featuring Cuban vs. Durant?
"He's backed off. He's not willing to play me," said Cuban. "I don't blame him."