DONUT 1: The Big Lead
The 41-25
Dallas Mavericks
are just 1.5 games behind the fifth-place Clippers, who they play host to tonight (in a 7:30 start on FOX Sports Southwest). So why is everybody so grumpy?
Because they're also a few ticks "from being out of the playoffs, which is unacceptable," Amare Stoudemire said. "This is something that we can't accept.''
We know about the needs, holes and frailties on defense. But now Dallas, having dropped five of its last seven, is during that time averaging just 91.6 points per game. the perimeter shooting is emblematic of the problems: The Mavs over the last seven are shooting just 26.8 percent from beyond the arc. They miss those shots. They don't get the rebounds. They get run out of the gym by the Clevelands and the Golden States and the Portlands.
"This is the pros and it's the highest level of basketball, so we've got to act that way," said Amare, and when you listen to him talk and listen to him try to lead, you realize this is about much more than the still-ill-fitting
Rajon Rondo
.
DONUT 2: And yet ...
And yet it literally all turns around with a win tonight -- though that will require success against a Clips club that:
*Has won eight of 10 in the series.
*Is going for a season sweep, something it hasn't done against the Mavericks since 1994. (The Clippers won 120-100 in Los Angeles on Jan. 10 and won 115-98 at the AAC on Feb. 9.)
*Are seeking a fourth straight victory in Dallas -- the sort of Clippers-Mavs streak that hasn't occurred 1994.
That's right; the Clippers tonight have a chance for success against Dallas at a level that hasn't been possible in 20 YEARS.
Gloomy? Hopeful? Come share your emotions with us tonight as I co-host FISHNADO on
105.3 The Fan
live from
the OT Tavern (3606 Greenville Ave) along with Nathan Wood and former Cowboys receiver Jesse Holley ... see you tonight from 7 to 11 at OT Tavern!
DONUT 3: Back-to-Back Challenges
There is an upside to starting the final stretch with the Clippers: Beat them, you climb the ladder. There is a downside, too, though: Lose to them and you continue a skid that threatens to continue and continue some more. Consider:
*3/13 Clippers .641 (win percentage)
*3/16 Thunder .556
*3/18 Magic .323
*3/20 Grizzlies .714
*3/22 @Suns .508
*3/24 Spurs .635
*3/27 @Spurs .635
*3/29 @Pacers .460
*4/1 @Thunder .556
*4/2 Rockets .683
*4/4 Warriors .806
*4/8 Suns .508
*4/10 @Nuggets .359
*4/12 @Lakers .270
*4/13 @Jazz .429
*4/15 Blazers .672
That's right, just five more games against teams under .500. Without consulting Vegas on this, it's possible that Dallas could end the season with a 10-13 record in its last 23, and an 8-8 record in these last 16 games. And to go all cynical on you, our Mike Marshall notes that it's possible that if the Mavericks don't find some answers in what's left of this homestand, they could realistically go 3-8 over their next 11 games ... which would be a cool 5-13 when bundled with this current skid.
DONUT 4: Power Points
Saad Yousef with some Power Points to clean up that Cleveland mess:
*No defense in Big D - Even though it's pretty obvious that the defense struggled when the other team has 133 points, the issues were just all over the place. The Cavaliers nailed 15 3-point shots on just 32 attempts. That's nearly 47 percent. And if the perimeter defense wasn't bad enough, the Mavs got dominated in the paint for 54 points. On paper, it would seem that Dirk and Tyson would have an advantage over the likes of Timofey Mozgov and Kevin Love, but not when Dirk is playing his age and Tyson visibly has a bad hip.
"I'm good enough to be out there,'' TY keeps saying. But ...
*Potential problems - The issue of finger-pointing is being discussed and coaches and players were asked directly after the Cavs game about what seemed to be the problem and there were a variety of answers.
First, coach Rick Carlisle said it was "all on him" and the issue was terrible coaching. While coaching may be an issue, it seems pretty obvious Carlisle was taking a little more blame than deserved and maybe trying to deflect attention off of his players. (See more on this below as it relates to Dirk.)
Mavs newcomer Amar'e Stoudemire had a little more to say about the issues, as you know. He said the team needed to focus more and "can't screw around at shootarounds and practices and joke all the time."
That's a harsh indictment. So all the issues that were already being speculated about Rondo fitting in, health, and other things, you can now add in "coaching'' and "lack of focus.'' Not exactly the way you want to be looking down the stretch.
*Aminu watch - Al-Farouq Aminu injured his shoulder early against the Cavs and didn't return once he went to the locker room. With Parsons' ankle (which seems to be fine now) and Tyson's hip and Devin Harris' hand, this team is starting to face serious health issues. Worth monitoring, as "The Chief'' is now considered "probable'' for tonight.
Our
All-Access Analysis of the Mavs-Cavs is here.
DONUT 5: NOW
The Mavs have produced a promotional video featuring Dirk Nowitzki and it is, as usual, beautifully done.
Now Dirk just needs his game to return to being as good as the video.
Nowitzki, at 36, is rarely "beating'' his man. That's acceptable -- and was predictable -- but is also survivable if Dirk is making the shots he does get. But over the last 20 games? He's a 13-point guy, not the 20-point threat Dallas needs him to be.
"This is not a Dirk thing,'' Carlisle said. "This is a Mavericks thing.''
DONUT 6: The Rock
Dirk is also not much help in the rebounding department. Of course, he's got a lot of company there.
It's a big rock and we just got to keep chipping away at the rock until we crack it, until we solved it, until we get where we need to be,'' Carlisle said.
DONUT 7: Stat O' the Day
In the last seven games, Monta Ellis and Dirk Nowitzki have combined to average 29.1 points per game -- and that includes Monta's 36-point outburst Sunday in the win at the Lakers.
DONUT 8: Powell and Delonte
The Mavs' junior varsity got an injection of talent this week with the boomeranging of center Dwight Powell (up, down, up and down again from the Mavs) and Delonte West (re-joining the Texas Legends after stints in Shanghai and Venezuela.
Powell (6-11, 240) finished with 24 points, 11 rebounds, two assists and a game-ending bloody nose in the 122-119 loss to the Delaware 87ers. He is averaging 29.5 points, 11.3 rebounds, 3.0 assists, 1.0 steal, 1.3 blocks and 36.4 minutes in four games (all starts) for the Legends this season.
Delonte West into the @TexasLegends game pic.twitter.com/G20htN0LHr

— mike fisher (@fishsports) March 13, 2015
And then there was Delonte, who at one point in the afternoon told team officials he wasn't quite ready to play ... then changed his mind, figuring participating in the game is as good a way as any of getting ready. His mid-range jumper wasn't there as he shot 3-of-12 for 10 points, with six rebounds in 19 minutes.
The Legends will give it another go on Saturday.
Get tickets here and come up to Frisco and see us as I'll be doing the telecast on Channel 47.
DONUT 9: Thanks to our pals and sponsors!
Meet the family at
Estilo Gaucho
, selected as one of the top 100 steakhouses in America ... where every occasion is a special occasion!
Thanks to
Red Rock Bar & Grill,
our north Dallas hangout for live music and sports!
Meet
LS Wealth Strategies,
with Woody and Bill helping to guide my family and available to do the same for you!

Oh, and guess what? Our gang has opened a bar!
It's called "THE MAVERICK''!
Sports, live music, specialty burgers, all with a Texas flavor ... at 121 and Hebron ... swing on in!
DONUT 10: The place to kick it around!
The place for Mavs fans to congregate and talk about all these games and all these issues?
On DB.com Boards! C'mon in and sign up for your free membership today!
DONUT 11: HeroBall
Our Jonny Auping on the quickest, easiest way to cure what ails Dallas:
The consensus hope to repairing this lack of offensive chemistry (and maybe overall chemistry) seems to lie in the hands of Rick Carlisle. As one of the best coaches in the NBA perhaps he will find the right amount of tinkering to his current schemes that will make everything click before the playoffs.
But maybe it's simpler than that.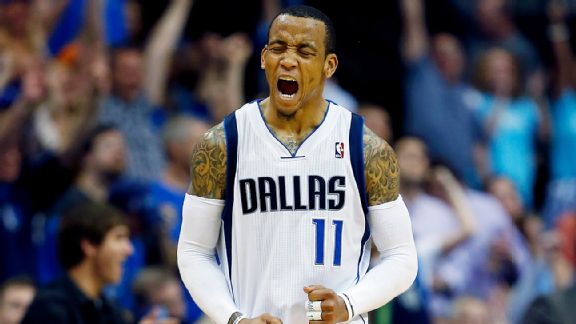 Perhaps gambling on the decision-making (decision making that has been questioned for years) of Ellis is the best chance the Mavericks have of righting the ship.
The case for the Mavs relying on HeroBall -- MontaBall -- here.
DONUT 12: The Final Word
Sometimes you need to get smacked the way we did. Nobody wants it, but sometimes you need to get smacked to wake you up and say, 'You're not what you think you are, and there's things that you need to improve on.' There's things that we need to tighten up. I think it does make everybody a little more focused and locked in, because nobody likes to be embarrassed like that. And we move on." -- Tyson Chandler.