DONUT 1: The Inside Stuff
The
Dallas Mavericks
are, sources tell DB.com, trying to make not one but two deals happen in the coming days.
One, obviously, is Amare Stoudemire. And part of that arrangement, we're told, could result in a long-term stay for STAT.
Amare as a rental? Nope, that's not the plan, as we outline exclusively here in our Premium Mavs coverage.
DONUT 2: The other shoe
Amare as Dallas' sixth man constitutes "get.'' At $26 mil, he is a faded flop at a Knick. (An experience that officially flips to Dallas once he clears waivers at 4 p.m. Wednesday ... followed by him likely suiting up for the Mavs on Thursday in OKC.) Here, at less than half-a-mil for the rest of this season? A "get.''
Now, can Dallas do it again? A highly-talented player on a no-risk deal?
Meet Larry Sanders.
On Tuesday
we outlined in detail here what the Bucks center would bring (should they buy him out and set him free, which is happening as you read this). We also outlined Sanders' connections inside the Mavs organization.
What we've learned that's new: Dallas is cranking up it's "due diligence'' here, exploring the timetable of Sanders' buyout, then what's left of his drug suspension time-to-be-served, and then a complete look at his psychological profile -- something that would include face-to-face visits with him.
That, of course, cannot happen now, as he's Bucks property. DB.com is also told is cannot happen during drug-suspension time (though it's unclear as to how that applies if he's bought out with time-to-serve still hanging over him).
But know this: Dallas is more serious that ever about looking at Larry Sanders, and considering the idea that as lost and unmotivated and troubled as he often seems ... a rental of him might be worth the risk. And the selling point to him of signing a very cheap deal (like, a two-year minimum deal that takes him to 2016 free agency?) while he rehabs his career and still has all of Milwaukee's money in his pocket?
We think this is worth examining. And, at this early stage, so do the Mavs.
DONUT 3: Puzzle pieces
The hot topic is Thursday's trade deadline. But tied into what the Mavs do and don't do is Summer Shopping. There are moves Dallas can make this summer. But breaking up this group isn't the planned move.
Ask anybody: Ellis and Tyson and Rondo would be "high-tier" free agents. ("Top-tier''? That's a tiny shelf.) Dallas has set itself up to win these three back, along with Parsons and Dirk and Devin (and Amare?) and whomever, with more years and more money than other potential bidders.
Our general calculations have Ellis, TY and Rondo needing to all fit inside of $40 mil. One-for-all-and-all-for-one, and nobody gets the max ... but three guys get to remain teammates with Dirk and Parsons, and get to remain contenders, too.
Our David Lord is working on the detailed breakdown of Mavs summer contract fits. ... a good time to remind you that you get the very best coverage of the Mavs, inside the locker room, the gym and the front office ... for about 10 cents a day with
Mavs Premium. You also get access to hundreds of other teams, college and pro, and the whole process starts with a seven-day free trial. Come inside!
DONUT 4: TY hopeful
The Mavs are crossing their fingers on Tyson Chandler (sprained left ankle) being able to go Thursday at OKC. Chandler missed last Wednesday's win over Utah after getting hurt in the opening moments of a Feb. 9 loss to the Clippers.
We'll keep you
updated on TY and other news from today's Mavs practice here on DB.com and at FishSports on Twitter
as the 36-19 fifth-place Mavs stay busy in the front office and prepare to again busy themselves on the floor.
DONUT 5: Rondo's face
Rajon Rondo
plans to be back in the starting lineup Thursday against Oklahoma City after having gone through his first practice Tuesday following that orbital fracture to his left eye.
The truly good news: Rondo missed six games but will avoid having to undergo surgery.
A lingering issue: Whether he'll wear his protective mask, which Rondo says is specially-fitted to his face and therefore not uncomfortable ... but we'll wait and see on that.
"I have a mask made for me, but I don't know if I'm going to wear it or not," Rondo said. "We didn't have much contact (in Tuesday's workout) for me to wear the mask, so I didn't put it on.''
Noted tough-guy Rondo says he is no longer feeling any pain in the eye socket or the fractured nose.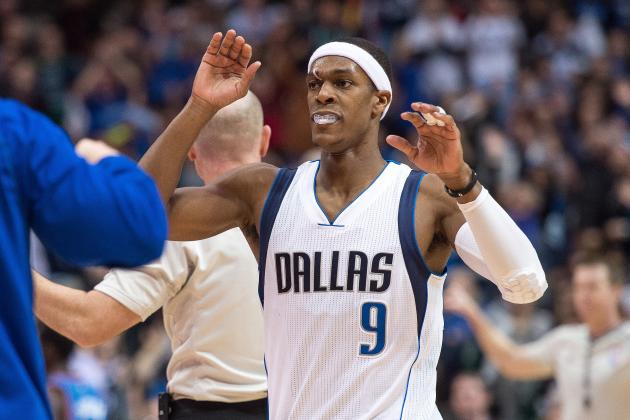 "The first couple days (following getting kneed in the face by teammate Richard Jefferson in that win at Orlando) were painful with the swelling, but the more the swelling went down, the less pain," Rondo said.
DONUT 6: Ledo Shuffle
The Ricky Ledo Experiment is ending for the
Dallas Mavericks
, who will release the second-year wing to make room on the roster for the impending Amar'e Stoudemire, two sources say.
Ledo, the 43rd-overall pick in the 2013 NBA Draft, was always seen as an experiment, having moved from high school to a non-playing stint at Providence to the NBA. It never quite worked for him in Dallas, but that was part of the developmental plan -- and why he spent most of his time working in Frisco with the D-League Texas Legends, Dallas' minor-league affiliate.
Ironically, Ledo grew tired of the yo-yo assignments and recently issued a polite request to the organization, to let him stay in Frisco on assignment to play rather than to be called up to sit the bench for the Mavs.
And now he gets that wish of "freedom'' from the Mavs, though this certainly doesn't fit the dream of the 6-6, 200-pound kid who continues to believe he ranks, in terms of talent, with most any other wing in his class.
That never came to fruition, though, at either stop. Nevertheless, an NBA source tells us he thinks there's a "50-50 chance'' he gets claimed by an NBA team, due to both his potential and his cheap contract.
In what was an awful Tuesday for Ricky all-around, he also learned of the death of his 94-year-old great-grandfather in Puerto Rico. Our prayers with the Ledo family.
DONUT 7: Legends tonight!
While you wait on the Mavericks, why don't you come hang out with us in Frisco to
watch the Texas Legends? Get your tickets here
and then come on down and say "hi'' to RJ Choppy and me!
Or ... catch the 7 p.m. pregame and tip with us on Texas 47. to check out Eddie Najera and Eric Griffin ... and watch Choppy try to get me fired again.
DONUT 8: One more Ledo
Second-round picks make it rarely enough that the Ledo project doesn't need to be labeled a "failure,'' especially as it's motivated mostly by the coming signing of Stoudemire. Also involved here: Jermaine O'Neal's continued non-availability. Dallas planned on having him and Stoudemire, but O'Neal judges himself not yet fit enough to un-retire. Therefore, the Mavs need to continue the employment of 10-day-contract center Bernard James and underachieving center Greg Smith.
In other words, more puzzle pieces that had to fit. Dallas doesn't need a developmental wing right now. Dallas, right now, needs to grab a rebound.
DONUT 9: Thanks to our pals and sponsors!
North Texas' most-honored movers ...
Apple Moving DFW,
, the best in the business!
Meet the family at
Estilo Gaucho
, selected as one of the top 100 steakhouses in America ... where every occasion is a special occasion!
Thanks to
Red Rock Bar & Grill,
our north Dallas hangout for live music and sports!
Meet
LS Wealth Strategies,
with Woody and Bill helping to guide my family and available to do the same for you!

Oh, and guess what? Our gang has opened a bar!
It's called "THE MAVERICK''!
Sports, live music, specialty burgers, all with a Texas flavor ... at 121 and Hebron ... swing on in Thursday to watch Mavs at OKC at 7!
DONUT 10: The place to kick it around!
The place for Mavs fans to congregate and talk about all these games and all these issues?
On DB.com Boards! C'mon in and sign up for your free membership today!
DONUT 11: Quick KD take
We'll get to this in greater depth as we move toward Mavs-vs.-OKC, but regarding Kevin Durant's view of the media as ignorant: How can his own local paper, in one fell swoop, remove from him the label of "MVP'' and apply to him the label of "Mr. Unreliable'' and expect any other reaction?
DONUT 12: The Final Word
"I know he's raring to go. He was bouncing around today. He's very enthusiastic about being back on the floor playing. He doesn't like sitting out." - Rick Carlisle on Rondo.