The Big Lead: Gutsy Mavs
The
Dallas Mavericks
started the evening in a festive, colorful and focused mood, Charlie V challenging his young mates to super-long-distance shooting contests in the pregame warmups, Rajon Rondo demonstrating in the locker room that the part of his face that eats popcorn is functioning, Tyson Chandler sauntering around in all-black (his hat was straight Heisenberg ... "Tysenberg''?) and coach Rick Carlisle emphasizing to his team that the visiting Clippers are a desperate team - requiring the Mavs (USAToday photo) to be the club that kept its composure.
But color and focus wasn't the issue; injuries were, with Tyson (ankle) and Monta Ellis (groin) both going down in the first four minutes of Monday's 115-98 loss to the Clips.
"We've just got to be persistent, we've got to scramble, and we've just got to find a way,'' coach Rick Carlisle said, unable to yet provide specifics on the injuries. "That's what it comes down to. We'll see where we are with our injury situation tomorrow.''
Charlie V's spot
As he's shown to be on a few occasions this season, Charlie Villanueva was a spark plug for the Mavs. His 26 points, including a first-quarter 13-point explosion, was the lone bright spot for the Mavs. Without Villanueva, it's hard to see it even being as close a game as it was int he third quarter. But regardless of how many points Charlie V scored, it didn't translate to defensive production. The Mavs certainly did miss their best "big" defender and best perimeter defender.
Big men needed
This was supposed to be fun inside, TY battling DeAndre Jordan. Oh, and "Star Wars'' Night, too. It wasn't that fun, with TY out and (even with Blake Griffin sidelined for a time with his staph infection) and Jordan putting up a line of 22 points, 27 rebounds and three blocks, no Tyson Chandler.
"The guy looked like Wilt Chamberlain playing in 1963,'' Mavs coach Rick Carlisle said of Jordan.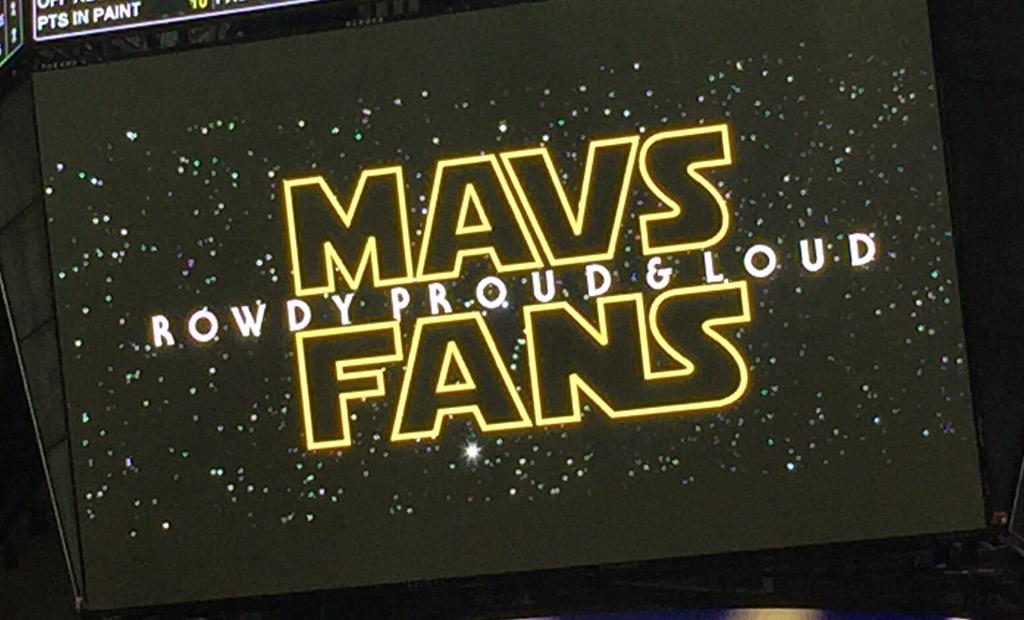 Oh, the "Star Wars'' thing was cool. But the need for interior help -- not a "star,'' just a guy -- will be intensifying now. Which is why
DB.com is bringing you breaking stories on the team's thoughts on Jermaine O'Neal ... Amar'e Stoudemire ... Andray Blatche ... Check DB.com's News Archives for all the latest scoop.
If there is one big picture positive to be drawn, it's that the Mavs have one more game to play before they can take over a week off for the All-Star break. Dirk did say that it looks bleak that Tyson and/or Monta play on Wednesday against the Jazz and Rondo is definitely out, but he said nobody wants to enter the lengthy break on a two-game skid.
As much as Mavs fans were upset that no player was named to the All-Star team, now the truth is that even if Tyson or Monta would have made it, they wouldn't have played. The rest is much-needed.
Quoteboard
"Obviously it hurt losing two of our main guys and DeAndre (Jordan) played extremely well. He's very active and athletic. Tyson would have been an equalizer on that, but we have other guys who need to step up to the challenge. DeAndre was great all game, but they had a lot of guys make big plays. We shot ourselves in the foot a lot with silly turnovers and bad shots." - Chandler Parsons.
Minutes Management
Obviously due to injury, Tyson Chandler played a little over a minute and Monta Ellis played just under four minutes. J.J. Barea led the way for the Mavs with over 34 minutes and his fellow point guards played 32 minutes with them often sharing the floor. Chandler Parsons was the only other Maverick with over 30 minutes and he played a little over 33.
Aside from that, every Maverick played a little bit, all the way down to Ricky Ledo as this contest really tested the Mavs depth on their roster. All of this happened without
Rondo as we work toward official word on the extent of his facial injuries.
Big 3 Stats
The Mavs got beat in every major statistical category by the Clippers. The Clippers went 44.6 percent from the field, including 33.3 percent from downtown to the Mavs 40.7 percent and 29.4 percent. Clippers also dominated the free-throw line 82.8 percent to the Mavs 73.3 percent. The Mavs were out-rebounded 53-47 and had double the amount of turnovers as the Clippers, 12-6.
The haunting injury
You barely want to look ...
The Mavs practice on Tuesday morning. We'll update Monta and TY's status then.
The Final Word
"I don't look at the standings. That stuff is meaningless. What's meaningful is what happens when you get to the playoffs.'' - Mavs coach Rick Carlisle, overseeing a 35-19 club presently hanging onto fifth in the West.