DONUT 1: The Big Lead
As a 128-114 loss in Oakland proves yet again, one good quarter is not enough.
The
Dallas Mavericks
couldn't have scripted a better start, offensively or defensively. They were up 40-18 at one point in the first quarter and finished the quarter with a 42-25 lead. It was all downhill from there. Golden State won the second quarter 33-20, third quarter 43-36 (courtesy of Steph Curry, photos by Andrew Bernstein), and fourth quarter 27-16. That kind of cushion may break the spirit of some teams, but not the best team in the NBA. The explosive Mavs offense found its offensive match here.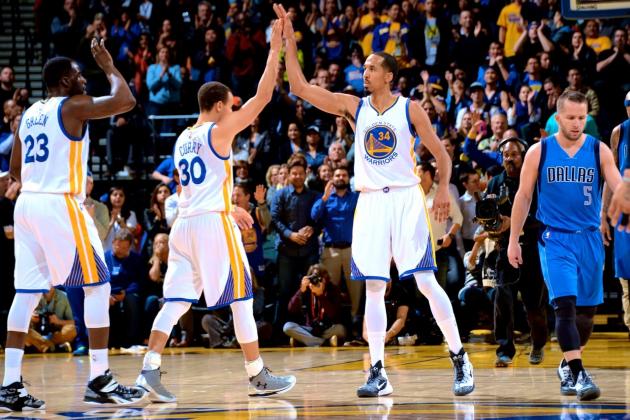 "It's a fourth-quarter league,'' Mavs coach Rick Carlisle said. "We had one great quarter and we needed to be able to sustain it. We lost the second, third and fourth quarters decisively, so over a 48-minute game it just didn't hold up. We hung in, and when we were on the doorstep a couple of times we'd have an untimely mistake or a missed shot or they would make a play. So, it's a tough loss. They're a very good team, and we were right there for most of the game. We just couldn't get over the hump."
DONUT 2: Truth about Rondo
Contrary to a report that the Mavs' medical staff has determined that
Rajon Rondo requires surgery, GM Donnie Nelson tells DallasBasketball.com that no such determination has been made. Here's the facts
... and the difference.
Teams don't spend too much time thinking about the players who aren't available. But it's impossible to watch Steph Curry go for 51 here and not thinking about the entire point of acquiring the four-time All-Star and defensive ace Rondo.
DONUT 3: Absurdly small
Throughout the game, Carlisle used extremely small lineups, using guys we typically see giving Dirk a breather instead giving Tyson a breather. There were various points in the game where it seemed like Al-Farouq Aminu, Charlie V, and Dirk all took the responsibility of the "big man" on the floor when Tyson was taking a breather. Dwight Powell and Greg Smith did not check into the game.
And a breather, of some sort, is due. Dallas is getting ready to complete what will have been a seven-games-in-six-cities-in-10-days stretch with a visit to Sacramento. (We'll have the telecast starting at 8:30 with "Mavs Live'' on FOX Sports Southwest.) Dirk in particular played tired, scoring 15 on 4-of-15 shooting.
"We've got to push through it through the (All-Star) Break,'' Nowitzki said. "And then get away a little bit and recharge.''
DONUT 4: DMC struggles
Really, two-thirds of "Mavs DMC'' struggled here. Monta Ellis and Dirk both had stinkers while and Chandler Parsons flourished. Parsons led the Mavs in scoring with 24 points. Dirk's was a quiet 15 points, almost half which were off of free throws. Monta Ellis had 14 points in over 38 minutes played. ... and both Dirk and Monta were involved in late-game turnovers that robbed Dallas of a chance of making it closer.
DONUT 5: Big-man help?
So a Jermaine O'Neal signing doesn't look too bad ... And help from somewhere is needed.
Indeed,
here's the Premium Mavs scoop on O'Neal, with a mention of Kevin Garnett and a juicy exclusive on Dallas "doing its homework'' on free-from-China big man Andray Blache here, only on DB.com.
DONUT 6: Steph, ridiculous
Steph Curry, you are ridiculous.
Curry was out of this world on Wednesday. He ended up scoring 51 points on 16-26 shooting and dished out four assists and grabbed four rebounds. He scored 36 of his 51 in the second half, including a monstrous third quarter. In the third, Curry had 26 points on nearly 73-percent shooting. He was six of seven from downtown and 8 of 11 from the field.
A Warrior with a big third quarter... Sounds familiar? His third quarter was only second to his teammate Klay Thompson when he scored 37 in the NBA this season. Steph Curry and Klay Thompson became the first teammates to go over 50 points in games this season since the 1994-1995 season when Jamal Mashburn and Jim Jackson did it.... FOR the Mavericks.
"I've never seen anything like it," Parsons said of Curry's performance, "but we've got to do a better job of showing him bodies. At that point, we've just got to get the ball out of dude's hands, because he's going bananas. But then they have so many good players around him that they can hurt you, too, so they're a well-balanced team. And when they shoot like that it's tough."
DONUT 7: Quoteboard
"I think we came out with incredible defensive intensity, and we were moving the ball and making them pay defensively. We kind of got away from that, and we started sticking the ball," said Tyson Chandler, who contributed 21 points and 17 rebounds. "And the turnovers really hurt.''
DONUT 8: "Big 3" Stats
The Mavs did edge the Warriors in free-throw shooting, 78.6 percent to 76 percent, but that doesn't matter when the Warriors shot the ball the way they did. Golden State was 52.3 percent from the field to the Mavs 41.8 percent. The Warriors also tore up the 3-point line, converting on 50 percent of their attempts to the Mavs' 33.3 percent.
And that, as much as anything, is how a team overcomes early deficits of 24-4 and 40-18.
DONUT 9: Minutes Management
Monta Ellis played over 38 minutes and Chandler Parsons nearly reached 38 minutes. Tyson Chandler played 34 minutes and Dirk registered 30 minutes. Without Rondo, the point guard position was split between J.J. Barea, who started played a little over 28 minutes, and Devin Harris, who played over 21 minutes through some pain ... and even more bumping and banging.
Tonight in Sacto? Dirk figures to be a candidate for a DNP-OLD.
DONUT 10: The Highlight Reel
Above, the SportsCenter highlight reel. You won't like the result, but you are watching something pretty special.
DONUT 11: Call us homers
Call us homers, but we come away from this game actually encouraged ... in a way. Dallas is trying to find a way to play with a team that has now topped it five straight times, a team that at 39-8 is topping most everybody. The Mavericks are 33-18, can be better-prepared for this sort of challenge when Rondo is back, and, most of all, Dirk is right: push through this final handful of pre-Break games. Stay afloat in the middle of the conference standings. Endure "Hell Month'' ... and then start fresh with a chance to fix its record against West contenders when it matters most.
The Final Word
"It's disappointing to get off to the start that we had. In their building, you can't ask for a better start. We've just got to capitalize on it. And the start really doesn't matter if you lose the game, so we've got to maintain that for 48 minutes." - Chandler Parsons.