DONUT 1: Pels at Mavs tonight
The
Dallas Mavericks
will try once again to right the offensive ship tonight (7:30 p.m. at the AAC and on FOX Sports Southwest) against a wounded Pelicans team that is in the midst of its longest win streak of the season.
We now know after morning shootaround that Dallas won't have Tyson Chandler and Chandler Parsons at its disposal tonight, Chandler with the bad hip and Parsons with an ankle that will keep him out of a fifth straight game.
The Mavericks are 39-22 and as Dirk points out, are a solid winning streak away from third but a short skid away from a precipitous drop in the West standings. The issue? Well, without CP they are averaging 93 points per game - 13 fewer than their average in the season's first 57 games.
This team needs chemistry, rebounding and scoring to bust out of a two-game losing streak. Meanwhile, somehow, New Orleans has won five straight to vault to 32-27 -- and the Pels are doing it without All-Star forward and leading rebounder Anthony Davis (shoulder), without Ryan Anderson (knee) and without Jrue Holiday (leg).
That's 54 points -- and about 54 percent -- of New Orleans' offense -- being absent. Yet the Pelicans are averaging 102 points per in their last five games.
On paper, this shouldn't be a nightmarish challenge. But that's what we thought about Saturday against visiting Brooklyn, too.
DONUT 2: Meet Rajon Rondo, Scapegoat
Mediocrity is what was on display Saturday inside the AAC.
And mediocrity needs a scapegoat. Nets 104, Mavs 94 ... meet Rajon Rondo, Scapegoat.
DONUT 3: With or without you
The knee-jerk on
Rajon Rondo
in Dallas? Bad fit. Give up. Move on.
Ah, but that's no way to manage assets. If Rondo and Rick can't get on the same page, where do the Mavs go from here, in building a winning roster for the next few years? What will have to happen? David Lord is on the case:
"Mavs Future, With - And Without - Rondo.''
A must-read for smart Mavs fans.
DONUT 4: More weekend notes
Our Saad Yousef notes how badly the Dallas starters were outplayed across the board against the Nets:
The Brooklyn Nets starting lineup dominated the Mavs starting lineup in the Dallas ... an that's an understatement. To put in perspective, every Nets starter posted a positive +/- in double-digits (+11, +13, +14, +17, +24) while all the Mavs starters posted a negative +/- for the game (-7, -7, -14, -18, -22).
That just isn't the formula to beat a team, even if it is a Eastern Conference team with a sub-500 record coming into your home. The stars have to play better, especially when your leading rebounder and one of your premier offensive weapon is out with an injury.
DONUT 5: Surprising lineups to open and close
Rick Carlisle's decision to go with a starting lineup consisting of Rajon Rondo, Monta Ellis, J.J. Barea, Dirk Nowitzki and Richard Jefferson against the Nets was ... a bit surprising. To go that small, particularly down low with Tyson's absence, really didn't help in size matchups, which also translated in losing the rebounding battle, 48-37.
Carlisle also decided to play two point guards in the home stretch, sticking with Rondo (drama avoided) but playing Devin Harris in Barea's place.
It was smaller-than-SmallBall. It seemed more "cute'' than "sound.''
DONUT 6: Injury Update
While we keep our eyes on TY and Parsons, we are kinda talking Monta Ellis for granted.
It would be one thing if Monta was a non-factor, but his presence almost hurt the Mavs against the Nets ... and we say that with the greatest respect because we believe that hip injury just isn't right.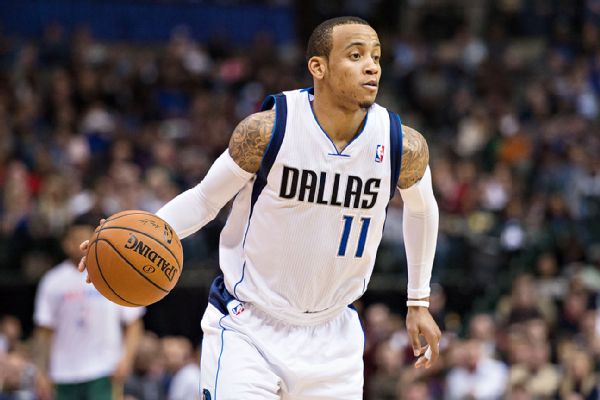 No need to overreact or panic, but it doesn't help when your top offensive weapon, who happens to consistently play the most minutes on the team, goes 4-of-16 for 12 points, a rebound, five assists and a turnover, all culminating in the second-worst +/- on the team at -18.
The worst? Rondo at -22.
We bet Monta's hip remains a problem. Heck, maybe Rondo's broken face remains problematic, too.
DONUT 7: Stat O' The Day
To reinforce Dirk's point: The Mavericks dropped to sixth in the West and one-half game behind the Clippers. And yet they are just three games out of third. But ...
They're only two games ahead of seventh-place San Antonio.
DONUT 8: Mavs Minute Management
"Sharknado'' is a cornball sensation on the Syfy Network. Mark Cuban fancies himself a bit of an actor. It's a very natural marriage ...
So Mark Cuban will be part of the cast of "Sharknado 3.''
His role? President of the United States.
DONUT 9: Thanks to our pals and sponsors!
Meet the family at
Estilo Gaucho
, selected as one of the top 100 steakhouses in America ... where every occasion is a special occasion!
Thanks to
Red Rock Bar & Grill,
our north Dallas hangout for live music and sports!
Meet
LS Wealth Strategies,
with Woody and Bill helping to guide my family and available to do the same for you!

Oh, and guess what? Our gang has opened a bar!
It's called "THE MAVERICK''!
Sports, live music, specialty burgers, all with a Texas flavor ... at 121 and Hebron ... swing on in!
DONUT 10: The place to kick it around!
The place for Mavs fans to congregate and talk about all these games and all these issues?
On DB.com Boards! C'mon in and sign up for your free membership today!
DONUT 11: McGee re-think
Near trade-deadline time, DB.com asked Mavs officials for their thoughts on a potentially bought-out JaVale McGee. The reviews were not glowing.
But now we're told there is a re-examination of the 27-year-old center as he gets his buyout a exit from Philly.
DB.com has the Mavs/McGee premium exclusive info here.
DONUT 12: The Final Word
New Orleans has lost four in a row in Dallas and is 3-21 here all-time. So Mavs Nation should feel pretty good about this one. Right? Right?