Mavs Donuts today brought to you by
LS Wealth Strategies,
with Woody and Bill helping to guide your family to financial well-being. Give them a click or a call!
DONUT 1: The Big Lead
The
Dallas Mavericks
won't have Chandler Parsons (ankle) tonight. They do plan on having Tyson Chandler (hip) tonight. And maybe they catch a break in Portland, as the Blazers will be playing on the second night of a b-2-b after Wednesday's 98-93 overtime win against the Los Angeles Clippers.
Portland, even short on gas, keeps finding a way to win, though. The Blazers have won four straight to move to 40-19, and during this run is averaging 108.5 points per. The man to watch? DFW native LaMarcus Aldridge, who in Portland's last three games is averaging 28 points and 13.3 rebounds.
The Blazers are in third in the West. Dallas (40-22) is in a virtual tie for fifth, just 1.5 game back of Portland. This looms as one of those "we'll-look-back-on'' games; Dallas has won five of the last seven in the series, can use Rondo to help contain the dangerous Damian Lillard, and would love to be able to churn the middle of the West standings in their favor with a win tonight.
Tipoff is 9:30 Dallas time on TNT. The Friday and Sunday games at Golden State and at the Lakers? I'll be part of the FOX Sports Southwest team that brings you those games this weekend.
DONUT 2: Rumors and speculation
Rumors and speculation continue to fly regarding what Monta will do with his opt-in/opt-out decision and regarding what Rondo will do in free agency.
David Lord illustrates here what Dallas' plan is with those guys as it relates to the cap and roster implications of the future.
But know this for now:
*Rondo wants to go to the Lakers? Can you envision the Rondo we've gotten to know whispering revelatory secrets about his future plans to a reporter? Nope, neither can I.
*Monta and the Mavs have locked into their business decision? Can you envision Monta and Cuban engaging in this conversation at this time, rather than being locked into finding ways to beat Portland, Golden State and the Lakers this weekend? Nope, neither can I.
These decisions will be driven largely by Dallas' playoff results and/or made following Dallas' playoff efforts. Period.
DONUT 3: Forgive us
Forgive our Mike Marshall for sounding exasperated, but here goes: If Chandler Parsons isn't living up to 'advertisement' then the only thing you've been paying attention to is advertisement and not the actual basketball being played.
There are
only 10 guys in the NBA doing what CP is doing statistically ... "The Machine'' breaks it down here in a way that will help you appreciate how badly Dallas needs Parsons back.
DONUT 4: No rest for the ...
No team has played more games than the Mavs. That means relief is coming ... sort of.
"We've got a murderous schedule these last 20 games, probably the hardest in the league,'' Dirk said. "We got to play solid ball at home, steal our fair share of road games and hopefully get a little momentum going."
DONUT 5: Quotable
Amar'e Stoudemire likes wine baths. I guess. That sounds like a very New York thing to do. Can Dallas accommodate him?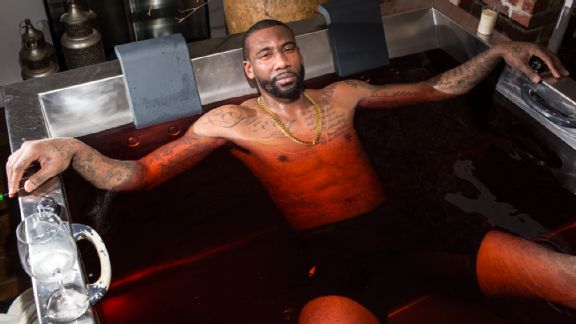 "I researched that,'' Stoudemire said. "I couldn't find one anywhere."
DONUT 6: Bol Bol
The late Manute Bol has a son,
Bol Bol, who is being billed as "the next Kevin Durant.''
I hate when we do this to teenagers -- whether they are children of stars or not -- but I guess the toothpaste is out of the tube here. Too much money to be made by the folks churning out the story ... hopefully the kid is the one who gets what he really wants in the end.
DONUT 7: Witten at the 4
Jason Witten (in a 2-on-2 pickup game at Duke also featuring Jason Garrett, DeMarco Murray and Tony Romo) plays basketball exactly as you would think the Cowboys tight end plays basketball:
DONUT 8: Homecomings
They keep wanting to come back. The Mavs organization keeps wanting them to come back.
After two 10-day contracts, the Mavs made good on what owner Mark Cuban told DB.com they would do weeks ago: they have signed Bernard James for rest of season. In five games, Sarge averages 4.4 points and 4.4 rebounds in 17 minutes.
And Ricky Ledo is back, too, kinda. Ledo called me from Puerto Rico to tell DB.com that having cleared NBA waivers, he's accepting an invitation to return to the
Texas Legends, the Mavs' D-League affiliate.
"Obviously,'' Ledo told me, "I've got so much to prove. More than ever, I'm going to try to be motivated by having a chip on my shoulder.''
DONUT 9: Thanks to our pals and sponsors!
Meet the family at
Estilo Gaucho
, selected as one of the top 100 steakhouses in America ... where every occasion is a special occasion!
Thanks to
Red Rock Bar & Grill,
our north Dallas hangout for live music and sports!

Oh, and guess what? Our gang has opened a bar!
It's called "THE MAVERICK''!
Sports, live music, specialty burgers, all with a Texas flavor ... at 121 and Hebron ... swing on in!
DONUT 10: The place to kick it around!
The place for Mavs fans to congregate and talk about all these games and all these issues?
On DB.com Boards! C'mon in and sign up for your free membership today!
We'll be talking about the Mavs' Thursday game at Portland and Friday game at Golden State.
DONUT 11: McGee update
As if last night, the Mavs tell me they are still "evaluating'' the idea of JaVale McGee. My impression: Upper management is more interested in exploring than the personnel dept. There are issues of BBIQ and of want-to here ... but it all may be moot, as the Celtics are reportedly closing in on a deal.
Which is better than McGee signing with a foe of Dallas' in this conference.
DONUT 12: The Final Word
"That's why it is a 'team.' We're a strength-in-numbers type of team." - Rick Carlisle, on Dallas breaking a two-game skid on Monday because six players scored in double digits to beat New Orleans, 102-93.