DONUT 1: Making an 'Exit'
While the Dallas Mavericks players who did meet with team officials and then with the media on Wednesday's Exit Interviews Day put on a happy face regarding Rajon Rondo — "I don't think he's a bad guy, it just didn't work,'' Chandler Parsons said — Parsons, Tyson Chandler and Dirk Nowitzki and their teammates took an action that spoke volumes as they opted to not give Rondo a playoff share of the $209,000 split among those in the locker room.
Meanwhile, the team's leading scorer, Monta Ellis, did meet with management but declined the club's request that he meet with the media in the AAC basement, as is customary. There is so much value here, but the club has a growing concern with the moodiness of Ellis, who can opt out of his final contractual year in Dallas (worth $8.72 million) and is expected to do so.
"We'd love to keep him,'' said Dirk of Monta, noting that he's "the closer.''
Part of the story of
"Exit Interviews Day'' is the starting backcourt exiting before it started ... and we've got that story here.
DONUT 2: "Playoff Dirk''
In his 135 playoff games entering this season, Dirk Nowitzki averaged 25.6 points, 10.1 boards and 2.5 assists while shooting 46 percent from the field.
So, would we get a glimpse of our old friend "Playoff Dirk''? We did, as against Houston, despite his defensive struggles, he averaged 21 and 10.
"It'll be a busy summer again for this franchise," Nowitzki said. "But like always, we're going to trust Mark and Donnie to get the guys back that we had that we liked and get some guys in to make this a better team."
DONUT 3: On the Rondo trade
Devin Harris: "They swung for the fences. It didn't work out the way everybody wanted it to. But I think it's no different than the situation we were in before we had him."
Tyson Chandler: "Sometimes pieces just don't fit to a puzzle. I don't think you can throw all blame on the organization or throw all blame on Rondo. It didn't work out. ... I don't think it's going to say anything to potential free agents or anything like that, because they got to know what kind of franchise this is, what kind of coach we play for and this organization clearly has had success for many years, not even just the championship year, but for many years."
Donnie Nelson: "It certainly wasn't risk-free, but it was certainly worth the risk. If we would've had to do it all over again we would've pulled the trigger again."
Dirk: "I still think that's a deal you make as a franchise. We went for it.''
DONUT 4: Assistant GM Parsons
"I'm officially shifting into GM mode," said Chandler Parsons, still working to decide on the nature of his coming knee surgery. "I have great relationships with a lot of guys that are out there. I have a great relationship with a lot of guys that are currently on our team, so as a guy that will be here for a while and as one of the key guys going forward I will definitely be talking to management. Anything I can do to help (recruit), I'll obviously do."
DONUT 5: Amare 'Paid-In-Full'
"I'll make my rounds and see what teams are saying," said Amare Stoudemire, a free agent this summer, "but I think Dallas is a place where I feel comfortable. I have a chance to have great success here with this franchise. We'll see. ... I'm already paid in full. Money is great to have, but it's not what I'm searching for at this point."
DONUT 6: Aminu's Opt-Out
"I think it makes the most sense to me,'' Aminu said of his decision to opt-out and become a free agent. "I'm young and I want somewhere where I can grow and be a part of something great. ... I love this team, I love this city. Great guys (on the team) ... I hope I can be right here.''
DONUT 7: Hook up with DB.com!
Keep it here on DB.com as we will keep you posted in a variety of ways from inside your team ... Here on the HOME page,
and here on DB.com Boards
... Thanks for joining us as we launch our 15 season inside the Mavs!
Oh, and if you want to be
a Mavs Insider with Premium coverage? Click here
to take our free 7-day trial and then for 10 cents a day, you are among the most informed Mavs followers on the planet! Go Mavs and Go Premium!
DONUT 8: JJB's Return?
"I want to (come back),'' said free agent JJ Barea. "I want to, and hopefully this time (unlike when he pursued his payday in Minny following the 2011 title) we can make it work. It feels like home for me in Dallas, so hopefully I can come back here and finish my career here.''
DONUT 9: Carlisle on the Rebuild
"Health is a big part of it,'' Carlisle said of the rebuild, citing the rehab of Chandler Parsons. "We've got a lot of free agents again. We've got as many as 11, depending on opt-ins and opt-outs and all that kind of stuff, and so there will be a lot of activity this summer and a lot of opportunities to get the team better. We'll just take a little time and catch our breath and then we'll be real aggressive. ... we're a championship organization.''
DONUT 10: TY on Returning to Dallas
"That's always a preference,'' said free agent Tyson Chandler on re-upping here. "But we'll see what happens with everything. There were so many things going on throughout this season. I'll take some time mentally and when the time is the time, we'll discuss it and go from there."
DONUT 11: The Aldridge Pursuit
We feel obliged, as we do every time we enter a
Dallas Mavericks
offseason, to cough up the usual disclaimer ... so here goes:
The Mavs covet Lamarcus Aldridge, the DFW native who might just be disgruntled enough in Portland or might just want to come home and hang around the swimming pool he just build for his mom here to "come home.'' But Dallas' desire here, as legit as it is, guarantees nothing at all. This may be less of a pipedream than the LeBron pursuit (and at the same level as other Summer Shopping goals, from Deron to Paul to Howard) but this sort of thing is always a pipedream because you are, in the simplest form, trying to offer a four-year deal to somebody else's employee who can get a five-year deal with that present employer.
But there is another disclaimer that comes with this latest attempt to bring to Dallas some help for Nowitzki: This time, in this case, Aldridge wouldn't be Dirk's "help''; he would be Dirk's replacement, and the roster would be at least temporarily flawed while the two team up together.
"Yeah, I mean, whatever it takes," Nowitzki said of the possibility he'd move to the bench (if Dallas were to add such a player. "I've always said that. My last two years I want to enjoy. I want to be a good team. I want to be on a winning team. Playoffs. Hopefully deep runs. So, yeah, anything I've got to do to help is obviously no question."
Make no mistake, we would love to have LA here, but we struggle to call him a "perfect fit'' outside of the obvious desire to add a generally excellent player to try to build around in the future. DeAndre Jordan and Marc Gasol play center and are similarly gifted building blocks, and they need to be in this conversation (and Kevin Love?) and covered by us and will be, and soon. But our sense is that Dallas thinks LA is the "best pure player'' of the three, and that as with the case with Jordan, our sense is that they have some intel regarding the players' desire to be in Texas.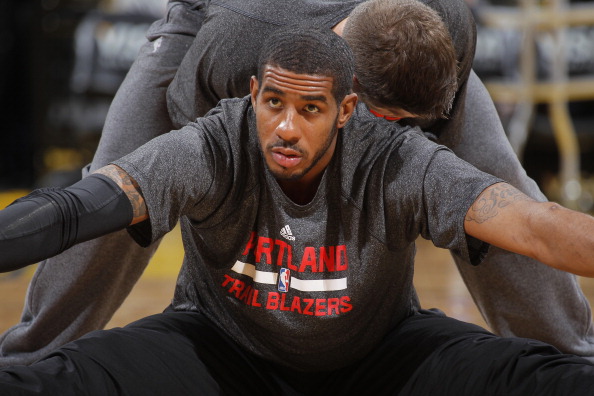 A different angle: If you really want Dirk to pass the baton, LA is a "perfect fit'' for that ... thinking long-term. But again, Mark Cuban's franchise has always been so "win-now"-minded ... But we've got
all the angles covered here in Premium with "The Mavs' Plan To Pursue Aldridge - And How It Works'' here.
DONUT 12: The Final Word
Donnie Nelson expressed a desire for Carlisle (with one year left on his contract) to become the Mavs' version of Jerry Sloan, who spent 23 years coaching the Utah Jazz -- to be with Dallas "as long as he wants."
Said Carlisle with MFFL verve: "The feeling is mutual."