MAVS Donuts today presented by the gang at
Red Rock Bar & Grill
, our North Dallas hangout for sports and live music.
Let's meet at Red Rock this week to watch the Mavs and March Madness!
DONUT 1: Mavs 101, Spurs 94
This is the oddest professional basketball team I've ever watched for 72 games and I'm not speaking in hyperbole. Nothing is for certain on a night-to-night basis. Nothing is promised on either end of the court. Nothing carries over from game-to-game. Whether it be good or for bad. I've seen worse and I've seen better but never at such extremes within the matter of, like, three days.
"Chemistry'' can be any easy diagnosis to throw at this complex problem and that's the only rationale I can find for plainly not competing in about every sixth game this season. If that's the case then one win over a San Antonio Spurs team that was rolling over on its back to show you its stomach while surrendering to the world isn't going to fix it.
But it's a start.
DONUT 2: The mini-seasons
The Mavericks have played something like eight different mini-seasons in this one NBA season and we still have 10 games to go in which anything can happen. For a while, it was "roster instability'' and "adjustments'' but now ... there are no excuses. After largely apathetic losses to Memphis and Phoenix we had very little idea of what to expect other than the obvious: the unexpected.
Every time I think the Mavericks have had enough of the fight and are ready to just let the season wash over them and drift into the playoffs with no real bearing they have a win like this. Or the Clippers game. Or two different overtime wins to avoid three-game skids. They do have some grit about them but also have an air around them that they truly believe their names alone are worthy of 10 points on the scoreboard. It's gotten their asses beaten in some really dumb situations throughout the season as well (Phoenix and Brooklyn come to mind).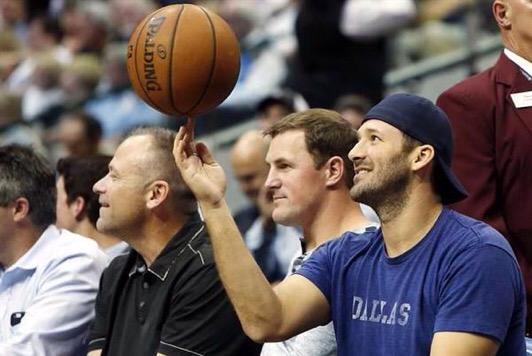 Perhaps the most necessary and yet unlikely win of the season (featuring Tony Romo's ball-spinning) brings the Mavericks to 45 wins and just .004 percentage points away from staring down a matchup with the Houston Rockets or possibly Portland Trailblazers. An individual performance that needed to happen in a game that the Mavericks had to have kicks off the season's homestretch in what has been some of the most perplexing basketball seen around these parts in decades, but ... we're still here: Still one of the best teams in basketball and still threatening to upend any Western Conference juggernaut on any night.
Tuesday's 101-94 victory fits the Mavericks' mold of not having a mold.
DONUT 3: Slump-Buster
The non-DB.com reader thinks this is something new. But
this weekend, as the angle went "mainstream,''
you probably realized the Monta strife I've been talking about and writing about for two weeks is not at all new and is very, very real. There's a level of animosity swirling around the Mavericks' most needy player and it involves jealousy over money, angst over being asked to sit in certain games and his lack of practicality when it comes to his injuries. (Read David Lord's Premium piece
to understand the financial side of some of the Mavs' internal issues.)
I'm not going to be naive and assume these issues are buried because of one 38-point performance but if it leads Monta back to the road where he realizes that playing well right now can make him a lot of money, then let's roll with it.
You're never as good or as bad as your last performance. I was honestly looking forward to showing off some of my fancy stats that I had found about Monta Ellis' elongated slump. I'm a selfish person. Those won't be necessary.
The Mavericks got back to an old formula that worked for them early in the season which is, "Let Monta take over the third quarter.'' In his 16 November games, Monta's third quarters were looking like magic, shooting 52.4 percent from the field and 40 percent from three while scoring 7.3 points per frame. The Mavericks drifted away from this formula and I have no idea why. The Rondo trade probably had something to do with it but for whatever reason the Mavericks haven't leaned on a part of their arsenal that made them an elite offense early in the season. At one point early in the season you could almost look at the clock and tell who was about to take over on the offensive end. The third-quarter savagery returned Tuesday with 13 points on 6-of 9-shooting and three assists as the Mavs sparked the match to a double-digit lead heading into the fourth quarter.
Just at the point where everybody starting wondering out loud to each other if it's smart to have such a crabby Helter-Skelter trigger-man Monta answers that question by doing something nobody else on this roster can. No other player on this roster can get that molten-hot and create their own look that consistently. When all the blood was shed and tally was counted, Monta had 38 points on 16-of-27 shooting with 23 second-half points. The constant muttering of Monta "not being right" might not be put to bed but after his first 30-point game in nearly two months we can slow the train that was headed to Panictown.
"He stayed aggressive,'' said coach Rick Carlisle. "I liked his game a lot. I thought his defense was good and the fact that we got in to transition got him some easy buckets early and got him rolling. ... Too much Monta tonight, don't you think? I love the way he played.''
DONUT 4: Stat O' The Day
One of the Monta's best qualities is also one of his worst and that's the simple fact that he'd play with one finger dangling off of his hand. He really wouldn't care if that dangling finger caused him to have a labored jump shot. Has he been battling some kind of lingering issue? I'd assume so but I'm not going to announce a clean bill of health every time he has a good game. All of these guys have nagging injuries that probably won't go away until mid-June. For all the things that the Spurs do brilliantly they just can't figure out how to stop Monta. He's averaging 34 points on 59-percent shooting against the Spurs this season with a pair of 38-point games.
"I've been battling with a lot of injuries all season,'' Ellis said. "The last few days, my body has been feeling good and tonight I'll sleep real good. I went and worked out last night at least two-and-a-half hours. I wanted to come in tonight and give my team a lift that they have been looking for. Now that my body is feeling good, we'll try to make a run of it until the playoffs start."
OK, let's all get some sleep. Fish says there's no Mavs practice today. Fine. Rest up. And then, dor the thousandth time this season, will the "rested'' Mavs carry over what they learned into the next game, Friday at San Antonio?
DONUT 5: The Real Run
The third quarter was simply spectacular but what was more important to me was the run the Mavericks went on to end the second quarter. The Mavericks were down 36-22 with nine minutes left in the second and then it happened. The Mavs proceeded to get 10 different shots within three feet of the basket and forced six turnovers from that point on as they closed the lead to just three points.
If Chandler Parsons would have knocked down his open threes during that run the Mavs would have soared past the Spurs into the half but they kept replicating the process that was getting the looks and knew the results would come. Parsons missed all four of his wide-open (defender 4+ feet away) looks on the night and you know that's not going to last long. He's shooting 50.8 percent on open looks sinse the All-Star Break, so yeah, 0 percent is a bit out of whack.
The underlying trick that the Mavericks pull off routinely is creating fast-break opportunities despite not rebounding particularly well. They won the rebounding battle here but the key runs were made thanks to points off of turnovers and some insane shot-making.
Again, can they roll this aggressive approach on the offensive end into the next game?
DONUT 6: Quoteboard
"This was a big win. We know we're capable of playing this way. That's what is so frustrating." - Chandler Parsons on the Mavs, who now trail the Spurs by percentage points for sixth in the West.
DONUT 7: Hook up with DB.com!
Keep it here on DB.com as we will keep you posted in a variety of ways from inside your team ... Here on the HOME page,
and here on DB.com Boards
... Thanks for joining us as we launch our 15 season inside the Mavs!
Oh, and if you want to be
a Mavs Insider with Premium coverage? Click here
to take our free 7-day trial and then for 10 cents a day, you are among the most informed Mavs followers on the planet! Go Mavs and Go Premium!
Meanwhile, you know the game: The Mavs win, and Mavs fans like you choose the Player of the Game.
Who deserves "The Dirkie''? Talk it out and vote here inside DB.com Boards!
DONUT 8: Why Rondo Sat
This takes some thinking and I'm the guy to do it. Gregg Popovich is a big fan of the "hack-a-(fill in the blank)." I witnessed it earlier in the season when they played the Clippers and Pop started intentionally fouling DeAndre Jordan away from the ball in the first half. Pop is also notorious for fouling Shaq immediately after the opening tip in his final season just to screw with him. Rondo played the first six minutes of the fourth quarter and sat the rest of the game, I assume in a preemptive strike to keep Pop from going to the whip while trailing as many as 17 points in the fourth quarter.
Rondo
(who does own a set of the keys to Rick's car)
is still shooting 34 percent on free throws this season. So Dallas played a chess match here and won.
DONUT 9: The UberMan
In case somebody needed to slap you upside the head to remind you how uniquely talented Dirk Nowitzki is, I'll gladly be that person. He's the only player in the history of the NBA with 25,000 points, 10,000 rebounds, 1,000 blocks and 1,000 three pointers. There's only one. Ever. In the history of American professional basketball.
This season has been largely unceremonious for 41. He had a stretch where he couldn't knock down open looks and some games where he got flat-out bullied on the boards, but the trick he can routinely pull off has become so overlooked when it comes to the Mavericks' entire scheme that it feels like a luxury. There are only seven players averaging 17 points, six rebounds, 45-percent shooting, 37-percent on 3's and one assist in the league this season.
Dirk Nowitzki is one of those. He's doing it in four fewer minutes per game than the other six on the list as he tells "Father Time'' to take a chill pill for another season.
Dirk Nowitzki
collected 15 points and that was nice. But his 13 rebounds is historic, as he becomes just the seventh NBA player ever to total 27,000 points and 10,000 rebounds.
27K points and 10K rebounds pic.twitter.com/6tsKDQFcU8

— Jason Gallagher (@jga41agher) March 25, 2015
"That's pretty unbelievable,'' said Dirk of his rebounding total, during a time he is also celebrating the birth of his second child, a son, Max. "I came in as probably the worst 7-foot rebounder in the league at the time."
He'll go out as an all-timer. But not yet. Not yet.
DONUT 10: Hard In The Paint
For a team that really doesn't do the whole points-in-the-paint thing (41.3 points, 20th in the league), the Mavs looked pretty comfortable doing it here. Over half of their total points (52 of 101) came from within the little painted rectangle close to the basket. It doesn't take a "rocket surgeon'' to realize that "close to the basket'' means better looks and a better percentage and no this isn't a trick question ... the Mavericks hit 26 of 45 shots taken from the paint and were a nifty +14 from what the Spurs produced in the paint.
The Mavericks don't and haven't had a primary scorer that plays in the post for as long as I can remember so no that wasn't the quick and simple solution. It was something much more impressive. It was the 30 points on 21 of 34 shooting (or layup'ing) that the Mavs scored in their second- and third-quarter layup line. In the second it what Parsons and Monta getting to the rack and in the third it was Harris and Monta and when you looked up the Spurs defense had been gutted by a +22 point differential from the Mavericks aggressive play.
DONUT 11: Here's my song
The music I'm choosing to soothe the savage
Dallas Mavericks
fan ...
DONUT 12: The Final Word
"We got into a hole, but everybody kept playing. Everybody kept digging in. Everybody kept believing in what we're doing, believing in each other, encouraging each other. We got through it. It's a really important win for us right now.'' -- Rick Carisle.