The
Dallas Mavericks
are working through their "locker-room issues'' and might want to solve them soon -- as in, "by tonight,'' as 45-27 Dallas goes to San Antonio for a showdown that could be highly helpful. A Dallas win puts the No. 6 spot in the West playoffs in play, a favorable way for things to fall for the Mavs .. who took a step towards that with Tuesday's .... home win over these same Spurs.
We'll have the telecast tonight on FOX Sports Southwest, Fish joining the crew for "Mavs Live'' at 7 p.m. ... but between now and then, time for a parlor game:
Why Can't The Mavs Just Get Kevin Love?
The
New York Daily News is the latest to suggest that the Love-LeBron marriage in Cleveland isn't working.
Naturally, New York being New York, the next supposition seems "natural'': Love should, when he enters free agency this summer, join the Knicks!
But can't Dallas play the same game?
We know there is strife in this locker room, too.
So how about a fresh start this summer? If some of the fellas in Mavs uniforms don't like it here, move 'em out! If Love doesn't like it in Cleveland, move him in!
Unfortunately, the NBA salary cap really doesn't allow it to work that way, and still build a complete and competitive team.
"What can the Mavs afford" is always impacted by the assumptions being made. If we assume:
1. A $68 mil cap
2. Mavs have Parsons, Dirk, Devin, and Powell
3. Felton gets stretch-waived
4. Everyone else (including Monta and Rondo) walks
5. Tyson gets $14 mil
6. The Mavs keep and use their first-rounder
7. Everyone else on the roster is a minimum salary except for one player who gets the room MLE (2.814 mil)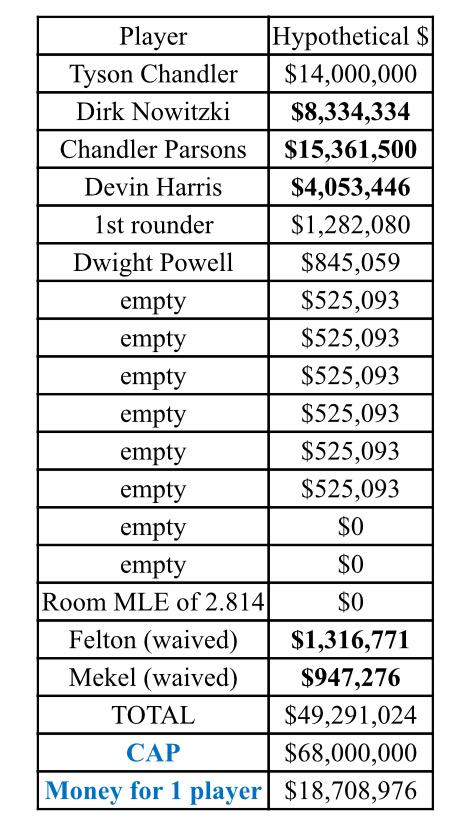 Then your Mavs 2015-16 roster looks like this:
C- TY
PF - Dirk, Powell
SF - Parsons
SG - ______
PG - ______, Harris
At that point, if you want to spend everything on Love you will have about $18.7 mil available for one player. A max salary for Love would be around $19.08 mil, so if you want to give him a near-max deal, you'd have to whittle elsewhere (TY would have to take $13.62 mil, or you don't keep your first-rounder, or you cut Powell and give TY about $13.94 mil)
So, for the sake of this exercise, again: You are emptying the roster and signing Love to a max deal, and getting the last bit of change for Love by bumping TY's salary down a tad, and
your roster looks like this:
C - TY
PF - Dirk, Love, Powell
SF - Parsons
SG - ______
PG - ______, Harris
You have one Room MLE and minimums to fill your guard slots. You also have the 21st pick in the draft to help fill those guard slots (allowing the acquisition of the next Mavs guard drafted in the 20's ... and hoping he's not like Ager, DoJo, Cunningham, and the like).
So Love-to-the-Mavs is do-able ... but would completely strip Dallas of its other talent, its options to fill out a competitive roster, and most of all, its Bird Rights on Rondo and Monta, which in combination with the Bird Rights on Tyson presently provide the Mavs about $42 million to sign the trio this summer ... a number that shrinks to "just enough room for Love and Love alone'' without those Bird Rights.
A more realistic solution: Rather than chase other people's problems, fix your own.
Bird Rights on Tyson, Monta and Rondo work as a built-in advantage for the team that employs them. The Mavs are working to be a 50-win team (again!) in the impossibly tough West, and have done so despite change and tumult. We've
given you the building-block formula here -- the difference between the Mavs' future with vs. without Rondo
-- and there is no grass-is-greener formula that works better.
DB.com's
Mike Marshall was the first to pull back the locker-room curtain of problems here
, and
ESPN's Tim MacMahon continues to move the ball forward on it.
These issues are undeniably real. But Dallas' best solutions, cap-wise and roster-wise, aren't in Cleveland, or anywhere else. They're in Dallas.
See what Mavs fans are saying here!
Related Story: Mavs at Spurs: Tonight's GameThread on DB.com Boards

Related Story: Giving Rondo 'The Keys to The Car'

Related Story: Mavs Donuts - In Which We 'Shut Up And Dance With Dirk'