In this first season of "Better Call Saul,'' the spin-off/prequel of "Breaking Bad'' has wasted no time filling its own Albuquerque ecosystem with characters that follow a path that is something television now does habitually well: The anti-hero as protagonist.
Tony Soprano, the family-guy/mafia boss. Don Draper, the slick-exec/self-loathing liar.
Walter White, the milquetoast-schoolteacher/drug lord. (See my "Breaking Bad'' reviews here.)
Frank Underwood, The President/murderous puppeteer.
And now there is comic-actor Bob Odenkirk's Jimmy McGill. Oh, he was a small-time conman back in Cicero, Illinois, when his manufactured accidents on icy storefront sidewalks earned him beer money and the nickname "Slippin' Jimmy.'' But James L. McGill, Esquire - who goes on to become "Saul Goodman,'' the hilariously sleazy lawyer who gets glued into Walter White's web in "Breaking Bad'' and is now the titular centerpiece of his own AMC show — is complicated.
For one thing, he so aspires to be like his older brother Chuck McGill, the high-powered attorney played nicely by Michael McKean (also a comic-actor), that Jimmy piece-meals his way to his own law degree, earned laboriously over years on online courses at The University of American Samoa. ("Go, LandCrabs!")
That should get him Chuck's respect, especially paired with the other tie in their relationship. The elder McGill brother has a mental disorder that's caused him to take leave of his partnership at Hamlin, Hamlin, & McGill. Chuck thinks his illness is "electromagnetism,'' so he remains housebound while wrapped in a tin-foil "space jacket,'' shrouded from exposure to all electric devices and shaded from all light, leaving Jimmy (indebted to big brother for pulling him out of jail years ago and idolizing big brother because of Chuck's straight-laced success) to run his errands, fetch him ice and pep-talk him into normalcy.
But strange thing: While Chuck is obviously book-smart when it comes to the law, Jimmy possesses a different sort of genius: He's willing to use his conman background, his willingness to dumpster-dive for info and his awkwardly charming style, to stroke truths from people — people who in one case are the elderly ripped-off residents of Sandpiper Crossing who are going to be part of his multi-million-dollar class action lawsuit.
It is the sort of case that will pave the way for what the brothers pledge to each other is a shared dream: Offices, side by side, at Hamlin, Hamlin, & McGill. "Slippin' Jimmy'' will be fully legit.
Says a jubilantly ignorant Jimmy: "Two McGill boys, side by side, storming the gates, righting wrongs, taking down the bad guys."
As was almost always the case in Vince Gilligan's previous masterpiece, "Breaking Bad,'' the dream is not going to come true.
Law-firm partner Howard Hamlin is set up as the apparent villain here in "Pimento,'' as has been the case all season. But as pompously slimy as he is (he has his own special color, "Hamlindigo Blue,'') Hamlin's refusal to hire Jimmy — a refusal so strong that he says HHM will pass on the Sandpiper lawsuit rather than give Jimmy an office — is not really Hamlin's call.
That decision has been surreptitiously made by one of the other partners. The "decider'' is Jimmy's own brother, Chuck.
The viewer thinks back on earlier episodes and you see it now. HHM fought against Jimmy using the McGill name on billboards but now you know that wasn't Hamlin's fight. When Jimmy reported the glorious news of him passing the bar to Chuck, his brother's weird, "Is this a joke?" response wasn't just the result of his being taken aback — he was actually pissed that this happy-go-lucky goof had short-cutted his way to the prestigious title it took Chuck a Georgetown education to achieve. When Jimmy discovers the reason fate has turned on him … the reason Hamlin blocked him, the reason his only real friend Kim gives him a sad warning and then refuses to share a drink with him in the nail-salon water-heater closet the down-and-outer calls an office, the reason, really, that even in Gilligan's famously blue-sky New Mexico panoramas in these two shows always includes a figurative dark cloud hovering over Jimmy/Saul … he confronts his idol.
"So that's it then, right?'' he says. "Keep old Jimmy down in the mailroom, because he's not good enough to be a lawyer."
The older brother's diatribe against Jimmy is explosive and it is tragic and, once you gauge the weight of it against what you know will eventually happen in "Breaking Bad,'' the diatribe is also kind of true.
"You're not a real lawyer!" Chuck says. "I know what you were, what you are. 'Slippin' Jimmy' with a law degree is like a chimp with a machine gun!"
Chuck is actually more jealous of Jimmy than the other way around. Chuck hates Jimmy for being a devious trickster and has crushed him by being the same. This isn't just tragedy that's Shakespearean, it's brother-vs.-brother and downright Biblical.
Chuck has something else to say.
"The law is sacred!'' he barks at his n'er-do-well kid brother. "If you abuse that power, people get hurt. This is not a game! You have to know, on some level I know you know I'm right. You know I'm right!"
And damnit …
Chuck is right
. If you as a viewer knows what happens when Jimmy becomes Saul … people do indeed get hurt.
Jimmy — trusting of the only lasting bond he's ever had — never sees the betrayal coming. The conman, his rumpled face tear-streaked as he marches out of the darkened home of "Space-Blanket Chuck'' for the last time -- has been conned.
Meanwhile, as Jimmy is getting booted from the winner's circle, his future cohort Mike Ehrmantraut, the repentant former dirty Philly cop, is consciously switching to the dark side. He's the reason his son (the only straight cop back in the old precinct) is dead, and Mike's daughter-in-law and grandchild need cash.
So the world-weary stoneface "breaks bad'' again, this time as the muscle for a drug deal featuring a nebbish who resembles a Walter White Starter Kit. And after the illegal transaction goes down, Mike gives the nebbish a speech about the complexities of being human, noting, "I've known good criminals and bad cops, bad priests, honorable thieves; you can be on one side of the law or the other. …'' making sure the fella understands that he may be a "good guy'' but he is nevertheless now a "criminal.''
"Breaking Bad'' blurred this line so completely that it's still debated whether Walter White was forced by circumstances to break bad or was always a monster wearing a cacky camouflage. "Better Call Saul'' now does the same. Was Jimmy born to be a loser, inevitably destined to eventually wear a third different name so he could anonymously manage that Cinnabon in Omaha? Or was he born to be a lawyer, destined to follow in the McGill line … until his ideal mentor robbed him of his American dream?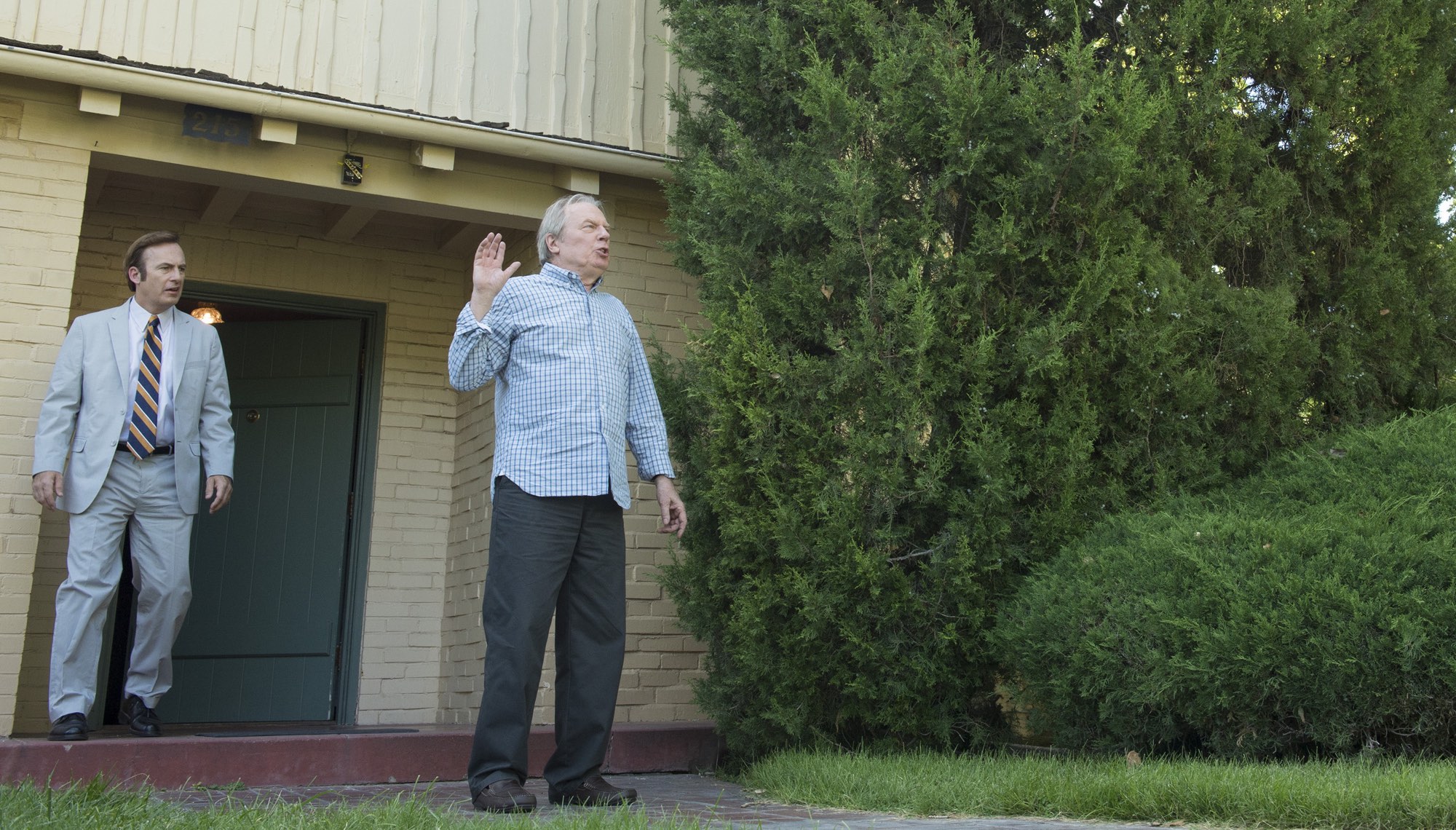 When Jimmy storms out of Chuck's house in this season's penultimate episode, he is only
breaking mad.

One episode to go, and I sense, one betrayal left, too. (Kim, I'm looking at you.) And then Jimmy breaks in irreversible ways.

"S'all good, man''?

No. After this, "S'all bad.''