That Flux
A few things need to be addressed when searching for hard-and-fast rules in this upcoming Rockets/Mavs series.
The first is the fact that the
Dallas Mavericks
were on the tail end of a back-to-back in every single game they played against the Houston Rockets this season. While that's not an end-all-be-all excuse for their play in three of the games it does mean something and it can't be quantified. When you take into account the pace and the fast-break opportunities that the Rockets aim to achieve you might read more into the anomaly than before.
The other part is that both of these rosters (DMN photo) have been in such flux that it's hard to get a read on what will happen in relation to what has happened. "Causation'' is what the verbally inclined would call that. There are a handful of issues that will end up swinging this series towards another Maverick playoff run or the opposite direction towards Daryl Morey's second playoff series win of his career. (Yeah, realize that. Morey has one playoff series win in his tenure in Houston and that was with Yao and T-Mac). This series easily has the most off-court storylines of any Round 1 matchup this postseason, whether it be Parsons returning to Houston, Morey vs. Cuban, Jet returning home, Dwight Howard spurning the Mavs in free agency and just your good-old-fashioned in-state angst against the other metropolitan municipality within Texas.
'Whatever the subplots r u guys r trying to create, it's external noise.' #Mavs Carlisle on #Rockets series @1053thefan

— mike fisher (@fishsports) April 17, 2015
Coach Rick Carlisle called all that stuff "exterior noise.'' So yeah, as much as I hate Houston, we'll focus on the basketball to be played on the court.
The 3's
Let's start with the most important facet of this matchup to me, defending the three. You might not have noticed this between all the other roster-altering situations that were taking place but the Dallas Mavericks gave up the second-most made threes in NBA history this season (741 on the year. Cleveland allowed 765 last year for the all-time record). Would you care to guess which team broke the NBA record for the most threes attempted and made in a season during the 2014-2015 season?
Yeah, that would be the Houston Rockets.
The Rockets attempted 2,680 threes on the season and made 933 of them good, enough to shatter both records and edge out the second-place Cavs by a good 400 attempts.
Everybody who reads DallasBasketball.com knows about a central reason why Jameer Nelson was traded (or they should). In Jameer's time with the Mavericks he allowed 42 percent on three-point attempts he defended. I'm not sure if I can express accurately how terrible that is with simple words. That's 7.2-percent higher than the league average. In October, Mavs opponents shot 44 percent from three. In November they shot 39 percent. From December 1 until the Rondo trade (December 19th) they were shooting 37.8 percent. That's among the big reasons why the Rondo move was necessary, at least in the eyes of the Mavericks front office. If your perimeter defense and three-point defense specifically are amongst the league's worst you're not a real contender. Since the Rondo trade Mavericks opponents' three-point shooting has fallen back down to league average (35.1 percent).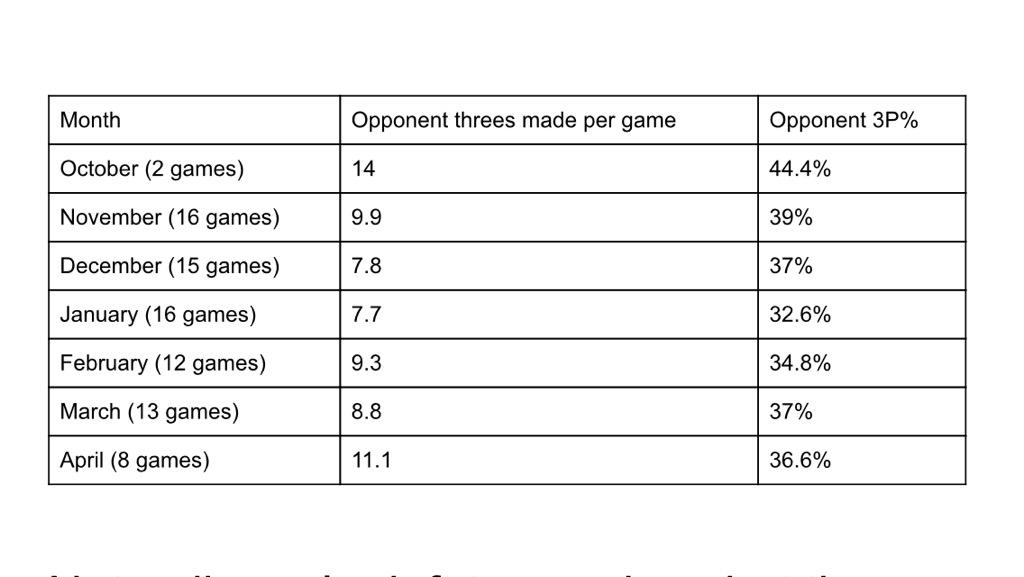 Naturally, we're left to wonder what the Rockets did against the Mavs this season in terms of the threeball. I've got answers.
In their four matchups this season, the Rockets hoisted 37 threes per game (five above their season average of 32 a game) and made only 34.9 percent of them. What about post-Rondo? In the three matchups involving Rajon Rondo, the Rockets put up 34 three-point attempts per game and hit 35.9 percent of them.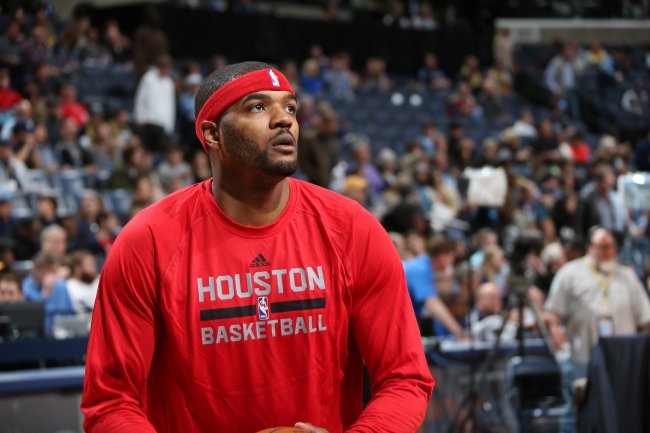 There's a January 28th game in which they took 35 threes and made 14 of them mixed in there and that was the Josh Smith game, if you remember (he scored 18 points and hit 4 of 5 threes). That's not an excuse for the percentage rising but I thought it should be noted.
The reward of taking an extremely high number of threes over a season is the very simple idea that shooting such a high volume justifies the percentages despite the fact that Houston is an average (34.8 percent) three-point shooting team (behind the Mavs at 35.2 percent). Keeping Houston from taking threes is almost as valuable as keeping their three-point shooting percentage low. Harden in particular has made 10 of his 25 threes taken against the Mavericks and that has to stop.
Let's get this over with. James Harden is my imaginary MVP for the '14-'15 NBA season. Curry will probably win it but when I look at this Rockets roster I realize that they have absolutely zero business being a 56-win basketball team. ....
(Thus Mark Cuban's regarding the Rockets "not being very good,''
and by the way, Fish followed up with Cuban on that Grantland comment and it stands ...
.@mcuban tells me while his #Rockets diss to @Grantland33 was uttered 'weeks ago, he stands by it. 'Yup, I said it,' says #Mavs boss

— mike fisher (@fishsports) April 18, 2015
But there, I've succummed. Harden's an MVP.
Let's get to the part where the Mavericks go about slowing him down.
Slowing Harden
A study of what Harden does in the playoffs compared to his regular-season distribution is apropos, in my opinion.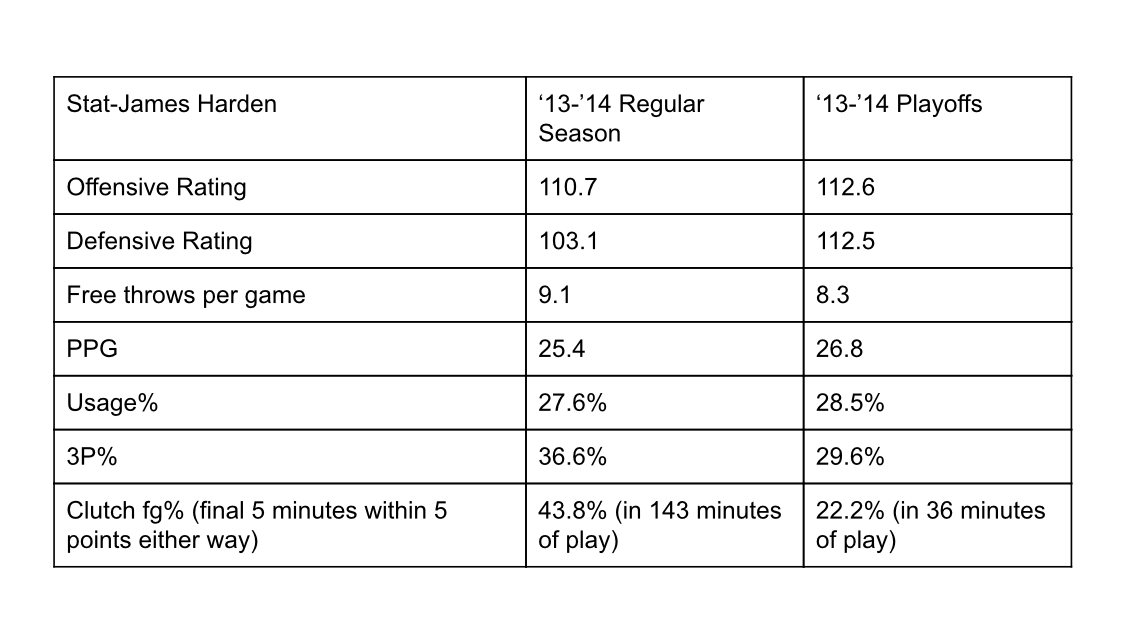 Hopefully, you see what I see. That +9.4 defensive rating when the playoffs come around points to the fact that he can't hide on the defensive end when a team gets to see you seven straight games. The other things that I notice are the drop in three-point percentages and the flatlining of the clutch field-goal percentage. He only made six buckets in 36 clutch minutes last season and went 1-for-10 from three in those situations.
Now let's look at what Harden has done against the Mavericks this season with and without Rondo. Harden's season averages are 27.4 points, 7 assists, 4 turnovers, 5.7 rebounds, 1.9 steals, 44-percent shooting, 37.5 percent from 3, and his per-100 ratings were 107.7 offensively and 101.9 defensively. Just so we have a baseline.
The only thing you see there that you don't like is the offensive rating being out of whack in comparison, but still below his season average. Offensive rating is a fickle thing and the Rockets didn't get 100 offensive possessions in that one pre-Rondo game, which is an extreme rarity. Also, the Rockets took 46 threes that game. Let's focus on the points, the free throws and the usage percentage. All of the above trended dramatically down since the arrival of Rondo and are substantially down compared to last year's numbers against the Mavericks as well.
We touched on the Harden's defensive drop off in the playoffs last season earlier but let's take a deeper look at what he's done defensively against the Mavericks this season. When you start diving into what James Harden actually means on the defensive end it's a little tricky. He's not as awful as he has been ... but seriously go watch this ...
... but he's still not a defender that should be labeled as "good.'' I feel like he threw a lot of people off his scent early in the season by actually trying really hard on the defensive end, which is easy to do when you haven't played 60 games and numerous back-to-backs and Dwight Howard is standing behind you. Harden's defensive rating rose slightly (101.4 to 102.6) after the All-Star Break and took a swan dive off the ledge in April inflating to 107.5 in the eight games this month.
What's interesting to me is that when the Rockets lose, it's oftentimes due to teams going straight at James Harden on the defensive end. In Houston's 55 wins this season that James Harden has been involved in, the other team went at Harden for an average of 11.8 field-goal attempts a game and shot 40.6 percent from the field. In the Rockets' 25 losses their opponents have taken 13.2 field-goal attempts when Harden is defending at a 46.8-percent clip. In the four losses to Portland last season in the first round they went at him 15.3 times per game. Maybe that's what happened to Harden on the offensive end: he got tired. James Harden has shot double-digit free throws in five of his 12 career playoff games (he scored +26 in all of those games) and only two of the six games last season.
Another part of James Harden's game that cannot be ignored is that he tallied the most turnovers in the NBA this season. Yes, other players like Westbrook and Boogie had higher per-game totals but nobody turned the ball over better than James Harden this year. This is somewhat incredible considering that Harden is 64th in passes per game this season. That's not to say that he's a bad passer. He's sixth in the league in total assists and fifth in the league in secondary assists per game, which is absolutely elite for a player that doesn't play traditional point guard. What I'm trying to tell you is that he'll let you have more than your fair share of turnovers every game. Like most of the Houston offense, Harden's passes are for the majority high-risk and high-reward. We've talked before about how the Mavericks generate fast-break points via the turnover rather than the defensive rebound. Fast-break points off of turnovers will define this series.
More on Turnovers
Overall, the Houston Rockets had the third most turnovers in the league this season (1,366). The majority of the teams that are hovering around near their turnover total are not in the playoffs. They magically have the highest overall +/- (+3.4) of any of the teams in the bottom 12 in turnovers. Either they're extremely lucky or they've found a way to nullify turnovers via an obscene amount of three-pointers and free throws.
I tend to believe the latter.
The high-risk passes also have something to do with it that can't really be measured. On the contrary, the Mavericks were 28th in the league in turnovers this season (1,062). With Houston averaging 18.8 turnovers per game against the Mavericks this season it would appear that despite what the perception of the Rockets is, the Mavericks would have the edge in fast-break points and points off of turnovers. The Mavericks forced 16.3 turnovers a game (fourth) this season and flipped those into 19.3 points off of turnovers (second) per game. The bad thing for the Mavericks is when they play the Rockets, they morph into a different animal, turning the ball over 17.5 times a game compared to their incredible 13-per-game season average.
The other part of that is one of the few teams that actually outpace the Mavericks is fast-break points per game are the Rockets (18.7 for Houston. 16.0 for Dallas). These teams operate at varying degrees of defensive efficiency but they mirror each other in terms of forcing turnovers and what they do with the ball afterwards. I'd bet on Dallas' track record of protecting the basketball that they've displayed in their other 78 games against the rest of the league to hold form rather than Houston to find a new identity just because the playoffs have started.
The Mavericks allow the second most fast-break points per game and Houston's right behind in third. Neither of these teams defend well in transition defense so they're dependent on outpacing the others' production from forced turnovers. This can be an area in which the Mavericks have a decided advantage and there aren't many areas where either team distances from the other.
Beyond the Spite
The main reason that Mavericks fans were encouraged to draw the Rockets as their first-round opponent (besides spite) was the fact that Houston's new-found roster deficiencies have left them with several lineups that play directly into the Mavericks hand.
I'm specifically referring to the Mavericks ability to play Al-Farouq Aminu for extended minutes. The Rockets don't have a power forward on their roster that I'd be uncomfortable AFA defending against. That's simply not the case for what were the other three potential first-round opponents. You might assume I'm making too much of a bit player like Aminu but trust me, I am not. AFA is a part of the Mavericks' best net-rating lineup (Harris-Monta-Parson-Aminu-Tyson) and is a part of three of the top five two-man units in net rating.
Against Houston in particular, Aminu is a part of the Mavericks' three best lineups in terms of net rating. In fact, Aminu's coming-out party was against the Rockets on January 28th when he had 10 points, 7 rebounds, 6 blocks and 3 steals. When you piece together Aminu's last three games against the Rockets, his numbers come out to 11.3 points, 9 rebounds, 4 blocks, 1 steal ... and somehow he's shooting 44.4 percent from three.
And when facing the Rockets this year, Aminu defensively has been the human reincarnation of Nightcrawler from the "X-Men.'' On shots that he's defended the Rockets, are shooting 36.8 percent, which is 8.4-percent below league average.
The Rockets have their own shortcomings but the main ones involve not being able to take advantage of another team's shortcomings because of their lack of lineup options. For a team that turns the ball over as much as they do, going small is necessarily an advantage. When they do utilize the scarce size that they do have it puts them in a bind when it comes to the free-throw line.
The Rule of 47
This is the Rule of 47. It's something that Mark Followill pointed me towards following the Portland game to wrap up the season. Shooting 47 percent from the field is the breaking point for the Mavericks offense against the Rockets defense.
The Rockets allowed their opponents to shoot 47 percent or better from the field 24 times this season. They were 6-18 in such occasions. The Mavericks offense shot 47 percent or better in 34 games this season. They were 30-4 in these games. 47 percent is not that hard to achieve. The Mavericks did it in 41 percent of their games this season and the league as a whole had one team do it in 36 percent of all the games played this year.
The Rockets lose when they allow 47 percent from the field and the Mavericks win when they reach that number.
What this shows is just how good of a defensive team the Rockets have molded themselves into. The Mavericks on the season are sitting at 46.3 percent from the field but are just 43.5 percent on field goals against the Rockets. The encouraging part is that the Mavericks are heating up at the correct time, shooting 48.9 percent in their last eight games.
Dwight's Impact
Dwight Howard has only played 18 minutes against the Mavericks this season so his impact on the matchup is nearly impossible to try and examine ... but just know this: if the Houston Rockets are expecting big minutes out of Dwight in this series then they are banking on something that he hasn't shown yet since his return from injury.
Dwight has played one game of 28 minutes or more since he's gotten back into the Rockets rotation. The main thing we need to understand about the Dwight and how he functions in the Houston offense is that he won't consistently run pick-and-rolls which is what he's deadly at. He wants the ball in the post because he envisions himself as some kind of Hakeem. He is not and that formula is not what's best for the Rockets offense. It means fewer threes and fewer free throws from people that can actually make them.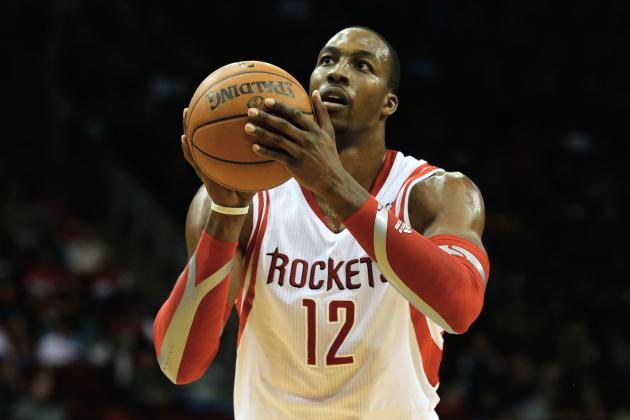 Dwight demanding entry passes from the wing while everyone else stands around is a net positive for the Mavericks so long as he doesn't get Tyson Chandler in early foul trouble. Not only are the Rockets trying to adjust to life after Beverly and Motiejunas but they're trying to appease a construct of their offense that really doesn't need to exist.
Links and Things
*Keep it here on DB.com as we will keep you posted in a variety of ways from inside your team ... Here on the HOME page,
and here on DB.com Boards
... Thanks for joining us as we launch our 15 season inside the Mavs!
*Oh, and if you want to be
a Mavs Insider with Premium coverage? Click here
to take our free 7-day trial and then for 10 cents a day, you are among the most informed Mavs followers on the planet! Go Mavs and Go Premium!
*All our stories
are archived here ... use the search tool to find everything on any Mavs topic.
*Dirk Nowitzki
has ramped up his game in recent weeks. The Advanced-Stats study of what we hope is "Playoff Dirk.''
Which is? A human being who averages 25.6 points, 10.1 boards and 2.5 assists while shooting 46 percent from the field in his 135 playoff games. This is a man that carries a 117 career offensive rating in the playoffs.
*Rajon Rondo?
Same ramp-up story. The integration is occurring. See "Rondo and The Whale here.
*Here's
Fish's injury update and all good news from Chandler Parsons so far.
*Follow our guys on Twitter:
Fish
,
Mike Marshall
,
Jeff "Skin'' Wade
,
Jonny Auping
and
Coop
.
DONUT 12: The Final Word
Let's put a bow on this. Mavericks in 6.