DONUT 1: The Indefinable Mavs
Getting swept by a Phoenix Suns team that won't be competing to make the playoffs in the final week of the season would be inexcusable. That's kind of what this
Dallas Mavericks
season has been thus far: inexcusable, unexplainable and indefinable. So, good, a loss didn't happen.
But ...
The Mavericks have had several menacing low points that made you reassess everything this season and a few of them have been thanks to the Suns. For a large portion of the year it felt like we'd be looking back at the schedule in the regular season's final days and wondering what might have happened if they hadn't dropped three ridiculous games at the hands of the Suns (and the Pacers losses and that Detroit loss and the Pelicans loss and the Brooklyn loss).
Luckily, Russell Westbrook won't stop shooting the Thunder out of games and unluckily the Spurs have launched themselves into a basketball atmosphere that the Mavericks could only dream of at this point. So, here we are the seventh best team in a very gaudy Western Conference. With four games remaining and the possibility of advancement in the standings out the window we can start to address the eternal hope for Mavericks fans, the idea that these guys have a playoff gear.
I'm torn on the subject because I don't believe you just flip a switch and all of your problems work themselves out, but I do believe playoff basketball is a different kind of sport. I choose to believe the Mavericks will be better because they'll have to be and because it's frankly too painful to consider the idea that some of these guys are looking past the playoffs and towards July free agency. Phoenix is a loveable loser but you still have to have the killer instinct to put them down as we've clearly seen three previous times this season.
Can much be made of this victory besides the fact that they overcame their best two-way player being out and kept themselves in position for 50 wins? No, not really but we'll work through all the things that matter and what the Mavericks need to get right before the playoffs being after a 107-104 win against Phoenix for their 47th win.
DONUT 2: Dirk's shots
This may shock you, but Dirk Nowitzki has only had 29 games this season in which he's taken 15+ shots. Last season he had 49.
Wednesday was one of the good ones. ... one of those rare nights this season when Dirk got his touches (15 attempts). He didn't disappoint, particularly in the fourth quarter when the Mavericks weren't really sure how to distance themselves from Phoenix. Dirk scored eight fourth-quarter points with a huge three with just 22 seconds left to put them up four after airballing another three-ball just a half a minute earlier.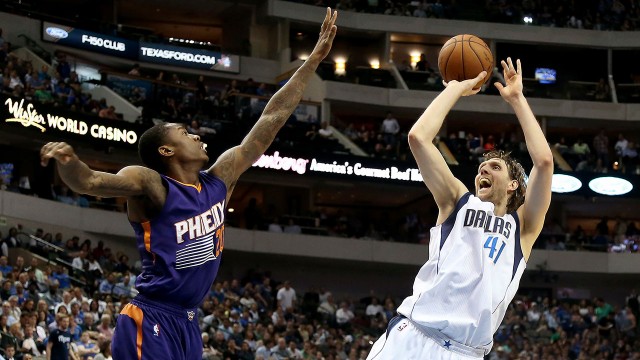 "He made a heckuva play,'' Dirk said of Monta, who handled the drive-and-dish. "He dribbled in there hard, drew my defender and I found myself open again. I've been in this position for a lot of years and I just stepped into it and let it go and didn't really think about it. I'm glad it went it, it kind of helped us get this win."
Ah, but that 15+ thing bears deep examination. Stay tuned for Mavs Premium. We're on it.
DONUT 3: Dear Monta!
What are we supposed to do with Monta Ellis?
He's taken more shots than points scored for three straight games now and hasn't hit a three since March 24th. That doesn't stop him from shooting them. He's 0 for his last 15 from deep and is shooting an unfathomable 17.6% since the All-Star Break on his 74 attempted threes. Teams are on to this and they're letting him shot-put up however many deep balls he wants. As for most teams, you can't have a shooting guard that's not at least a threat from the perimeter.
It's even worse for this roster.
Name me the player outside of Chandler Parsons, Dirk and Richard Jefferson (in limited minutes) that you're comfortable playing extended minutes and launching 4+ threes in a game? Sure, Charlie V can get hot from outside but what if he's off that night and you don't want him on the court for long stretches anyway because the other team will start targeting him and you'll start hemorrhaging rebounds? Devin Harris is the closest answer I could find and I believe he's more valuable attacking the basket then hovering around the perimeter. The point is, this team just isn't that good of a shooting team ... Whether it's from three-point range or from the free-throw line. They cheat the field-goal percentage because of the easy baskets they get in transition but since the All-Star Break they've been a bad shooting team from deep, only knocking down 32% of their threes -- good for 25th in the league.
Monta has been as big of a problem in that arena as anyone. This has caused them to get gun-shy about the deep ball, only shooting 21.7 per game post-Break when they were launching 27 per game prior to that.
There's no changing Monta.
He's going to attempt to shoot through whatever slump he's dealing with. He's going to try to muscle through whatever is ailing him. He's not going to stop shooting threes. The only thing that we can hope for is that he's slumping at the right time (now) rather than Game 1 of a playoff series, like Dirk did last season. This team will go as far as Monta will let them, as Premium Mavs addresses here. They need the good Ellis that's picking his spots and hitting a respectable number of threes if they're going to go anywhere. You can't tell a guy like that, "Rein it in'' because you then take away his edge. You just have to hope that he fixes his shot before the games start to matter and that he realizes this team is at its best when he's the safety net when the offense goes stagnant.
Monta is 11th this season in total drives to the basket. Yet, he's 35th in free throws attempted. Westbrook has fewer drives to the basket yet double the amount of free throws taken (299 to 614). Lebron has 9 more drives yet 200 more free throws (299 to 513). John Wall has 90 fewer drives yet 56 more free throws. Gordon Hayward has 100 fewer drives yet 150 more free throws. I think I'll just let the numbers illustrate my point here. Somehow Monta didn't get to the free-throw line last night. He took 21 shots to score 20 points and missed all of his threes. But what he did well was feel where the ball needed to be late in the game. He gave the ball up and passed it to Dirk on his final two three-point attempts. One was an airball and the other sealed the game ... but Monta made the right move.
DONUT 4: Quoteboard
"The second half was 'progress.' The first half was 'regress.' I like the second half. We've got to build on the second half. They scored 63 in the first half, 41 in the second half. Obviously, much better and much more of what we need preparing for the playoffs." -- Rick Carlisle.
DONUT 5: This Rondo's needed
This is the kind of game the Mavs need from Rajon Rondo on a nightly basis. The Houston and the Golden State games dampen the rest of the numbers in Rondo's good stretch because he only played 4 minutes of the fourth quarter before the Mavs tapped out against Houston and he didn't play at all in the fourth against Golden State. The double-digit scoring is nice because those are like hidden points that you're not really anticipating (especially if they're at the basket) but what look for is his assist-to-turnover ratio. In his last five games he has a 4.75 assist-to-turnover ratio compared to his 2.58 on the season. That's eighth in the league for starting guards in that time frame and would be the best in the NBA by any player if it were over a full season.
DONUT 6: TY is TY
It's shocking that after three days off Tyson Chandler looks like Tyson Chandler!
Nobody really talked about it much because it was understood, but Tyson hadn't been playing very well over the last month. It was the Toronto game when Rondo freaked out and Tyson took an Amir Johnson knee to the hip that derailed much of Tyson Chandler's March. He wasn't right. He couldn't go get a lob and he didn't have the strength to play 30+ and compete on both ends of the court. From the date of that injury right up until Wednesday night, Tyson was averaging 7.9 points and 9.9 rebounds per game in just 29 minutes of play in that stretch. Just as a reference, in January he averaged 10.5 points per game and 11.5 rebounds per game in 33 minutes per contest. In that injury-plagued stretch he was only pulling down 17.9% of all available rebounds compared to his typical phenomenal clip of 20.9% prior to that time.
His offensive and defensive ratings got all out of whack as well.
TY's offensive rating went from 109 to 99 and his defensive number went from 100 to 107. I suppose the good thing is here he pulled down a superhuman 35.9% of all available rebounds and looked like he had enough juice to contribute on both ends of the court. He played 33 minutes as well, which tells me that he advised Rick that he was feeling good and all systems were a go. The Mavericks needed all 23 of his rebounds and especially his offensive boards that allowed the Mavericks to have 12 more offensive possessions than the Suns. It was Tyson's third game of 20+ rebounds on the season and just two shy of his season high of 25. He's now averaging 15.5 rebounds per game on three days rest.
DONUT 7: Hook up with DB.com!
Keep it here on DB.com as we will keep you posted in a variety of ways from inside your team ... Here on the HOME page,
and here on DB.com Boards
... Thanks for joining us as we launch our 15 season inside the Mavs!
Oh, and if you want to be
a Mavs Insider with Premium coverage? Click here
to take our free 7-day trial and then for 10 cents a day, you are among the most informed Mavs followers on the planet! Go Mavs and Go Premium!
DONUT 8: Why the Rockets?
Let's talk briefly about why it's so important for the Mavericks to get matched up with the Houston Rockets in the first round of the playoffs.
The obvious reasons are that Houston's roster has been depleted, they're not certain how Dwight will fit in now and nobody believes James Harden will those calls in the playoffs. All very important and correct surface level assessments. The reason that I want Houston (besides simple schadenfreude) is that the Mavericks best combination (Parsons and Aminu) can play heavy minutes against basically any lineup Houston wants to throw out there. It really comes down to Aminu, because Parsons is going to get his minutes.
Aminu is a part of the Mavs best three defensive two-man pairings (he and Parsons are the second best at 94.4 defR) and Parsons/Aminu are the team's best combo in terms of net rating (+13.1). That mismatch simply wouldn't be possible against Memphis or San Antonio.
Against Memphis, the Grizzlies would find a way to make one of them defend Z-Bo or Gasol or even Koufus if they played that lineup for an extended amount of time. The Spurs would do the same thing particularly when the Mavs switch on screens and get caught in a crossing situation with either AFA on Duncan or Parsons on Splitter/Diaw. The Clippers is the only other potential matchup in which I could see the Mavs best pairing playing big minutes together and it not causing a glaring weakness on either end of the floor mainly because the Clippers have zero depth.
So bring on Houston at No. 2. Maybe. Hopefully.
DONUT 9: Future stuff
Gerald Green went god-mode here, scoring a season-high 30 points on 19 shots and it got me wondering if he was auditioning for a role on the 2016 Dallas Mavericks. The Mavs don't have a backup shooting guard and particularly don't have a player that can guard 3-4 positions and score like him. Green would be a nice addition whether or not Monta Ellis is going to be here.
Just keep that in mind when free agency rolls around, OK?
DONUT 10: Checking CP
If Parsons' knee is bad enough that he can't play a basketball game an entire business week after his last on-court action, then why should he play the rest of the regular season at all? I know 50 wins is cool and all but if he leaves a game on the 2nd and isn't available to play again on the 8th then why does he need to see the court again in the next 10 days?
Fortunately, coach Carlisle seems to agree with this.
"We'd like to get him back to play a game or two before the playoffs, if it's possible,'' Rick said. "But nothing is for sure.''
The Mavs also plan to give Rondo some game-time off before the postseason and Carlisle called it "very likely'' that others would get the same treatment --
a debate over "healthy vs. hot'' and a logical conclusion
with Dallas locked in at 7.
To be clear: The Mavericks can't change their seeding and Parsons is arguably the most important player on the roster. To me, the smart play would be for him to sit the rest of the regular season to ensure he's ready for their first-round playoff matchup.
DONUT 11: Leaving town
The
Dallas Mavericks
are scooting out of town on Thursday, a 1 p.m. flight bound for Denver. No time to work on hoops today ...
Just work on chemistry and listen to my song of the day.
DONUT 12: 'Ugly And Ridiculous'
From Fish: The backstory of Mark Cuban's wealth involves his love for NCAA hoops, which puts a notable twist on the fact that the Mavs owner now says college basketball is 'uglier than ugly' and that it hurts the NBA because its players don't know 'how to play a full game of basketball.'
"If they want to keep kids in school and keep them from being pro players, they're doing it the exact right way by having the 35-second shot clock and having the game look and officiated the way it is," Cuban said Wednesday night before the Mavs' win over visiting Phoenix. "Just because kids don't know how to play a full game of basketball.''
We've got
the full story on Cuban's takes here -- including that important backstory.
DONUT 13: The Final Word
"It's a good time to feel good about my shot. I'll keep stepping into them." - Dirk.