Did
Dirk Nowitzki
"get right'' in Thursday's 107-104 win against Phoenix?
Well, he got the right amount of touches on his way to 19 points and the game-winning three.
What is the right amount, the magic number?
This may shock you but Dirk Nowitzki has only had 29 games this season in which he's taken 15+ shots. Last season he had 49. What it looks like is two fewer shots a game for one of the league's most efficient scorers in its history. It begs the question (among a handful of them): "Where are those shots going?"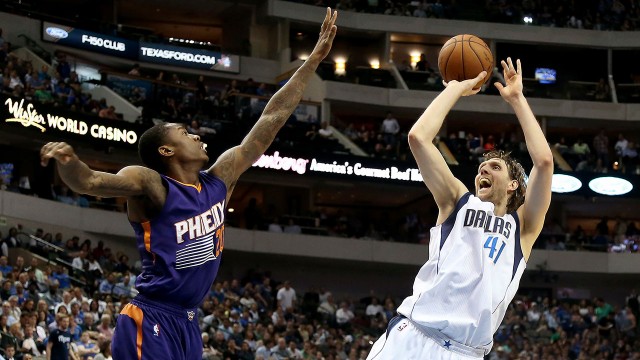 The short answer is ... "Monta Ellis.'' Dirk is taking two fewer shots a game while Monta is taking one-and-a-half more. (We get to
addressing the Monta Issues here
and
the Monta Fixes here.)
If you want to get really freaked out, realize Dirk has only had six games in which he's made double-digits shots this season. Last year he had 24. Yes, we're actually getting to a point here besides just dog-piling on Dirk and his lack of shots.
Is it possible to conjure up "Playoff Dirk''? Your memory of last year's
Dallas Mavericks
playoff series might deceive you as it did us until we looked back at it. All we remembered was Dirk turning human and getting bullied by double-teams an uncomfortable amount of times. If Dirk doesn't go 1-for-12 from three in that seven-game series, his numbers are very respectable for a guy that's not asked to carry a team anymore. Even with the uncharacteristic extended poor shooting binge, he was still good for 19 points and eight boards on 43-percent shooting.
Let's just all realize this as a group: the days of Dirk scoring 26+ points a game in the playoffs like clockwork are gone. We're not saying he couldn't do it again -- and it needs to happen on occasion -- but we should never "expect it.'' "Playoff Dirk" is now more of a collective offensive exhale in which you know you're going to get a good look rather than just sheer staggering numbers. You can feel those moments in games when you know Dirk is going to get the entry pass, eventually, and his defender is going to get knotted into a pretzel and two points will typically follow. In the playoffs we'd assume it would happen when the Mavs have to get an answering bucket on the offensive end or in late-game situations.
The trick to all of this is getting the same kind of efficiency we've gotten all season (46-percent shooting/39 percent from the arc) with increased usage.
He's going to get 15+ shots in nearly every playoff game. What if he's found a sweet spot between regular-season minutes and saving something for the playoffs? What if they get matched up with a favorable opponent that doesn't have a player capable of checking Dirk? What if the Mavericks have this secret weapon that they've been holding in their back pocket and it happens to be the seventh leading scorer of all-time? Wednesday against the Suns was one of those rare nights this season when Dirk got his touches (15 attempts). He didn't disappoint, particularly in the fourth quarter when the Mavericks weren't really sure how to distance themselves from Phoenix. Dirk scored eight fourth-quarter points with a huge three with just 22 seconds left to put them up four after air-balling another three-ball just a half a minute earlier.
As
we note here in All-Access:
Monta is shooting an unfathomable 17.6 percent from the arc since the Break. That can be fixed. In Rondo's last five games he has a 4.75 assist-to-turnover ratio compared to his 2.58 on the season; that's eighth in the league for starting guards in that time frame and would be the best in the NBA by any player if it were over a full season, so maybe he's fixed. Tyson grabbed 23 of rebounds against Phoenix and this year on three-days rest is now averaging 15.5 rebounds per game. Fixed. And the Mavericks have discovered a "best combination'' in Parsons and Aminu, who together have a net rating +13.1 and provide Dallas with a fix-it edge, especially if the Mavs play Houston in Round 1. So, assuming CP gets healthy in the next nine days or so, a fixer-upper there.
That leaves one more "fix'': Dirk feeling "pretty good'':
"It's a good time to feel good about my shot,'' Dirk said after the Phoenix win. "I'll keep stepping into them."
We'll feel better about it all, too ... as long as Dirk gets his 15 shots.
See what Mavs fans are saying here!
Related Story: Mavs in the Basement: TY's Challenge

Related Story: Monta Isn't The 'Gauge'; Right Now, He's The 'Lid'

Related Story: The Five Reasons The Mavs Want Houston