Dallas Mavericks
forward Chandler Parsons continues to seek medical opinions but it's clear he will need season-ending right knee surgery and that he and the club intend to have that performed as soon as possible.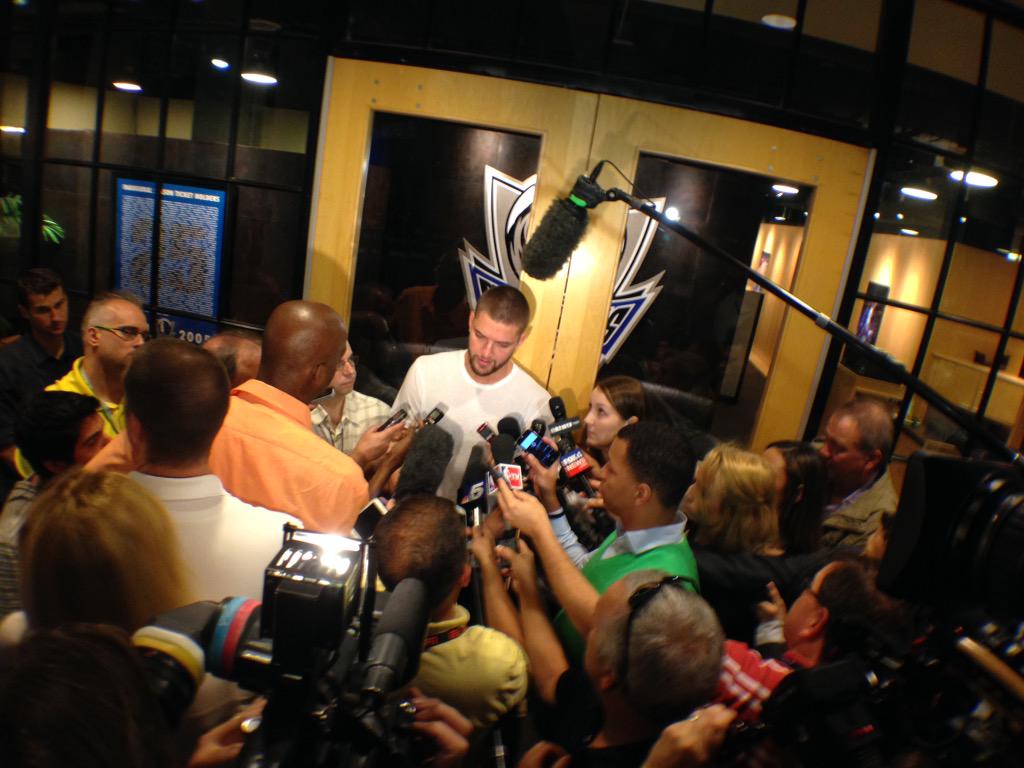 "It's devastating,'' said Parsons, speaking (NBC5 photo) at the AAC today. "The playoffs are the most fun time of the year and I was obviously looking forward to this series against Houston and it's all taken away from me. ... I want to be out there but I've tried everything.''
"My understanding is that surgery is a certainty, that surgery will happen," coach Rick Carlisle said as his club shifted its attention from
its off-court problems (including Rajon Rondo's medical condition involving a missing spine; my column on his DisConnect Four here)
to its on-court issues with the Rockets, who will visit the AAC on Friday (6 p.m.) with their 2-0 lead in the first-round playoff series. "You never want to hear that, but at this point and time it appears to be an absolute. We just got to make sure that we, and he, explore all options to make sure that we find the best situation for his surgery."
Parsons, who was injured on March 29 against the Pacers and this month attempted to play in the Game 1 loss but was unwilling to go in the Game 2 loss, will travel to Chicago in search of the best possible medical opinions. Carlisle did not deny the possibility of something "serious'' being wrong and could not promise Parsons' readiness for next fall's training camp.
"We're in April still, so I don't think we're (doing any good) talking about anything like that,'' Carlisle said. "Again, I've got to be clear. I am not at liberty to talk about specifics regarding surgery. ... (But) we believe he'll make a full recovery ... We feel like he has a chance to be great."
The
Mavs courted and signed Parsons to a three-year, $46-million contract in July in a game of high-stakes Chicken with Houston.
The four-year veteran averaged 15.7 points a game and in terms of all-around play made progress in showing himself to be a future-foundation player. in 33.1 minutes a game this season.
"This is a 26-year-old kid, a part of our present, a big part of our future, who had a terrific year for us and got better and better for us as the season went on,'' Carlisle said. "He's extremely disappointed, but the important thing is to find the right surgical situation and get to it as quickly as possible so that he can begin his recovery as quickly and have a great summer and get ready for next year."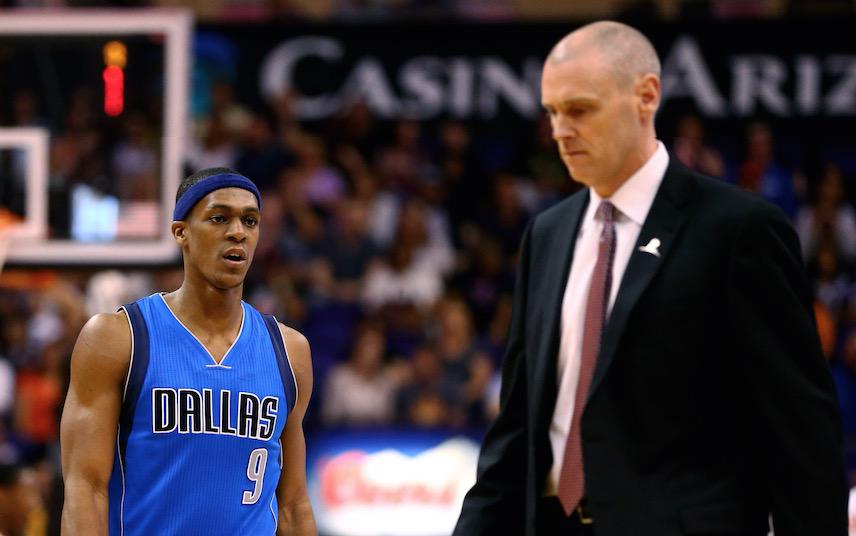 Rondo wasn't in the gym on Thursday, of course; there's no reason to reintroduce this sick patient to more germs. Devin Harris (toe) did work and is probable for Game 3. Teams that are down 0-2 in seven-game series lose 94 percent of the time ... and that's without the sort of tumult that has beleaguered Dallas this week.
There was largely a company-line approach from players regarding their departed teammate. But ...
Parsons on the Rondo situation: "I'm surprised. I was all for it when there were talks about (acquiring him). Just clearly wasn't working for both parties. We'll see what happens, I don't know what's going to happen. I enjoyed my time with him, I have a good relationship with him.''
Parsons was referring to himself only when he said, "It's the playoffs, so you have to be really, really hurt not to play in my eyes. I would hope everybody as a competitor and as an athlete and as a teammate would do the same. People pay a lot of money to see us play so you got to do whatever it takes to go out there and play.''
Again, he meant himself. But you can draw the conclusions you wish.
Mavs coach Rick Carlisle on Game 3 in Dallas... @NBCDFWSports pic.twitter.com/j1c6UAV0G2

— Pat Doney (@PatDoneyNBC5) April 23, 2015
"We're going to have to fight our butts off,'' Carlisle said.
See what Mavs fans are saying here!
Related Story: Carlisle: Rondo Has No Future With Mavs

Related Story: Mavs-Rockets Primer For Smart People

Related Story: Mavs In Game 2: Victims of 'Interior Noise'