DONUT 1: 'Exterior Noise'
THOUGHTS GOING IN: Before what became
Saturday's 118-108 Game 1 loss (see our "Tipping Points'' gamer here)
Dallas coach Rick Carlisle called all the emotional/personal/insult/bulletin-board stuff "exterior noise.''
WHAT WENT WRONG: It's very difficult to avoid concluding that the "Houston-Hates-Parsons'' angle isn't tucked back there in his cranium somewhere. He's got a fresh new haircut and a knee injury that seems healed and an insistence that this series isn't about his "defection'' last summer from the Rockets to Dallas, and yet ...
He shot 5-of-15 for 10 points in Game 1, featuring 0-of-4 from the arc, and listen: One off-balance fadeaway 3-point attempt that flatlines its way to the front of the rim is one too many.
It makes you wonder if CP was trying to shut up the constantly-booing crowd with One Big Shot ... that never came.
Meanwhile, another "exterior noise'' no one around here much considered was the little noise that would come from the Rockets' final rotation player, ex-Mav title-team member Corey Brewer, who came up big late in Game 1 and scored 15 points.
"You have to stay with it,'' said Brewer, essentially talking about his career on the fringe. "It feels great, especially playing against a former team. They traded me away for a bag of chips."
Maybe, while Dallas is trying to tune out "exterior noise,'' Houston is trying to crank it up and dance to it.
DONUT 2: All That Rest
THOUGHTS GOING IN: Hey, the
Dallas Mavericks
were on the butt end of a back-to-back in every single game they played against the Houston Rockets this season. No wonder Dallas won just one of those games! Now watch this older/experienced club with so much rest in preparation for Game 1 and with Carlisle's coaching staff with so much time in preparation for Game 1!
WHAT WENT WRONG: The Mavs certainly did not appear to be the "more prepared'' team.
I'm no fan of The School of "Came-Out-Flat'' Form of Analysis. If one team scores an early touchdown, commentators always say of the other team, "They came out flat'' when in fact, maybe just one guy missed a tackle. But beyond the early deficit on the scoreboard, there were Dirk's zip-less passes, what appeared to be slow rotations to perimeter bombers, no answers to Houston's obvious plan to attack Dirk on D ...
But wait ... I'm getting ahead of myself.
DONUT 3: 'Playoff Dirk'
THOUGHTS GOING IN:
"Playoff Dirk'' is an unusual beast,
a human being who averages 25.6 points, 10.1 boards and 2.5 assists while shooting 46 percent from the field in his 135 playoff games. This is a man that carries a 117 career offensive rating in the playoffs.
And one of the triggers for all this? Make sure you get him 15 shots.
It's really that simple. ... and we predicted he'd score 20 in Game 1.
WHAT WENT WRONG: Nowitzki was terrific as a shooter, with 24 points on 10-of-14 from the field. He got to his pet spots, he used picks to force switches to find small defenders, he ws an active rebounder and the barking he did at teammates demonstrated a level of intensity that the 36-year-old has been storing up for most of this season.
But ...
He committed six turnovers, most of them thrown with velocity usually seen at an Egg-Catching Contest at the church fair. (Dirk's fumble-prone night continued into the postgame.) And in part because of his cough-ups, he never did get to 15 shots. Fourteen shots and nine makes? That begs for a 15th shot, doesn't it? And then a 16th? And then ...
DONUT 4: Defending the 3's
THOUGHTS GOING IN: We all asked Parsons, Devin and Carlisle the same question on Friday, the "keys to the game'' question. They all gave "3's'' as their answer. As our man Mike Marshall astutely notes in
our "Mavs-Rockets Primer For Smart People''
:
The most important facet of this matchup is defending the three. You might not have noticed this between all the other roster-altering situations that were taking place but the Mavericks gave up the second-most made threes in NBA history this season. Would you care to guess which team broke the NBA record for the most threes attempted and made in a season during the 2014-2015 season?
Yeah, that would be the Houston Rockets. The Rockets attempted 2,680 threes on the season and made 933 of them good, enough to shatter both records and edge out the second-place Cavs by a good 400 attempts.
So again, none of this was a secret.
WHAT WENT WRONG: Despite all the nudging, teaching, persuasion, film-studying, prodding, begging, yelling, this coaching staff apparently didn't move its players to understanding that Harden is a multi-faceted player but Facet 1 starts at the arc, and that Brewer and Jason Terry are not multi-faceted players and Facet 1 IS the arc.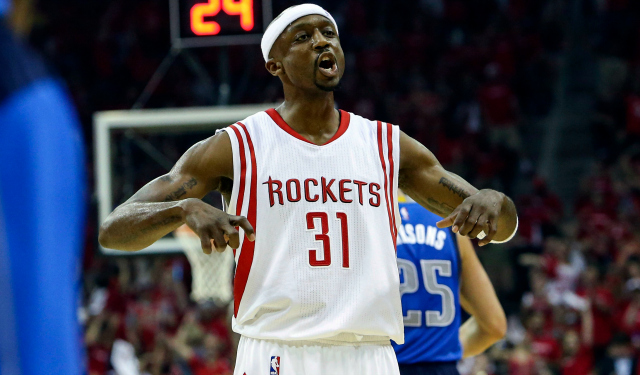 The Mavs' fourth-quarter undoing was the perimeter work of guys who in a half-court offense can only beat you one way. And Dallas somehow failed to recognize and react, Brewer and Terry combining for 11 makes -- seven of them from the arc.
Maybe
Mark Cuban's right regarding the Rockets "not being very good.''
But they're pretty decent if, like, none of Cuban's guys guard them.
DONUT 5: Go at Harden
THOUGHTS GOING IN: During the regular season, when the Rockets lost, it's was often due to teams going straight at James Harden on the defensive end. In Houston's 55 wins this season that James Harden has been involved in, the other team went at Harden for an average of 11.8 field-goal attempts a game and shot 40.6 percent from the field. In the Rockets' 25 losses their opponents have taken 13.2 field-goal attempts when Harden is defending at a 46.8-percent clip.
WHAT WENT WRONG: The backcourt people who are suited to "go at Harden'' didn't do so effectively or efficiently.
Rondo's offensive numbers are deceptive; 7-of-16 for 15 points sounds cool, but when he was on the court he was a minus-25, the worst number of any NBA starter in all of Saturday's playoff games. And Monta has a poor game, period. He didn't get calls on his forays to the hoop (this is an 83-game trend now, so maddening as it is, we might as well deal with it) and shot 5-of-16 with a 4/3 assist-to-turnover total.
That's not "taking it to Harden.'' That's barely putting up any resistance to him.
And you know who the real "go-at-him'' guy is from Game 1, and going forward? That would be defender Dirk Nowitzki, who has no advantage against any of the Rockets who find themselves purposely switched to get to be guarded by him.
DONUT 6: Slowing Harden
THOUGHTS GOING IN: Harden's season averages are 27.4 points, 7 assists, 4 turnovers, 5.7 rebounds, 1.9 steals, 44-percent shooting, 37.5 percent from 3, and his per-100 ratings were 107.7 offensively and 101.9 defensively. Just so we have a baseline. And inside of all that are all those free throws. We believed (and so do the Mavs) that Rondo and Aminu offer ways to keep Harden from making oodles of open shots.
WHAT WENT WRONG: Well, we all get to be right about the "oodles.'' Harden took just 11 and made just four. Great, right?
Oh, wait. He pinballed his way to 17 free throws and made 15. Dallas as a team took 17 and made 14. Ballgame -- especially when count Houston's total of 32-of-45 from the line.
There's no griping at the refs here. This is the Rockets' game. This is part of "slowing Harden'' and if you don't do it starting at 8:30 Tuesday in Houston in Game 2, you're going to lose again.
DONUT 7: X-Factor Crap
THOUGHTS GOING IN: I don't use the phrase "X-Factor.'' It doesn't make sense to me. Guys aren't "unknown'' or even "unpredictable'' at this point. In fact, part of the point of our studies of Mavs-Rockets (and their studies of each other) is to be able to predict, calculate and adjust.
For us, that meant Al-Farouq Aminu for extended minutes. ... and the Rockets not having a power forward on their roster to counter with. After all, Aminu is off-the-charts as a Mavs in terms of best net-rating lineups. This was going to work, and we found it so obvious that we pinpointed it down to this: On shots that he's defended when playing the Rockets, they shot 36.8 percent, which is 8.4-percent below league average.
WHAT WENT WRONG: X-Factor? Nah. Non-factor? Closer. AFA hustled for six rebounds but scored two points in 18 minutes. Meanwhile, um, Terrence Jones did for Houston what was needed for Dallas, Jones scoring 19 points with nine rebounds.
DONUT 8: Stay informed!
*Keep it here on DB.com as we will keep you posted in a variety of ways from inside your team ... Here on the HOME page,
and here on DB.com Boards
... Thanks for joining us as we launch our 15 season inside the Mavs!
*Oh, and if you want to be
a Mavs Insider with Premium coverage? Click here
to take our free 7-day trial and then for 10 cents a day, you are among the most informed Mavs followers on the planet! Go Mavs and Go Premium!
*All our stories
are archived here ... use the search tool to find everything on any Mavs topic.
*Follow our guys on Twitter:
Fish
,
Mike Marshall
,
Jeff "Skin'' Wade
,
Jonny Auping
and
Coop
.
DONUT 9: The Rule of 47
THOUGHTS GOING IN: "The Rule of 47,'' presented to us via Mike Marshall and Mark Followill: The Rockets allowed their opponents to shoot 47 percent or better from the field 24 times this season. They were 6-18 in such occasions. The Mavericks offense shot 47 percent or better in 34 games this season. They were 30-4 in these games.
The Rockets lose when they allow 47 percent from the field and the Mavericks win when they reach that number. Simple!
WHAT WENT WRONG: Dallas shot 44.4 percent. You figure it out.
DONUT 10: Turnover Machine
THOUGHTS GOING IN: Harden as a main ballhandler has turnover problems. He can be crowded and harassed into over-dribbling and eventually making high-risk passes that result in fast-break baskets for the other team. So when he enters the lane, swarm him and crowd him (while trying not to foul him).
WHAT WENT WRONG: Something unforeseen (despite Cuban's review of Houston as "predictable''): What if Harden grows so much as a player, eventually -- maybe even this month -- that he cures one of the single flaws in his offensive game?
Harden's 11 assists in Game 1 mark a career playoff-high. Dallas has reason to fear that this gameplan bullet point is wrong.
''James is a handful he's a tough guy to handle,'' Houston coach Kevin McHale said. ''He demands a lot of attention out there and when he gets off the ball and moves it, it helps our offense.''
DONUT 11: Dwightmare
WHAT WENT WRONG: We thought it would be hard to predict Dwight Howard's impact because he has only played 18 minutes against the Mavericks this season ... and because he played one game of 28 minutes or more since he's gotten back into the Rockets rotation.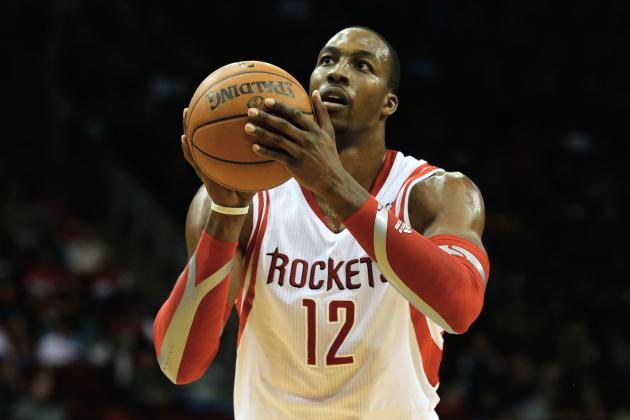 WHAT WENT WRONG: Minutes didn't matter. Howard played only 17 here, because of foul trouble (one of the few strategic nuggets Dallas actually got to work in its favor) but used shot-blocking to help the Rockets forge that big lead.
And here's a scary thought: If the Rockets are 10 points better than Dallas with Dwight playing a limited number of minutes ... and scored at a horrible rate with him on the floor ... what happens when he inches up from 17 to McHale's planned 30-plus?
DONUT 12: The Final Word
"Now we know what we're trying to accomplish. It's not a panic situation. We did a lot of things wrong and lost the game by 10. It's a matter of making adjustments." - Tyson Chandler, who had 18 rebounds to go with 11 points.