We feel obliged, as we do every time we enter a
Dallas Mavericks
offseason, to cough up the usual disclaimer ... so here goes:
The Mavs covet
Lamarcus Aldridge
, the DFW native who might just be disgruntled enough in Portland or might just want to come home and hang around the swimming pool he just build for his mom here to "come home.'' But Dallas' desire here, as legit as it is, guarantees nothing at all. This may be less of a pipedream than the LeBron pursuit (and at the same level as other Summer Shopping goals, from Deron to Paul to Howard) but this sort of thing is always a pipedream because you are, in the simplest form, trying to offer a four-year deal to somebody else's employee who can get a five-year deal with that present employer.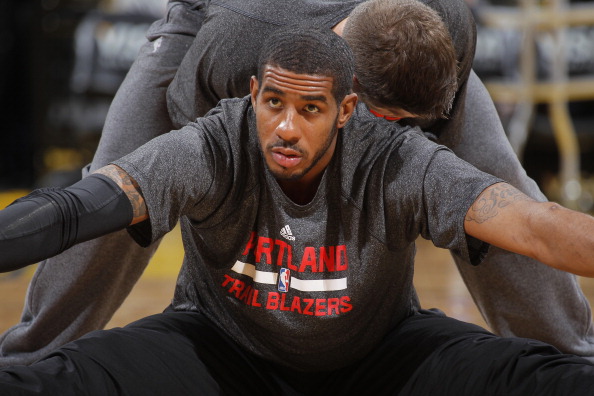 But there is another disclaimer that comes with this latest attempt to bring to Dallas some help for
Dirk Nowitzki
: This time, in this case, Aldridge wouldn't be Dirk's "help''; he would be Dirk's replacement, and the roster would be at least temporarily flawed while the two team up together.
Make no mistake, we would love to have LA here, but we struggle to call him a "perfect fit'' outside of the obvious desire to add a generally excellent player to try to build around in the future. DeAndre Jordan and Marc Gasol play center and are similarly gifted building blocks, and they need to be in this conversation (and Kevin Love?) and covered by us and will be, and soon. But our sense is that Dallas thinks LA is the "best pure player'' of the three, and that as with the case with Jordan, our sense is that they have some intel regarding the players' desire to be in Texas.
(A different angle: If you really want Dirk to pass the baton, LA is a "perfect fit'' for that ... thinking long-term. But again, Mark Cuban's franchise has always been so "win-now"-minded ... )
But
let's stick with the LA-to-Dallas idea for now.
Our belief, in looking at how the rest of the roster would be constructed, is that it would a) require a "step back'' for a year or two as Dallas would need time to find a contention-level surrounding cast, and b) might essentially pull the plug on the Dirk Era in Dallas.
Now, there's no guarantee that the 2015-16 Mavs can't be good with Aldridge and Dirk together (certainly to close games, but almost certainly not to start them) ... but we'd be preparing for this to take time ... and time is something Nowitzki is running short of.
We've always said that the Mavs need to do what's best for the Mavs, not just what's best for their iconic star. And now ... if you're ready for that, OK ... but just be aware of what you're bargaining for here.
As we explore the most logical paths to roster-building here, Aldridge-to-Dallas would limit the ability to have most of the talent return. After signing him, there would only be $13M-ish left, plus a room MLE, to split between TY, Ellis, Amare, Aminu, Jefferson, Barea, and any new adds from other teams. (Amare and Barea in Wednesday's Exit Interviews specifically noted they aren't chasing money and wish to return with the Mavs. Tyson wants to return but made no such money-related promises. And Aminu said he will be opting out in search of a payday.)
Your 2015-16 Mavs roster would start out looking like this (chart and cap numbers are at the bottom of this post.)
C - _____
PF - Aldridge, Dirk, Powell
SF - Parsons
SG - _____
PG - Harris
You do have the 21st pick in the draft, and it is with only a bit of sarcasm that we say that allows you to be able to add the next Ager, DoJo, Cunningham, Roddy B, or a similarly unplayable scrub. (Obviously, you could finally hit on the next Josh Howard here, too, but ... this isn't the NFL. The 21st pick is a longshot of contributing immediately to a contender, no matter who drafts him.)
If you forgo Powell and are able to trade Felton for cap space, it bumps the spending room to about 14.5M. Still not very much at all. Most of your current collection of talent would be gone. (Sidenote: In our cap and roster-planning thoughts, we haven't factored in Finland's Peteri Koponen, a 6-4 combo guard, whose rights will eat up about $500,000 in additional cap space until he's signed, but has an apparent interest in joining the Mavs this summer and might fill a need. So file that away.)
Here's how an LA max deal impacts the Dallas cap this summer.
Be aware that
the Mavs were only going get to spend the $42M or so that we've talked about by re-upping TY/Monta/Rondo with them splitting that pie.
Now Rondo's not involved that way, being tossed out of Dallas without even the playoff share his teammates have decided he doesn't deserve. Now you wonder what it'll take to keep a center in his 30's with an injury history (as much as Tyson is a heart-and-soul Mav) and you wonder what it'll take to keep a smallish 2-guard also in his 30s (and
with those infamous Monta Moods
, which reared their ugly head again Wednesday as he declined the urging of his bosses to participate in the media portion of the Exit Interviws). ... and you wonder whether you should bother.
But if you don't retain whatever Bird Rights guys, the cap latitude is significantly lessened when spending on outsiders. (Cap and max numbers are per NBA's very recent projection):
Dirk Nowitzki $8,334,334
C Parsons $15,361,500
Devin Harris $4,053,446
Dwight Powell $845,059
ALDRIDGE $18,827,367
(empty) $525,093
(empty) $525,093
(empty) $525,093
(empty) $525,093
(empty) $525,093
(empty) $525,093
1st rounder(21) $1,207,500
room MLE $0
(empty) $0
(empty) $0
Felton (waived) $1,316,771
Mekel (waived) $947,276
TOTAL $54,043,811
CAP $67,100,000
cap room $13,056,189
You have a very thin roster starring LA and Dirk and little else. ... and that aforementioned $13M to spend.
Want a sliver more of room? If you waive Powell and trade Felton for cap space, then it looks like this:
Dirk Nowitzki $8,334,334
C Parsons $15,361,500
Devin Harris $4,053,446
(empty) $525,093
ALDRIDGE $18,827,367
(empty) $525,093
(empty) $525,093
(empty) $525,093
(empty) $525,093
(empty) $525,093
(empty) $525,093
1st round (21) $1,207,500
room MLE $0
(empty) $0
(empty) $0
Felton (traded) $0
Mekel (waived) $947,276
TOTAL $52,407,074
CAP $67,100,000
cap room $14,692,926
Now, if you really do persuade the Seagoville product Aldridge to leave Portland (he's in the final season of a five-year contract worth $65 million and last summer turned down the Blazers' offer of a three-year, $55 million extension) ... you can get creative and lucky. Just spitballing here, but ...
*Maybe Aminu comes back at an affordable price. (Though that is clearly not his plan.)
*Maybe Rondo is sign-and-traded to the Lakers and you can get back a kid like point guard Jordan Clarkson back.
*Maybe Rondo is sign-and-traded in a three-way that nets you Aldridge and gives you more room to do other things.
*Maybe Monta comes back cheaper than he presently wishes. (Though then he might be
really
moody.) Don't count on this.
*Maybe Monta opts out and is sign-and-traded, reaping Dallas a reward of some sort.
*Maybe Dallas hits on a real player in the draft.
*Maybe Ty Lawson's apparent wish to be a Mav is the real deal (though we don't quite know how to pull that off yet).
*Maybe Aldridge is part of a DFW movement as Jermaine O'Neal is ready to get off the couch and maybe Rashard Lewis is still connected with the club and maybe Mo Williams is ready to be a Merry Minimum.
But those are a lot of clever-and-lucky dominoes ... and consider this as you clear out the room for the "beast'' that Dirk believes LaMarcus Aldridge to be:
If you strip your roster to the point where it's roomy but unattractive ... will the guy for whom you made the room notice how lonely it is in there?
See what Mavs fans are saying here!
Related Story: Source: Waiting On Parsons Decision

Related Story: How Can Mavs Keep Aminu?

Related Story: Frank Carlisle on No Future For Rondo