The Buzz Is Real
There's been plenty of talk about the possibility of Clippers center DeAndre Jordan signing with the
Dallas Mavericks
this summer. We continue to hear about the fire beneath the smoke, enough so that it's time to examine the essential questions surrounding the potential acquisition of the Texas native.
We proceed with our customary disclaimers: As we approach July 1 Mavs Summer Shopping, we will attempt to make it very clear when we are expressing our views vs. when we are expressing views that represent the thinking of the Mavs braintrust. We will also forge ahead with the belief that the reader understands our "One-Percent Chance Rule'' -- that NBA bylaws purposely make it attractive for free agents to remain with their present employers ... and therefore, generally speaking, teams attempting to pry loose other clubs' stars have a "One-Percent Chance'' of doing so.
In that regard, Dallas' pursuit of DeAndre Jordan is "pipedreamy.'' But that doesn't mean it should be dismissed. It still means it should be studied and reported on. To wit:
1) Will Jordan get a max deal?
Simply put, yes.
To define a max deal, in round numbers (with the 2015-16 cap yet to be set, there are no exact numbers to work with), it would start at $19 mil, and with max allowable raises, and max number of years from the Mavs (or any team except the Clippers) it would total $81.13M mil over four years. The Clippers could offer slightly higher annual raises and as many as five years.
And we feel certain this is a max-salary quest, if the Mavs want him. We see three factors that should drive the bidding to that max level:
a) Foremost, the Clippers have already started courting him by showering him with public praise and promises of a max deal, so any team trying to woo him away is almost certainly going to have to do match their efforts.
b) He's one of the better centers in the league (the Mavs will privately acknowledge this), and those guys tend to land at or near the top of the salary scale, and
c) The player payrolls will be going through the roof in future years, which means locking Jordan into a deal using today's numbers is likely to make him a huge bargain at the end of that deal.
We can't emphasize that last point enough. The new TV money that will begin to impact revenues next summer will bring a massive leap in salaries. Multi-year deals signed now at current values are likely to end up as huge bargains. Using the NBA's recently announced projections and working further from there, here's a look at what each year's salary for Jordan, starting at the max, would look like compared to the projected max in each future year.

We have noted where the new CBA hits, all but certain beginning in 2017, which means changes to the salary rules are certainly possible at that point. However, the bulk of the projected salary growth is from the explosion in TV revenue, those revenues flow through to players (who get some designated split of the revenues), and there will be no way for a new CBA to prevent a massive leap in salaries. And with a huge jump ahead, even if we can't pinpoint the exact amount, a $20.7-mil or $21.6-mil salary for one of the top centers in the league is almost certain to be a huge bargain by the time we get there.
As for whether or not Jordan is presently worth that much money based on his play, we'll save that analysis for a different time. (One school-of-thought hint: "Worth it'' may be no longer the point; if a team builds a winner, it's "worth it.'' If it doesn't, it's not.) The only issue here is the contract he will get this summer, and we feel certain he's getting a max deal from someone. Maybe ("One-Percent Chance Rule'' Alert!) it will be the Mavs.
Free-throwing aside, this is a difference-making force. The Clippers center was good for 11.5 points per game while grabbing 15.7 rebounds, blocking 2.3 shots, and shooting 71 percent from the field. LA coach Doc Rivers talked of him as a Defensive Player of the Year finalist. He's an elite rim protector, he's only 26, and he's an 82-game ironman who is presently the holder of the longest streak in the NBA.
Worth it.
2) A Money Advantage in LA?
Will there be a huge financial advantage for Jordan to stay with the Clippers?
The Mavs are prepared to argue, "No.''
Of course, between now and July 1, when teams can begin to negotiate, we are likely to hear that the Clippers can offer "way more money" to Jordan. However, those comparisons will be based to some degree on apples-to-oranges, comparing both the contractual figures, rather than the amount Jordan would get to keep after federal and state income taxes, and a five-year deal from LA, versus four from Dallas.
Let's take a closer look at that tax issue.
Income tax savings, by playing for a team in a state like Texas with no state income tax, is something that has long been media-discussed regarding free agency and player choices, but then seemingly ignored at decision-making time. But, ignored or not, taxes are part of the financial equation. Businesses have historically moved to places with tax advantages, athletes are getting smarter about these things (and many of these guys are savvy businessmen), and we have been getting hints that some recent deals have been impacted by the tax issue, perhaps. (Dwight Howard and Josh Hamilton come to mind.)
So how this might come into play remains to be seen.
In any event, there is unquestionably a significant difference in income tax in California versus that in Texas. Putting an exact pencil to it is a task better suited for a CPA who is actually calculating the bottom line on a player's tax return, of course, but we know the general rules, and we have a great guideline for this specific comparison. (And we can rest assured that an agent, or an NBA team, will know the comparative numbers to the penny as well.)
There are multiple issues at play. A pro player is not only subject to the taxes in his home team state, but he also has to pay taxes to cities and states where he plays an away game. Those out-of-state games are not "tax-free" in relation to California tax, but the athlete simply gets a credit against what he would otherwise have to pay California for those earnings, which means he still ends up paying the California tax rate even if he's playing a game in Texas, for example. Further muddying the calculations are deductions on federal taxes for paying more in state tax, issues of personal deductions and lower brackets on some of the income, and on and on we go.
But in general, the star California athlete will generally end up paying that state millionaire tax rate of 13.3 percent on the bulk of his entire NBA paycheck, with some of that amount paid to other places and the rest to California. By contrast, the Texas athlete (with no state income tax) will pay tax on out-of-state games only, and only at that state's rate.
So is there a way to cut to the bottom line on the difference for an athlete on taxes between California and Texas? Fortunately, yes.
We were given a perfect guide from the recent trade of Josh Hamilton to the Rangers from the Angels. In that deal, he was still owed about $80 million by the Angels, and agreed to a $7M cut in pay to facilitate the trade. http://www.dallasnews.com/sports/texas-rangers/headlines/20150427-grant-make-no-mistake-josh-hamilton-made-trade-to-rangers-happen-more-than-anybody-else.ece The formidable baseball players union didn't want the precedent set of players taking pay cuts, but agreed to that number because it was more than offset by the difference in taxes to be paid. We can rest assured they had the best accountants and all the data that backed the $7 mil savings. That reduction comes to 8.75 percent, so we're using it as the tax difference between playing for a team in Texas and one in California (that may actually be a bit understated, because Hamilton's tax savings was calculated to be "more than" the 8.75 percent reduction, but we don't know how much more).
If we plug that into the comparison between the Clippers and Mavericks, and then look at a max deal of from one to four years with max raises, here's what we get:

Again, teams don't seem to win this tax-advantage arguments very often but the Mavs, in talking to Jordan (and the rest of this free-agency class) need to make him understand that the result of the math is easy to see. While on paper Jordan would have a bigger contract playing for the Clippers, his after-income-tax paycheck would end up bigger if he was with Dallas. Period.
3) Is DJ Serious About Dallas?
Is it true that Jordan is serious about the Mavs? And what should we make of the reports of him being bothered by being upstaged by Blake Griffin and Chris Paul, or the reports that he'd rather not pay with CP3 in the coming years?
This can be slip-on-a-banana-peel territory because even the legit rumors sound embarrassingly gossipy ... and silly and cheap. We stand again at the precipice of reporting that George Seifert, Jon Gruden and Adrian Peterson are all buying mansions in Frisco and that LeBron James might sign with Dallas as a two-sport star ... But ...
LaMarcus Aldridge really does have property in DFW and really did just finish building a sweet backyard swimming pool here for his mom.
And
Southlake resident Jermaine O'Neal really is maintaining a contact with the Mavs
and
there is a reason to hope that restricted free agent Jimmy Butler
dislikes Chicago teammate Derrick Rose ...
The rumors and the "back-channels'' and the relationships are all part of this.
"I'm very close with DeAndre,'' Mavs "chief recruiter'' Chandler Parsons recently told 103.3 ESPN Radio. "Obviously he's a free agent and we share the same agent. ...''
Put too much stock into these things at your own risk. But completely ignore them and you (and the Mavs) will have gathered less information than you should. So, it's worth tossing into the gumbo ...
*The sister/girlfriend/Lone Star State stuff as it relates to Jordan, a Texas native (who, like LaMarcus Aldridge and unlike Chris Bosh, has never made noise about being unwilling to entertain a homecoming) ...
@JordanMFFL @fishsports not sure. All I actually know is her sister told me DJ said he always wanted to play for the mavs. And still does.

— MFFLZach (@ZMONEYMFFL) May 17, 2015
*The Cowboys fandom. It never quite put LeBron-to-Dallas over the top. But Jordan loves Dez Bryant and Michael Irvin; Irvin's already on record as working to recruit DeAndre.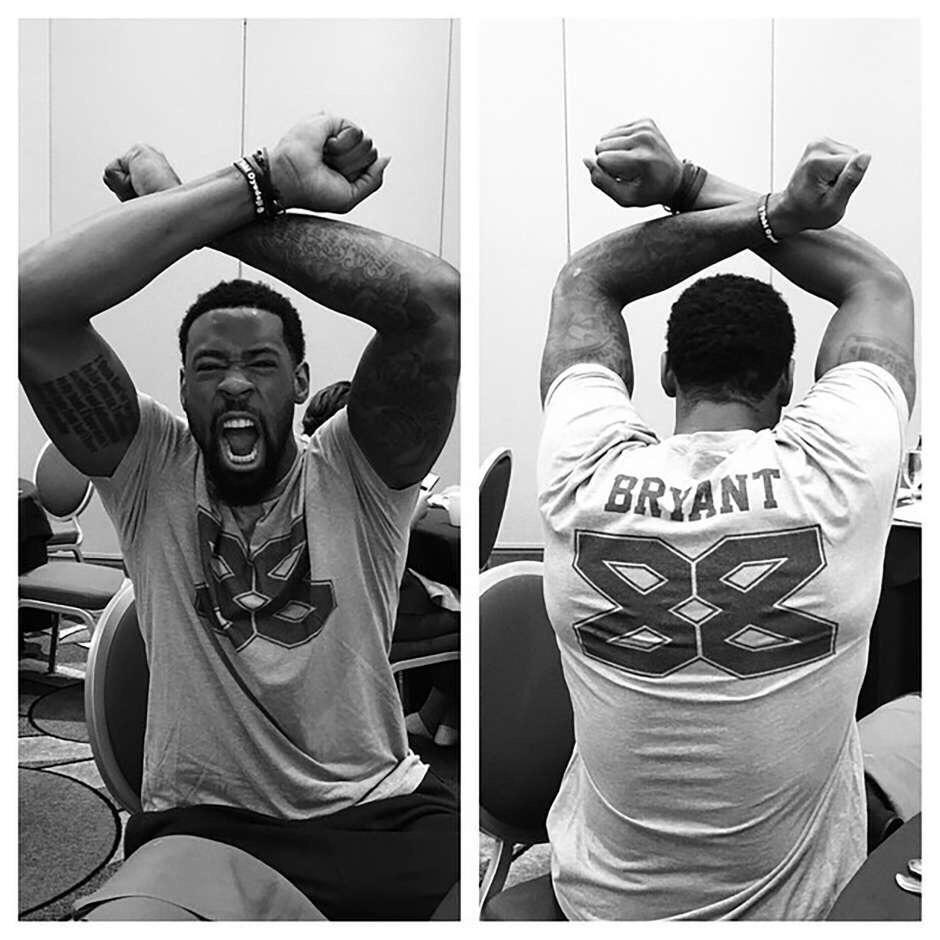 Yes, Mark Cuban, it would be wise to add the insanely passionate duo of Irvin and Bryant to your DeAndre Recruitment Team.
*The
concern being expressed by Doc Rivers (with whom DeAndre is apparently very close) regarding retaining him.
*The word from the reliable Bill Reiter and elsewhere that Paul's style of leadership grates on Jordan.
*An argument that he'd like to be a "featured'' player somewhere rather than a third wheel behind his buddy Blake Griffin and Chris Paul.
*In the game of Musical Chairs, how many max guys are there and how many suitors match up? Can Kevin Love come free along with Jimmy Butler? If San Antonio nabs one of the available guys, will that leave another for Dallas? Oh, and while we're on the subject: if a star player who loves Texas wants to "come home,'' can he find (basketball) reasons to prefer San Antonio over Dallas?
*And as long as
we properly frame this as potential banana-peel stuff, we feel comfortable adding some LaMarcus Aldridge barber-shop stuff to the gumbo.
4) What About A Shorter Deal?
What if Jordan simply wants a five-year (fully-guaranteed) deal, period? Or what if he only wanted a one-year deal, in order to become a free agent again next summer when the cap will be much higher? Or a two- or three-year deal for the same reason? Can the Mavs compete if those are the terms? How would all that fit into the negotiations?
Premium Mavs fans can
begin your exploration of these topics first by using our exclusive story on Dallas' "developing proposals'' for Marc Gasol as a template.
The aforementioned concepts all fall under the heading of "developing proposals'' ... But Dallas isn't there yet -- with Gasol, Aldridge or Jordan -- because sources tell DB.com that the Mavs haven't yet assembled their wish-list pecking order.
Once that's done? The Mavs can begin in earnest "developing proposals.'' Coming soon, for Premium Mavs Fans
who can kick around these issues and everything about Mavs Summer Shopping here on DB.com Premium Boards:
"What About A Shorter Deal?''
Here is the short-hand look at one possibility:
Starting with a split-the-cap concept, the route to the biggest contract possible would be a one-year deal this summer (with a player option for a second year), followed by the same contract structure in the summer of 2016, and then a deal in the summer of 2017 using Early Bird rights. It would look something like this:

On one level, this would be a huge win-win for both the Mavs and the player(s). It would solve the shortage in cap room for the Mavs in being able to get both Jordan and Aldridge, as both players would fit in the $30M-ish of available cap room. And it also rewards the player with a huge upside, exceeding the $80 mil offer needed by 20-25 percent!
So yes. We've used LaMarcus here and we've used DeAndre here, demonstrating just one way to get them around $100 mil over four years ... but NOT by signing a four-year deal. Lots of negatives to this idea. But it does constitute a "yes'' answer when you ask your "can they?'' question.
5) Does LAC Have A Plan B?
Also part of our continued exploration here: Do the Clippers have an obvious Plan B if they lose Jordan? And if so, how can that impact the Mavs and Jordan?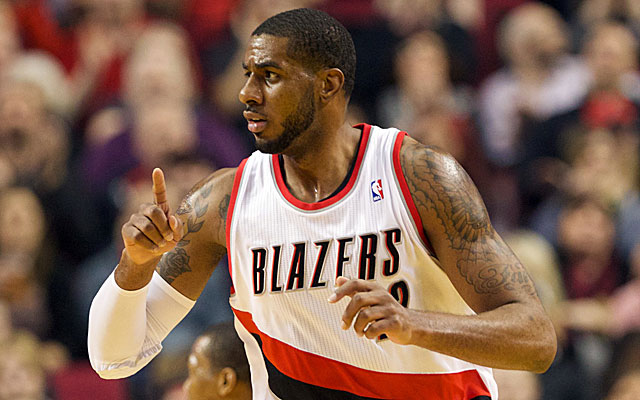 What pops into your head immediately, of course: If Dallas gets Jordan, Dallas has no use for the valued Tyson Chandler.
How would a sign-and-trade work? Would the Clippers want TY? Would Chandler wish to reunite with Chris Paul? Again, there are two levels of exploration to be done here: One is exploring the "how-to,'' the other exploring the "want-to.'' We're on it here in Premium.
For now, consider this: If the Clips lose Jordan straight-up, their available cap room to replace him amounts to about $5.6 million. Therefore, if you are going to lose him, you are motivated to cooperate with a sign-and-trade. Does this sound familiar to you as a Mavs fan? It should. Because it's essentially the same formula that
Dallas must deal with in scrapping its original plan to use the Bird Rights of Rondo, Monta and Tyson to bring them all back while splitting up $42 million.
To find a straight-up replacement for Rondo? Dallas will be left, like LA with Jordan, with chump change.
So sign-and-trades are in play. ... and so is Dallas continuing to "play nice'' with Rondo
despite the soap-operatic villain's odd exit from the Mavs.
6) OK, Super-PipeDream: Jordan AND Aldridge?
We are working on the "wish-list pecking order.'' Do the Mavs have a preference of one over the other (and if so, who and why)?
Is there any financially-feasible, CBA-legal way the Dallas Mavericks could lure both LaMarcus Aldridge AND DeAndre Jordan? The answer, pipedreamy as it is, is "yes.''
Or, as we write it very specifically: The answer is "Absolutely yes!" But at the same time, it's also "Maybe so," "Probably not," and "No way whatsoever."
Wait, what?
Yes it's confusing. The question is one that's difficult to offer a singular answer to, because "What can the Mavs do?" can mean different things to different people.
Yes, there are NBA-legal ways to add both players to the Mavs' roster, if the Mavs want it badly enough, and the players agree to do whatever it takes. And if they obtain the willing cooperation of Portland and the Clippers, it gets even easier.
But even with max willingness of all, the answer is a bit hazy. That's because, in a real way, the do-ability depends on what the goal is, and how far the Mavs are willing to go during Summer Shopping to get there.
Want a closer look and a full explanation?
Stick with DallasBasketball.com as in the coming days we walk you through that (admittedly) "One-Percent Chance'' and the rest of
Mavs Summer Shopping. It's all here in Mavs Premium, for 16 years the best way -- for a dime a day -- to get inside your Mavs!