DONUT 1: Why So Serious?
Dallas Mavericks Schedule Highlights
The schedule is out, and in a sense, there can be no surprises; the
Dallas Mavericks
are going to play every team at home and on the road, but now we know when. There's more to the schedule than circling the dates DeAndre Jordan is coming to Dallas, though, that's important too. Here's a look at some of the key dates, tough stretches and must-see games on the Mavericks' schedule. ... with a flair for the positive,
unlike Fish's dark-and-brooding Top 10 Analysis of the Mavs season to come:
DONUT 2: Starting - What they gave up on and what they lost
Wed. October 28th @ Phoenix Suns
Thurs. October 29th @ LA Clippers TNT
The Dallas Mavericks allowed the most beloved center in their franchise history to walk away … again. They were tempted by a younger, bigger, more athletic replacement in DeAndre Jordan, who turned out to lack perhaps the biggest quality that made Tyson Chandler so valuable: professionalism.
Call it bad fortune or call it taking for granted what was right in front of them, either way Dallas will kick off the season with back-to-back road games against Chandler and Jordan, knowing that having one of them on their current roster would put them in the title conversation.
Dallas will come equipped with a trio of average centers, each with a slight bit of room in their ceiling to improve their value in the lineup. JaVale McGee, Zaza Puchilia and Samuel Dalembert will each have opportunities to show which one has the best chance of mitigating the potential rebounding disaster Dallas could be facing. Hopefully one of them steps up to the challenge or Chandler and Jordan could absolutely crush the Mavericks on the boards to an almost insurmountable degree.
DONUT 3: The Game
Wed. November 11th LA Clippers ESPN
DeAndre Jordan will step onto the court where he originally committed to play 41 games a year on. The story will be rehashed. The boos will be as loud as they've ever been. The camera shots of Mark Cuban will be continuous. Hack-A-DeAndre could be in play and the tension will be comically awkward.
It's also worth noting that a scheduling quirk results in three of the four Mavericks/Clippers games coming at the second night of a back-to-back for Dallas. While Mavs fans surely would like to see redemption against the Clippers, they are playing a younger, more athletic team with the inconvenience of a small scheduling disadvantage
DONUT 4: Will Wes Be Ready?
Tuesday December 1st @Portland
The timetable is vague for Wes Matthews' return from a torn Achilles, but December has been a general goal. Matthews has good incentive to be ready for the start of the month as the team will travel to Portland on the first to play his former team. Dallas provided Matthews with a max-level contract coming off a serious injury and the Blazers, whose season began to crumble when Matthews suffered that injury, never seemed to consider offering him a comparable deal. All signs point towards Matthews being the type of player that the Mavericks are thrilled to have, but he will have to quickly prove that he can be a difference maker on the court.
The game will also see Al-Farouq Aminu facing Dallas in what is likely to be a larger role after agreeing to a four-year deal with the Blazers only minutes into free agency.
DONUT 5: Deron's Trip Back
Wed. December 23rd @Brooklyn
Deron Williams didn't quite live up to the $80 million dollar deal that he signed with the Nets. In fact, their desire to get his contract off of their books is what led to Dallas being able to sign him for much cheaper. That said, he was still pretty easily the best Nets player for the past four seasons. His expectations were high, but he was typically very productive there.
The new team, and the potential pick-and-pop plays with Dirk Nowitzki, may revive his career a bit. It will be interesting to see how the tough Brooklyn crowd will react to Williams' return. The city's relationship with him was rarely contentious, but his tenure there certainly wasn't deemed a success by most Nets fans.
DONUT 6: Hell Month
December 30th (Warriors)-February 6th (Grizzlies)
On Wednesday, December 30th, Dallas will welcome the defending champion Golden State Warriors. It will kick off one of the toughest stretches imaginable for the Mavericks.
23 games in 39 days. Six back-to-backs during that stretch. There is a three-game road trip against the Pelicans, Bucks and Timber Wolves, three of the youngest teams in the NBA. It's followed up by a four-game stretch against Cleveland, Oklahoma City, Chicago, and San Antonio.
In those 39 days they play the Spurs twice, the Heat twice, the Warriors twice, and the Pelicans twice to go along with one game apiece against the Hawks, Thunder, Grizzlies, Rockets, Bulls, Cavs, and Suns.
DONUT 7: Rondo's Return
Tuesday, January 5th Sacramento
During that stretch of Hell Month, Rondo will come back to Dallas after essentially walking out on the team during last year's playoffs. DeAndre Jordan somehow managed to knock Rondo down to public enemy number two, but his return to Dallas is sure to bring back some unpleasant memories.
The two sides of Rondo's career have been polar opposites. There is the Hall of Fame-worthy time he spent in Boston and the short sample size that he spent in Dallas, taking the Mavericks' feel-good season and essentially lighting it on fire. He enters a new stage with the fittingly unpredictable Kings. Whatever Rondo and the Kings become, we'll have a good idea by the time they show up in Dallas.
DONUT 8: Join us!
Where does the gang hang out? At
The Maverick Bar at 1616 Hebron
, watching sports on the 200-inch screen, eating a Texas-flavored and sampling one (or two) of our 80 available beers. ... and on Friday and Saturday night, listening to DFW's best live music. Join us!
DONUT 9: Kobe vs Dirk: The Final Chapter
Tuesday, January 26th @LA Lakers
Assuming that both are healthy, this game will almost certainly be the last time that Kobe Bryant and Dirk Nowitzki square off against each other. They have played every game in the same jersey. They are first-ballot Hall-of-Famers. Along with Tim Duncan, they carry the torch for a generation of players. They have ultimate respect for each other, and even past their prime, they still have abilities that no one else on the floor shares with them.
DONUT 10: Monta's Revenge
Saturday. March 12th, Indiana
The last year of Monta Ellis' tenure with Dallas was shakier than the first, but there's no doubting that Ellis fought as hard as any player in a Mavericks' uniform. He is a gunner and he sees every criticism or slight as motivation to take another shot. The Mavericks' decision to move on from Ellis will certainly be added to that list of incentives to put on a show.
Ellis is now surrounded by players like George Hill and Paul George who perfectly compensate for his defensive limitations. The Pacers are a dark horse to be an exciting and potentially dangerous team in the Eastern Conference this year. For much of two years, the Mavs were beneficiaries of the constant chip on Ellis' shoulder. Now, they may be victims of it.
DONUT 11: Stay in Touch!
DONUT 12: And Finally, The Spurs
Ending the Season with The Spurs Wed. April 13th, San Antonio There are a lot of factors that will determine whether the Mavericks will be in the playoff picture at the end of the season: Will Dirk be able to maintain a high level of play? Will Parsons be able to take another leap into All-Star status? Will Mathews be healthy? Will Deron Williams rejuvenate his game and once again become an elite point guard? Will JaVale McGee be able to provide what DeAndre was supposed to?
The answers to these questions will determine where Dallas stands on April 13th. If the playoff seeding is still important then it's only fitting that the Mavericks will finish the season against their oldest rival. Before the Clippers. Before the Rockets. There has always been the Spurs. And this year they will be as formidable as ever after signing LaMarcus Aldridge.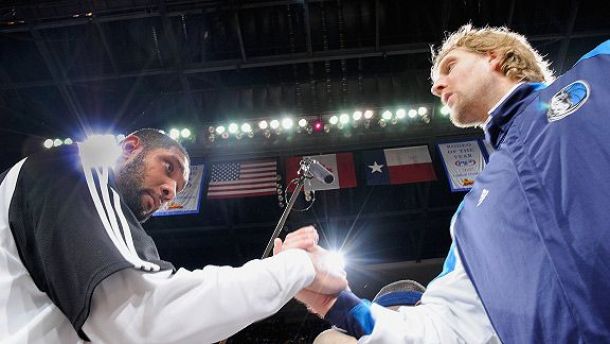 Dirk and Duncan are still there. As usual, there are some new faces, but they always seem to adjust to the intensity of the rivalry. And I'm just optimistic to hope Dallas' guys adjust "up,''and not down.