Al-Farouq Aminu registers as a "find'' by the
Dallas Mavericks
, and there are ways he could've decided to reward them (and maybe himself) by pushing his big free-agent summer to 2016. He could've allowed his Bird clock to accumulate to Early Bird level by a) exercising his option for another year ($1.1 mil) or b) declining the option while signing a one-year deal (with a player's option for another) at the max raise that the Mavs can give without using an exception (which would get him to about $1.2 mil).
That sounds good to us ... but not to him, of course.
"I think it makes the most sense to me," he said of flexing his free-agent muscle this summer. "You just look for a great fit. This year, I think I found one. Hopefully, I can do the same."
AFA was asked if he thinks he earned a big payday with this season's work.
"I would hope to think so,'' he grinned.
He will certainly find more money than the $1-mil level. Aminu averaged 5.6 points and 4.6 rebounds per game, and shot 41.2 percent from the field this season, but those numbers don't even begin to tell the story that the Mavs, inside the building, are quite aware of. On defense, he guarded everyone from 6-11 power forward LaMarcus Aldridge to MVP candidate guard James Harden. Offensively, he has followed the simple formula of turning effort into points. Aminu grabbed offensive rebounds, ran the floor in transition and usually moved without the ball instead of planting his feet and waiting behind the three-point line. And no matter what -- on either and and on the practice floor, too -- he was never out-hustled.
"He did a great job,'' said coach Rick Carlisle of Aminu's first season in Dallas. "He was one of our best workers from Day 1. He came from some systems where there were limits put on what he was expected to do.''
The Mavs are telling Aminu that they believe they expanded those "limits'' from his time in New Orleans -- the same exact pitch that lured him as a free agent last summer when in their view, the Pelicans "miscast'' him as "only'' a small forward who could rebound well from that position.
"Coming into this, I made a promise to him that we would work to develop his game to places it had not been,'' Carlisle said.
Added GM Donnie Nelson: "We were lucky Al chose us. With an eye on the history that we've had here with Rick and our development program ... we hope to be in a position to reacquire his services."
You hear the "pitch'' in Nelson and Carlisle's words yet again -- the belief that Aminu is more likely to thrive in this system than elsewhere and that he should take that into consideration ... along, of course, with the money.
We believe there was a time, not long ago, when Dallas hoped to be able to jump Aminu from his present mininum-wage deal to a BAE-sized four-year contract starting at $2,139,000 annually. Then the playoffs happened ... and Aminu's profile was raised even further.
Does Dallas need to go MLE-sized ($5,464,000) to retain him? Would the Mavs do that?
The trick here is in gauging his upside. Some talk about Aminu like he's a budding Scottie Pippen. That seems too strong. We've called the 6-9, 215-pounder a "Shawn Marion Starter Kit.'' Is that too strong? How much closer is he to actually being more like Bruce Bowen, or more like Corey Brewer? You wouldn't give $5 mil to Brewer ... but the Mavs did give $5 mil to B-Wright and they felt pretty good about it.
We think there are three issues that will help Dallas determine its decision here:
1) Obviously, what will other teams bid. In listening to Aminu during his Exit Interview, he is clearly looking for a payday. Carlisle said he "fits into our culture, he fits into our fabric, fits into the character of this organization.'' But if you are 24 and you maybe get one shot at cashing in ... well, the temptation is obvious.
"I'm young and I want somewhere where I can grow and be a part of something great," he said, words that hardly sound like a promise to stay, though he did add, "I love this team. I love this city. Great guys. And the city, it's a beautiful city. I hope I can be right here."
2) He needs to truly add another dimension to his game -- the 3-pointer.
"He needed to develop as a 3-point shooter,'' Carlisle said of his view of AFA coming into last season. "He needed to learn to play inside and outside. He did not shoot the 3 particularly great during the year, but there was never one time when I did not encourage him to continue shooting them and continue working on them. As the playoffs unfolded, he shot over 60 percent from 3 and did a lot of great things.''
Said AFA: "Every summer, I approach it the same way. I want to get better in all facets of the game. Of course, defense always comes first for me. So I'm going to watch a lot of film on defense and watch other defenders, probably even throughout the playoffs, how to defend some of the top guys in the league and keep getting better and see some goals for myself.
"I think I was able to show a wide range, even to myself, with my versatility. I even played the 5 a little this year. That was kind of fun. And I steadily worked on my shot and different things like that, where I can always use improvement. And my handles as well. Just a lot of places. I never want to get complacent."
If Carlisle views Aminu as someone who can improve in a handful of areas but mostly become a true stretch-4, the coach can make that pitch to Mark Cuban as a big part of the reason to provide AFA a bigger piece of the financial pie.
3) Can he start?
In his four seasons before coming to Dallas, Aminu played 303 games (out of a possible 312), averaged over 23 minutes per in his career and in 2013-14 logged 2,045 minutes last season. As a comparison, only four Mavs played more minutes in 2013-14: Dirk, Marion, Ellis and Calderon. So he's been a rotation player (and an ironman) for a while. DB.com started writing about
the idea that "The Chief'' might be worthy of a starting role year at midseason this year
... and maybe that needs to be part of Dallas' pitch to him ... and Aminu's counter-pitch back to them.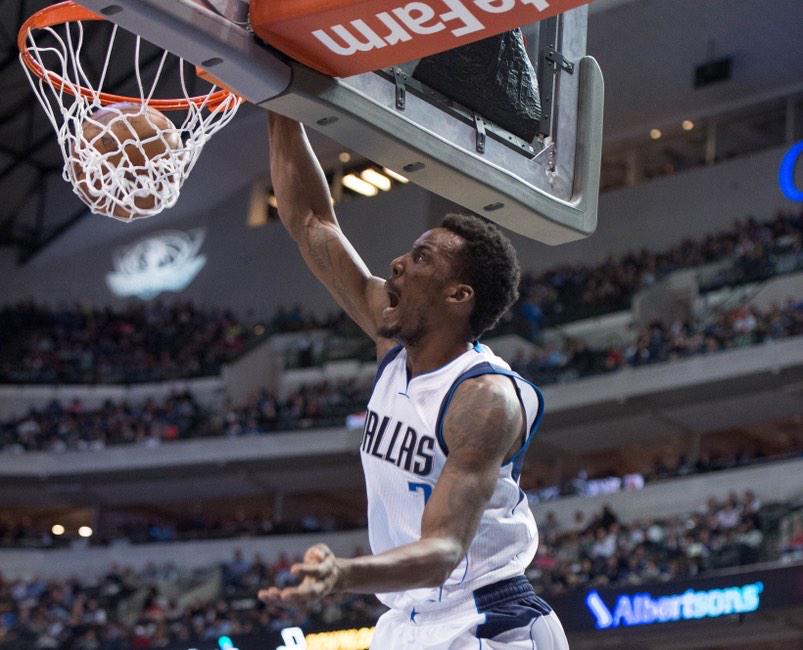 "He's an exciting young player,'' Rick said. "We certainly hope that we can get him back here, because he So we'll see. ... He's young still. He's 24 years old. Guys with his ability level and work ethic have a higher ceiling than most. He just has such great heart and such great work ethic that I wouldn't bet against him. I wouldn't bet against him."
Nor would we. But the issue isn't betting
against him.
The issue is whether Dallas will have to bet $5,464,000
on him.
Join in what Mavs fans are saying here!
Related Story: Mavs Will Enter LaMarcus Sweepstakes

Related Story: Rick Carlisle's Top-10 Talking Points

Related Story: Mavs "Whale Chase'': Should They Change Their Draft Approach?