Devin Harris In Review
The the
Dallas Mavericks
' 2014-2015 season began with a veritable revolving door at the point guard position. Devin Harris, who now heads into his third season in his second stint with the Mavs, finished the season at the head of that pack – proving to be a stabilizing force in the backcourt, once Rajon Rondo made his highly scrutinized exit in the playoffs. Simply put, if it were not for Devin Harris, The Mavs more than likely go winless against the Rockets.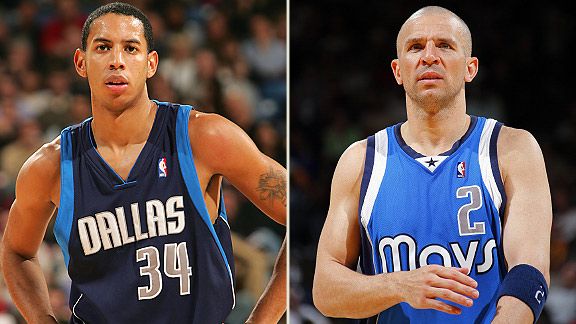 You realized this when Harris returned to the club under the terms of a contract that had to be re-done because of that toe injury ... he waited patiently for the re-do, allowing the Mavs to stack their salaries to the franchise's best advantage ... and then returned to the team that has always considered him "family'' ever since he was the fifth overall player taken in his draft, and even when he was eventually dealt away for Jason Kidd. Devin is much-traveled now ... but he's Mavs family.
The Numbers
Harris played most of the season as a key role player behind the likes of Jameer Nelson, and then the aforementioned Rondo, while averaging 22 minutes in 76 games. In those games Devin averaged 8.1 points and 3.1 assists per. More importantly than the numbers for Harris however, was his ability to stabilize and run Rick Carlisle's offense off the bench, as well as provide depth at an often very thin position. Harris was the rare Mav who provided some season-long level of perimeter defense and as seen in the video below, Harris is an explosive offensive player, and has the unselfish ability to get everyone involved offensively.
The Video
The Future
This offseason, Harris is one of just a handful of players currently under contract with the team in some form, and is paid up to 2017-2018. The 32-year-old will head into his 14th NBA season as a key component to the Mavs future,and will ideally at the very least continue his role as a key bench player. However Harris is used moving forward, Mavs fans will be able to count on him to provide stable guard play for the next few seasons. ...
Though it's worth noting that under some forms of a blueprint for the future,
Devin could be a clear-out victim of an incoming big fish, as we illustrate here.
He's used to the business side of basketball ... but we bet he shares our hopes that it doesn't go down quite like that.
The Final Word
"However RC wants to use me, that's how he'll use me,'' says Devin. "If it's starting, if it's coming off the bench, he'll figure that out but I think that he likes me coming off the bench, but starting is something I've done my whole career so I can definitely go back to it."
Good play, along with the "good-soldier'' approach, means Devin Harris earns a DallasBasketball.com Season Grade of B.
Join in what Mavs fans are saying here!
Related Story: The Prime Real Estate of Mavs Target LaMarcus Aldridge

Related Story: Exclusive: The pre-Draft First-Round Prospects Visiting The Mavs

Related Story: Brainstorming a Blueprint for Mavs Summer