Amare In Review
At the beginning of the 2014-2015, Amare Stoudemire was stuck in the basketball purgatory known as New York Knicks. As the season progressed, rumors began to swirl that Amare would approach the Knicks to request a buyout of his contract, and
DB.com broke the story of the
Dallas Mavericks
being interested in his if-healthy services. the a favorite for his services.
On February 16th, the story became reality, and by February 18th, Stoudemire was a Maverick.
After spending the majority of the season with a thin frontcourt, and having traded B-Wright in mid December, Dallas was desperate for frontcourt help – help that Stoudemire was perfectly suited to provide.
The Numbers
The 14-year pro out of Cypress Creek High School in Orlando came to Dallas averaging around 8.6 points and 6.1 rebounds in 21.7 minutes per game previously for the Knicks. When Amare arrived in Dallas, his production improved to 21.8 points and 10.6 rebounds per 40 minutes in his new role – a role that provided Dallas with a much-needed scoring punch off the bench, while conserving his playtime to account for his knee problems. Stoudemire's best performance of the season came on March 22nd in a 98-92 loss to the Phoenix Suns in which he scored 16 points and grabbed four rebounds while shooting 7/11 from the field.
The Video
As seen in the video below, the 32 year old can still put the ball in the hoop. Though he doesn't posses the same burst and athleticism that he use to, he continues to be an efficient player in his own right.
The Future
This offseason will be an interesting one for Dallas, who will look to land a big fish, and fill out the spots around him if they are successful. Amare, who has already made his money, is just looking for a good fit – which is exactly what the Mavericks are. Stoudemire would like to return. But, once again (just as the other Mavs free agents are concerned) he cannot be prioritized until the Mavs bigger plans begin to take shape. A compelling angle: Is Amare less desired here if Dallas is somehow able to acquire Aldridge (who plays the same position) but more desired here if Jordan is the big get?
The Final Word
"I'll make my rounds and see what teams are saying, but I think Dallas is a place where I feel comfortable here. I have a chance to have great success here with this franchise," Stoudemire said about a potential return to Dallas. "I'm already paid in full. Money is great to have, but it's not what I'm searching for at this point."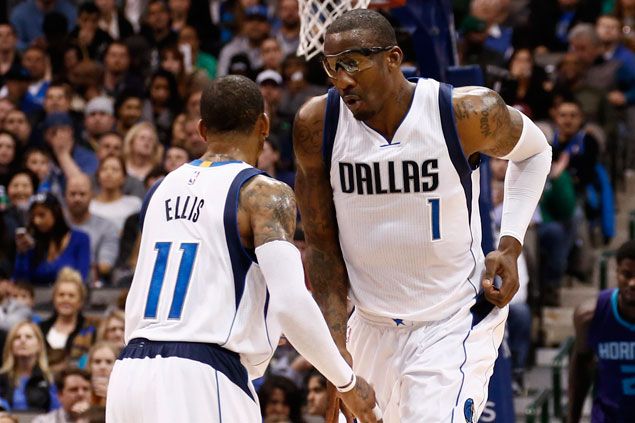 DallasBasketball.com Season Grade for Amare, who on top of everything else proved to be a steady and powerful locker-room voice: B-minus.
Join in what Mavs fans are saying here!
Related Story: The Prime Real Estate of Mavs Target LaMarcus Aldridge

Related Story: Exclusive: The pre-Draft First-Round Prospects Visiting The Mavs

Related Story: Jimmy Butler and a Blueprint for Mavs Summer