The
Dallas Mavericks
went into draft night in a position that they were not used to being in in past years. At the 21stpick, Donnie and company felt very comfortable standing pat and picking right where they were.
"We like the area. We like 21. If we end up trading back a little bit, it won't be very deep into the 20's because there is a level there that it significantly drops," the Mavs GM said at Thursday's pre-Draft press conference. "So, if you see any movement south, it won't be more than a few several picks."
The Mavs stayed true to their word - and
true to the story Fish wrote a few days ago about Dallas deciding to not prioritize the idea of "cap-carving"
- that is, sliding away from good prospects to save $1 mil or so of room for a big fish.
For Dallas, that stay-at-21 player ended up being
Virginia wing Justin Anderson. (DB.com Boards discussion here.)
Anderson, a 6-6, 231-pounder from Montrose, Virginia, shoots well and has the length as well as the athleticism to guard multiple positions on the floor. At Virginia, Anderson was the team's second-leading scorer at 12.2 points and four rebounds per game last season as a member of a Cavaliers team that went 30-4 on the season.
"Justin is a unique kid." coach Rick Carlisle said. "He's a three-year guy. He's gotten better each year. He is very physically strong. We feel he's a wing player that can play either the 2 or the 3. We believe that he's got an NBA body, and he's one of the strongest kids in the draft positionally."
Said Anderson: "I'm overjoyed ... Growing up, I remember the Mavericks were my favorite team when they had Steve Nash and Dirk Nowitzki. My mom has a full-detailed story, and it's almost like destiny. I'm just so happy, and words can't explain it."
#mavs source tells me no truth to report of Felton/21 offered to Minny. #mavs ARE in trade talks however

— mike fisher (@fishsports) June 26, 2015
There was a rumor out of Minnesota that Dallas tried to trade 21 and Raymond Felton to the Wolves; a Mavs source told Fish that was false. Instead, Dallas waited until its pick was near, recognized targeted players (Anderson and Hunter among them) remained ... And stood pat as promised.
In fact, the only Mavs swap that came close to happening was a Dallas attempt to buy another first-rounder, a try that didn't occur because the cost was $3 mil plus a future pick the Mavs opted not to sacrifice.
Said Carlisle: "We have five guys right now on the roster that are under contract. I think we have one at every position. Our need is really distributed evenly to every position. So, we'll take anybody that can play."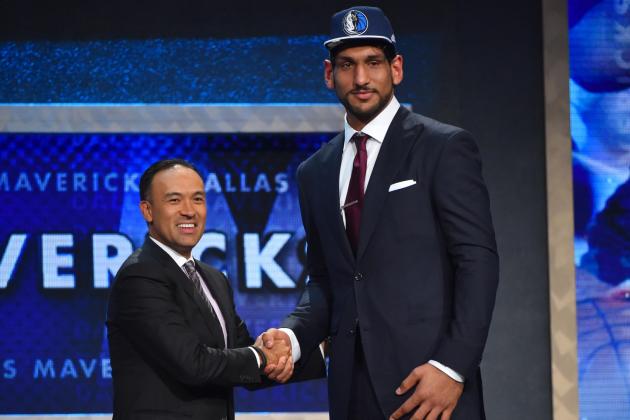 In Round 2,
the Mavs drafted 7-2 Satnam Singh Bhamara, a center from India. (See DB.com Boards discussion here.)
Like Anderson, they had him in the AAC basement for a private workout earlier this month. But unlike Anderson, he's far from NBA-ready. The center is a "project" bound for the D-League ... And bound to be subject to criticism from Mavs observers who find his selection "gimmicky."
2nd-Rd project who made a pre-draft visit here. I'm not bridge-jumping over it. https://t.co/8TCcVkpYsh

— mike fisher (@fishsports) June 26, 2015
The Mavs will still want their July 1 audience with big fish like Jordan and Aldridge -- though owner Mark Cuban said he'd rather not talk about the specifics of "fishing ... We're preparing to do what we have to do, and we"re going to go out and do it."
They also continue to play nice with Monta Ellis, insisting the team's leading scorer the last two seasons (and a sign-and-trade weapon) leaves the Mavs organization on good terms.
"He's a guy that I enjoyed working with tremendously," Carlisle said. "He and I communicated last night via text, and I let him know what he meant to us as an organization and to me as the coach and that we wish him the very best."
There is no necessary correlation between the Anderson pick and what else Dallas does with its roster. Example: it doesn't stop the Mavs from wanting a veteran starting 2 (not to mention a veteran starting 1) and it doesn't block the team from hoping Aminu can return.
Carlisle compared Anderson to Jae Crowder, and his ability to not only guard on the perimeter, but also bang down low against bigger players.
Said Rick: "Switching is becoming a bigger part of the game defensively, and so he's a guy that's got the foot speed to guard small guys and he's got the strength to hang with the bigger guys around the basket."
Outside of his physical tools, Anderson is also a high character kid, from a great academic institution, something the Mavs really like about him heading into the draft. Combine that with the coaching he received from UVA head coach Tony Bennett and this pick was a home run from Dallas's perspective.
"The coaching is phenomenal at Virginia, Tony Bennett has done a tremendous job there," Carlisle said. "It's a program built on defense first, high efficiency on offense and they play a very play a very physical brand of basketball. We are a team that needs to become more physical at every position and this heads us in that direction."
Anderson enters the Mavericks organization with a chance to contribute early and contribute often, something that past draft picks have not been able to do. The possibility exists maybe because he can play ... But definitely because the Mavs were true to their word.