DONUT 1: The Coronation
Only morons and shock jocks say otherwise now.
LeBron James is charging into Michael Jordan territory, and is doing it in a manner never required of Air Jordan: LeBron keeps transforming mediocre franchises into great ones. Cleveland ... Miami ... and Cleveland again.
Tuesday's Game 4 of the Eastern Conference Finals wasn't just a sweep celebration; it was a coronation, a 48-minute long bow from James, who began the game with a thundering message dunk, pushed his Cavaliers to a 12-point lead at the end of the first, and then helped as they forged a 17-5 streak early in the second. Final 118-88 .. and now more history to make.
The Warriors (likely West winners) will have plenty to say on this. But for now? LeBron James is going to the Finals for the fifth straight season. That's not just MJ territory ... it's beyond that, as no NBA star has accomplished that since the Celtics' Bill Russell crew.
You can pick at his game (foolishness) or you can criticize him for being overly dramatic (only LeBron himself will ever know how truly exhausting Game 3 might've been). But this is a single individual who holds sway over the entire Eastern Conference. When he leads a team, that team goes places. There's nobody else in basketball who can say that, and there may be nobody in all of sports who can say it, either.
DONUT 2: Fun of the Hawks
As a Mavs fan, you have been here before. If you understand the beauty of the struggle and the enjoyment of the ride, you understand exactly where my buddy Lang Whitaker -- a lifelong Hawks fan -- is coming from here:
The end was awful, but this was probably the most fun Hawks season of my lifetime. So for all of that, thank you @ATLHawks.

— Lang Whitaker (@langwhitaker) May 27, 2015
After that tweet, Lang was assailed with criticism from Hawks fans who simply don't get it. "And it all means nothing,'' one wrote.
Before 2011, I fielded a skillion responses like that. In the last couple of years, I've fielded a skillion more.
The struggle does matter. The ride does matter. Rob yourself of that, as a fan, and there is annually a 29-out-of-30 chance that your season will be joyless.
DONUT 3: Shaq Vs. Rousey
As TNT's "Inside the NBA'' closes shop for another season ... I know I'm in the minority here ... but here goes:
Shaq vs. Rousey? The money that could be raised for charity with such an event could make it an all-timer. Battle of the Sexes ... big talents, big personalities ... I'd be in.
Barkley making a lame sixth-grade sex joke that I didn't find funny even when I was a lame sixth-grader? No thanks.
This show will be back again next year and I recognize that it is wildly popular and that you love it and think it's funny. I know you love it. I know you think it's funny. I just wish that when it comes back it would focus more on basketball analysis and less on inanities.
DONUT 4: Quiet Parsons
We know that he was a "devastated'' Chandler Parsons, having been ruled out for the season with a right knee injury that required surgery. We also know that the story isn't done, for while CP is revealing little about the nature of the surgery (assumed in some quarters to be microfracture), there is the suggestion that he won't be ready for
Dallas Mavericks
training camp.
Parsons has a right to be cryptic about this, I suppose. And therefore he is, as you can see in this Q-and-A.
DONUT 5: Knucklehead Alert
Ty Lawson mentions the Mavs on social media. Then a website claims the Mavs have "mutual interest'' in the Denver point guard. Then we all run to some Trade Machine to show how it's all gonna go down.
Tap the brakes. For lots of reasons.
There is an off-court knucklehead factor here. (That's evidenced by his social-media comment alone.) There is an on-court knucklehead factor here, too; I'm haunted by watching that April game, Dallas over Denver in double-OT. We all remember Monta pouting and Felton winning. But you know what else stands out? Gallinari scoring 47 points in a game in which his point guard seemed less than enthused about passing the ball to his unstoppable teammate.
But here's the biggest, most immediate obstacle (not counting the fact that it wouldn't be legal for Dallas to be contacting Ty Lawson right now):
The Mavs cannot prioritize Ty Lawson, or seriously consider committed assets toward him, until they've lost all Big Fish hope.
As out David Lord writes on Premium Mavs Boards, "Lawson will cost you an extra $8-$9 mil a year in salary over a player like JJ Barea. So first you have to determine that he's that much better. And then you have to understand that the money and assets to get him may have better uses.''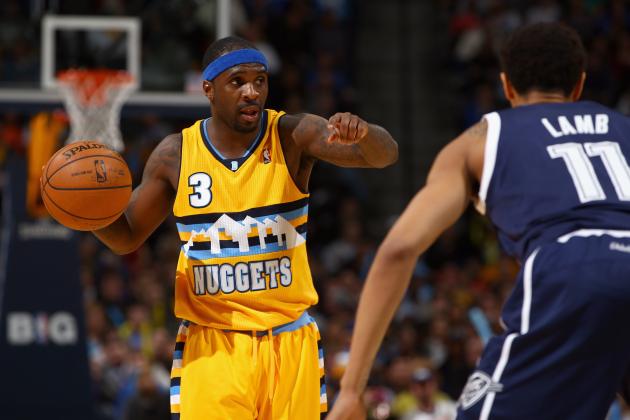 In other words: When you play on your Trade Machine in a way that allows you to move Monta for Lawson: a) Are you sure you like Lawson that much? b) Are you sure Denver wants Monta? And c), the biggie: What if the path to LaMarcus, DeAndre or Gasol is the use of Monta in a sign-and-trade? How foolish would you feel giving up Monta as an asset for a non-big fish only to later learn that LaMarcus, DeAndre or Gasol would have been available ... had you only been able to include Ellis in a swap?
DONUT 6: What are those real priorities?
Pipedreamy as it all is ... what do you prefer to do before you settle on Lawson-level acquisitions?
*How to
make the LaMarcus Aldridge-to-the-Mavs concept a real thing ... again, not just financial but otherwise.
*Where to
prioritize Marc Gasol on the Mavs' wish list.
*Whether to
include a bid on Bulls restricted free agent Jimmy Butler on the Dallas to-do list.
*Along with the dollars,
how to construct a proposal that would lure DeAndre Jordan to Dallas.
DONUT 7: How Dallas Drafts
It's the No. 1 question I get asked this time of year: "Why won't the Mavs take the NBA Draft seriously?'' And then comes, "They don't even care!'' Oh, and, "Why don't they at least try?''
These are the laments of Dallas followers who have come to the right destinations regarding the Mavs' draft results ... but who are stumbling down the wrong paths to arrive at those destinations. Allow me to
explain "Why don't the Mavs take the NBA Draft seriously?''
DONUT 8: Stay informed!
*Keep it here on DB.com as we will keep you posted in a variety of ways from inside your team ... Here on the HOME page,
and here on DB.com Boards
... Thanks for joining us as we launch our 16th season inside the Mavs!
*Oh, and if you want to be
a Mavs Insider with Premium coverage? Click here
to take our free 7-day trial and then for 10 cents a day, you are among the most informed Mavs followers on the planet! Go Mavs and Go Premium!
*All our stories
are archived here ... use the search tool to find everything on any Mavs topic.
*Follow our guys on Twitter:
Fish
,
Mike Marshall
,
Jeff "Skin'' Wade
,
Jonny Auping
,
Michael Lark
and
CoopMavs
.
DONUT 9: DirkBall!
Dirk and Baseball? Let's go goof around with him here.
DONUT 10: Player-by-Player
We think it's terribly premature to attempt to predict the fates and futures of most of the members of the 2014-15 Mavs. But
here, we are compiling our Player-by-Player Season Reviews
that include a look back ... and cautious looks forward.
DONUT 11: 'Play-Doh' Policies
Game 5 in the West is tonight in Oakland, and the Rockets, down 3-1 in the series, will try to bring the series back to Houston with Dwight Howard in the lineup. But wait ... How can Dwight not be suspended after this:
"The feeling was that, although it was a very close call, I want to emphasize that because it was a blow to the face, it was not with an elbow," NBA president of basketball operations Rod Thorn said in explaining the non-suspension. "It was with the back of the hand, and open hand, and Howard was trying to extricate himself.''
Had the NBA upgraded Howard's Flagrant 1 in Monday's Game 4 to a Flagrant 2, he would have missed tonight's game. ... and the NBA would have therefore missed a chance to extend the series and collect the revenue that comes with additional games, something Thorn may have forgotten to mention in his explanation.
DONUT 12: The Final Word
LeBron James is already the sixth-highest scorer in NBA Playoffs history. He's 30 years old.